DVDs from TCM Shop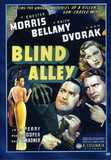 Blind Alley When a gangster takes him... MORE&nbsp> $17.95 Regularly $20.95 Buy Now
NOTES
According to the file on the film in the MPAA/PCA Collection at the AMPAS Library, the original title of the play on which this film is based was Smoke Screen. As early as October 1935, the Hays Office notified M-G-M that because the story had a gangster hero it was "thoroughly unacceptable," and urged the studio to "dismiss it entirely from any further consideration." Seven months later, the Hays Office reiterated its objections to the film, stating that "the story, as it stands, is basically so bad from the standpoint of the Code that it is irrevocably beyond its pale." It also noted that "the suicide of the gangster, as means of escape from the consequences of his crimes, is in violation of the Code." Following the Hays Office's rejection of the story, M-G-M postponed the film for over two years, until 1938, when the office, in a letter acknowledging the receipt of the first draft of the treatment, stated that the story was "basically satisfactory from the standpoint of the Production Code." The Hays Office went on to caution, however, that the British censors would reject "any material dealing with insane characters and the use of an asylum as a background." It also warned against the discussion of "objectionable subjects" in the scene in which the doctor psychoanalyzes the fugitive, as well as the "flaunting of weapons" and showing details of the crime.
A Hollywood Reporter pre-production news item noted that Rose Stradner was borrowed from M-G-M for the film. Modern sources list Eddie Acuff (State trooper) in the cast, but his appearance in the released film has not been confirmed.
A 1940 Hollywood Reporter news item notes that Edward G. Robinson, James Cagney and Isabell Jewell were featured in a Gulf Screen Actors Guild radio performance of Blind Alley that was broadcast on February 25, 1940. Blind Alley was remade by Columbia in 1948 as The Dark Past. Televised performances of James Warwick's play include the 1949 Studio One production, directed by Paul Nickell and starring Jerome Thor and Bramwell Fletcher, which aired on the CBS television network on January 30, 1949; the Broadway Television Theatre production, starring Roy Hargrove and Beverly Roberts, which aired on non-network television on September 15, 1952; and the Kraft Theatre production, starring Darren McGavin and Herbert Berghof, which aired on the NBC television network on June 10, 1954.