DVDs from TCM Shop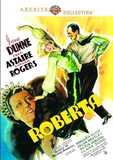 Roberta A football player inherits a... MORE&nbsp> $16.95 Regularly $17.99 Buy Now
NOTES
The play Roberta was based on the novel Gowns by Roberta by Alice Duer Miller. Both works are credited on screen as sources for the film. Roberta was composer Jerome Kern's last Broadway musical. In the stage play, Bob Hope played "Huck," Tamara portrayed "Stephanie" and Lyda Roberti, whose heavily accented "scat singing" Ginger Rogers imitated in the film, played "Lizzie." Four songs from the stage play-"Smoke Gets in Your Eyes," "Yesterdays," "I'll Be Hard to Handle" and "Let's Begin"-were used in the film. As background music, RKO included three other compositions from the stage play-"You're Devastating," "The Touch of Your Hand" and "Don't Ask Me Not to Sing." "I Won't Dance" was first performed as part of a 1934 Kern/Otto Harbach musical, Three Sisters. Oscar Hammerstein II's lyrics were altered and augmented by Dorothy Fields and Jimmy McHugh. "Lovely to Look At" was composed for the film and received an Academy Award nomination. In the onscreen credits, Dorothy Fields and Jimmy McHugh are credited with "additional lyrics." Modern sources comment that, to avoid censorship problems, RKO altered some of Harbach's original lyrics.
Production on Roberta began while RKO's immensely successful The Gay Divorcee, which also starred Rogers and Astaire, was still playing in theaters. According to a Hollywood Reporter news item, RKO postponed shooting on Roberta to accommodate Ginger Rogers' marriage to Lew Ayres. RKO borrowed Randolph Scott from Paramount for the production, which marked Lucille Ball's RKO debut, and was the first film in which dance director Hermes Pan received a screen credit. Roberta was also the feature film debut of actress Virginia Reid, who was better known in the late 1930s and 1940s by the name Lynne Carver. Hollywood Reporter production news items and casting announcements add the following actors to the cast: Lorna Lowe, Chris Mario Meeker, Zena Savine, Anna Delinsky, Madame Borguet, Etienne Girardot, Gene Sheldon, and George Davis. Their participation in the final film has not been confirmed. Modern sources complete the above-mentioned casting as follows: Lorna Lowe (Model), Gene Sheldon (Orchestra member), Mary Forbes (Mrs. Teale) and William Davidson (Purser). According to Hollywood Reporter, Lorna Lowe was cast without a screen test after producer Lee Marcus "spotted her" in a crowd of 872 "dress extras."
A contemporary article in Liberty stated that the production cost about $750,000, with a third of the money going to salaries for the principals and two-thirds paying for production costs, including Bernard Newman's gowns, which cost $250,000. An April 1935 Hollywood Reporter news item referred to Roberta as RKO's "biggest drawing card" and noted that the film broke box office records everywhere it had played. The running time for February 1935 previews of the film was listed in reviews as 85 minutes, 20 minutes less than the general release running time, suggesting that considerable footage May have been added to the final release prints.
Modern sources add the following information about the film: While en route to London to see Gay Divorce in December 1933, RKO production head Pandro S. Berman saw the hit stage show Roberta in New York. A few months later, RKO outbid Paramount and M-G-M and bought the rights to the play for $65,000. Just prior to this purchase, RKO bought the rights to Ringstrasse, a play by Hungarian playwright Aladar Laszlo, with the intention of "Americanizing" it as a vehicle for Rogers and Astaire. Allan Scott prepared a treatment for the film version of Ringstrasse, renamed The World By the Tail, and May have hired Kern, who had recently moved to Los Angeles, to work on the project as well. Eventually, however, the Hungarian play was replaced by Roberta. According to a modern interview with screenwriter Allan Scott, several scenes for the film were written during production and were sent by telegram to the set by Scott and Berman, who were traveling across country by train at the time. The rehearsal period lasted for nine weeks. Astaire choreographed his dance routines two weeks before Kern had finished the score. Hal Borne, Astaire's real-life rehearsal pianist and a member of the film's "Wabash Indianians," played piano off-screen as part of a duet with Astaire in the "I Won't Dance" number. Roberta made RKO $770,000 in profits.
Many modern sources comment on the importance of Roberta in the careers of Rogers and Astaire, claiming that the film cemented the performers' partnership in a way that neither The Gay Divorcee nor Flying Down to Rio had. Additional modern cast credits include Mike Tellegen and Sam Savitsky (Cossacks), Howard Lally and Bill Carey, (Orchestra members), Dale Van Sickel (Dance extra) and Judith Vosselli and Rita Gould. Modern Crew credits include Mel Berns (Make-up artist) and John Miehle (Still photographer).
In 1952, RKO sold the rights to Roberta to M-G-M, which remade the story as Lovely to Look At, with Kathryn Grayson, Red Skelton and Howard Keel starring and Mervyn LeRoy directing. Modern sources state that because M-G-M owned Roberta, the film was not broadcast on television for many years. Two NBC television versions of the play starring Bob Hope were broadcast in 1955 and 1958. For additional information about the RKO Astaire-Rogers films, see entry for Top Hat.