DVDs from TCM Shop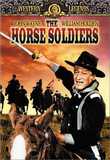 The Horse Soldiers A Union cavalry officer leads... MORE&nbsp> $7.46 Regularly $9.98 Buy Now blu-ray
NOTES
DVDs from TCM Shop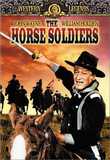 The Horse Soldiers A Union cavalry officer leads... MORE&nbsp> $7.46
Regularly $9.98 buy now
The Hollywood Reporter review mistakenly lists the film's running time as 159 minutes. In June 1958, just prior to the start of production of The Horse Soldiers, Paramount Studios filed an injunction against William Holden in an attempt to prevent the actor, under contract to the studio, from appearing in the Mirisch Company production, United Artists release. On October 13, 1958, a district court denied Paramount's request, clearing the way for Holden to appear in the film, which was shot on location in Louisiana and Mississippi, as well as at the Samuel Goldwyn Studios.
The Horse Soldiers marked the only feature film acting role of tennis star Althea Gibson (1927-2003). Gibson became the first African-American woman to win singles championship titles at the French Open (1956), Wimbledon (1957, 1958) and the United States Open (1957, 1958). According to a biography on director John Ford, because of racial segregation laws in Louisiana, Gibson would have been forced to stay in separate housing during the shoot, so all her scenes were shot in Hollywood, with doubles used in long shots filmed on location. Songwriter Stan Jones (writer of the film's theme song, "I Left My Love") appeared in a small uncredited role as Gen. U. S. Grant. Jones had appeared in several Ford films in minor roles throughout the 1950s. Hollywood Reporter news items add Buff Brady, Mike Steen, Jerome Loden, Phil Kieffer, Fred Graham and Dan Borzage to the cast, but their appearance in the finished film has not been confirmed.
In early December 1958, near the end of the shoot in Natchitoches, LA, longtime stunt rider Fred Kennedy executed a fall from a horse improperly, broke his neck and died. According to fellow stuntmen, Kennedy had broken his neck two years earlier, but it had healed. Kennedy had appeared in several films directed by Ford and the director was greatly affected by Kennedy's death. According to Ford biographies, after the incident he halted filming and immediately moved the production back to Hollywood. Although some modern sources suggest that Ford was so affected by Kennedy's death that he did not complete the climactic battle of the film as scripted, a biography notes that the battle and destruction of the bridge was filmed as written.
A tag closing of "Marlowe" and his troops riding into Baton Rouge was dropped, but a biography on Ford states that the director never intended to shoot it, as it too closely mirrored the end of M-G-M's 1949 production Battleground with the old, exhausted troops marching in as new, fresh troops march out (see AFI Catalog of Feature Films, 1941-50). The December 1958 Variety article chronicling Kennedy's death also noted that three others involved with the film suffered broken legs during the production. A modern source indicates that one of those was Ford's son, Patrick, who also served as a location scout.
Modern sources reveal that Mahin and Rackin initially wanted to cast Clark Gable in the role of Marlowe. The same sources state that Jack Pennick trained the 150 cadets from Jefferson Military College, who appeared in the sequence of the Confederate boy soldiers, based on real events.
The film and novel The Horse Soldiers were loosely based on an historical event during the Civil War. A former Illinois music teacher, Union colonel Benjamin H. Grierson, was ordered to take 1,700 men on a cavalry raid from the Tennessee border through Mississippi to destroy railroad supply lines, bridges and commissaries between 17 April and May 2, 1863. Grierson's disruption of Confederate supplies and successful maneuvers against their forces allowed Gen. Grant and his army to reach the Mississippi River. Soon thereafter, Grant's men took Vicksburg, a climactic turning point for the Northern forces.