DVDs from TCM Shop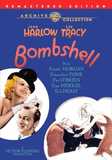 Bombshell A glamorous film star rebels... MORE&nbsp> $16.95 Regularly $19.99 Buy Now
Articles
SEE ALL ARTICLES
Bombshell (1933)
Inside jokes and movie connections abound in the Jean Harlow comedy Bombshell (1933), in which Harlow is cast as Lola Burns, a sexy, guileless movie star based on Clara Bow. Harlow had played a supporting role in Bow's The Saturday Night Kid (1929), and Bombshell director Victor Fleming had dated Bow, so both had inside information about their subject. The basis of the film was an unproduced play that took a serious look at the tragic situation of a star who is exploited by everyone around her.

In a story conference at MGM, screenwriter John Lee Mahin had the inspiration to turn the tale into a comedy ­ an idea seized by Fleming when he realized Bow's story was ripe for satire. "She used to be my girl," Fleming explained. "You'd go to her house, and there'd be a beautiful Oriental rug with coffee stains...and her father would come in drunk, and her secretary was stealing from her." As Bow was known as the "It Girl," the fictional Lola becomes the "If Girl." Lola works at "Monarch" Studios, as Bow had toiled at Paramount, to support hangers-on including an alcoholic father and dishonest secretary. Lola's household is overrun by oversized sheepdogs, just as Bow's had been by undisciplined Great Danes.

Bombshell also contains parallels to Harlow's own life. Script clerk Morris Abrams would recall that Harlow also worked hard, only to have her own family take her money, "just like the girl in the movie. She would come in at 6 a.m. each morning for makeup and hair and wardrobe and rehearsal, then shoot till dinner or later ­ and in they'd stroll in the middle of the day, dressed to the nines and riding high. They were parasites." Lola has an all-white house similar to Harlow's own, designed to complement her pale skin and platinum hair. Lola's movie career is illustrated with clips from Harlow's own films, and she is shown doing retakes for Red Dust (1932), in which Harlow had starred with Clark Gable under Fleming's direction.

The Fleming-like director in Bombshell is played by Pat O'Brien. Another character in the film, publicity agent "Space" Hanlon (Lee Tracy), is loosely based on MGM publicity chief Howard Strickling. In an off screen development, Harlow married the movie's cameraman, Harold "Hal" Rosson, before Bombshell was released. He also had photographed her in Red-Headed Woman (1932), Red Dust (1932) and Hold Your Man (1933). The marriage lasted only a year. Harlow's performance in Bombshell was a critical success, praised by Richard Watts, Jr. in the New York Herald Tribune as "the first full-length portrait of this amazing young woman's increasingly impressive acting talent."


Producer: Hunt Stromberg
Director: Victor Fleming
Screenplay: John Lee Mahin, Jules Furthman, from play by Caroline Francke and Mack Crane
Art Direction: Merrill Pye
Cinematography: Harold Rosson, Chester A. Lyons (uncredited)
Costume Design: Adrian
Editing: Margaret Booth
Principal Cast: Jean Harlow (Lola Burns), Lee Tracy (E. J. "Space" Hanlon) Frank Morgan (Pop Burns), Franchot Tone (Gifford Middleton), Pat O'Brien (Jim Brogan), Una Merkel (Miss Mac).
BW-96m. Closed captioning.

by Roger Fristoe
back to top
---