DVDs from TCM Shop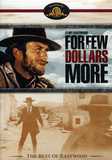 For a Few Dollars More Two bounty hunters join forces... MORE&nbsp> $9.95 Regularly $14.98 Buy Now blu-ray
Alternate Versions
The British cinema release version had only one flashback instead of two. The second, revealing Mortimer's Sister committing suicide to avoid being raped by Indio was censored

The German theatrical version has been cut by 10 minutes for the original release. Although the movie has been redubbed in 1995, the cuts have been kept. The following material was removed:- Pre-credits sequence shortened- The intro text after the credits is removed (restored in the '95 redub),- The head shot closeup of Guy Calloway is removed.- Indio shoots multiple times into the guard room.- Wife and child of the traitor of Indio are shot by Indio's men; dueling scene between Indio and the traitor is shortened,- Beating up scene of Monco and Mortimer shortened,- When Mortimer's Sister commits suicide, the pan down to the bleeding wound is removed,- The scene in which Monco counts the bounty as wounded Groggy tries to shoot him and Monco kills him, thus "solving his arithmetics problem", is removed

ITV (in the UK) transmitted the "real" uncut version during the 1990's. Current UK distribution wrongly labels their copy uncut because 30 seconds of brutality is missing! When [Eastwood] and [Cleef] are savagely taking a beating from Indeo's boys, Indeo orders them by saying "stop it!" right at the end. One asks "...why let them live?" And then Indeo replys: "- all things in the right time." Then the scene swiftly moves on. The film slicing is evident in the latest copy anyway where the scene is missing - the picture jerks into the next cut abruptly due to ancient film cutting techniques.

In the United States an edited 126 version was released. This version was used for television syndication, pay-tv, and initial home video releases.

The Swedish cinema version was shortened by 1m 2sec in the assault scene. The video version from Warner is probably the same censored version.