DVDs from TCM Shop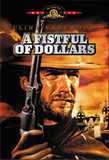 A Fistful of Dollars A mysterious stranger plays... MORE&nbsp> $9.95 Regularly $14.98 Buy Now blu-ray
Articles
SEE ALL ARTICLES
A Fistful of Dollars (1967)
The Western genre was in dire need of a revival in the early sixties and even John Wayne in the lead was no guarantee that the film could draw a large audience anymore. Ironically, it was Italy, not America, that revitalized the Western with the release of A Fistful of Dollars (1964), Sergio Leone's reworking of the samurai classic, Yojimbo (1961), by Japanese director Akira Kurosawa (The latter's most famous film - The Seven Samurai (1954) - was also transformed into a Western, The Magnificent Seven starring Yul Brynner). Although most critics at the time attacked it for its excessive violence, the film's influence on the genre cannot be dismissed for Leone's vision of the Wild West was harsh, unromantized and devoid of honorable men, unlike the Westerns of John Ford. It was a place where survival was a daily challenge and a man's ability to cheat death was the only thing that mattered.

Leone's cynical view of the frontier was emphasized by his often startling compositions that cut between extreme facial close-ups, stark landscapes, and sudden explosions of violence. No less effective was the unconventional music score by Ennio Morricone which mixed electric guitars with choruses of grunts, groans, and human cries. And, of course, A Fistful of Dollars is primarily famous for launching Clint Eastwood's career and for creating the prototype of all the 'Spaghetti Westerns' that followed. The genre would flourish for almost a decade, providing expatriate American actors with steady work and providing the European film industry with a steady cash flow.

Like Yojimbo, A Fistful of Dollars is the story of mercenary who arrives unannounced in a small town where two families are locked in a deadly power struggle. Having no allegiance to either side, this mysterious stranger hires himself out to both factions and eventually succeeds in annihilating the entire town with the exception of the coffin-maker, bartender, and bell-ringer. The basic plot and the amoral hero are also reminiscent of Dashiell Hammett's novel, Red Harvest and The Servant of Two Masters, an 18th-century farce by Carlo Goldoni.

Clint Eastwood's involvement in A Fistful of Dollars was purely a stroke of luck. He was bored with his role as Rowdy Yates on the popular TV Western, Rawhide, and was looking for other acting opportunities. When his agent informed him that a film company in Italy was interested in him for a Western entitled The Magnificent Stranger, he dismissed it at first but then reconsidered. According to the biography, Clint Eastwood by Richard Schickel, the actor recalled, "I've never been to Italy. I've never been to Spain. I've never been to Germany. I've never been to any of the countries (coproducing) this film. The worst I can come out of this is a nice little trip. I'll go over there and learn some stuff. I'll see how other people make films in other countries." What Eastwood didn't know was that the role had been offered to numerous other actors before him like Rory Calhoun, Charles Bronson, and James Coburn, who said "it was just about the worst script I'd ever seen." It was actually expatriot American actor, Richard Harrison, who recommended Eastwood for the role when he was unable to take the part due to prior commitments.

When Eastwood arrived in Italy, he carried with him a sleeveless sheepskin jacket, bleached black Levis, and cigars, all of which he used in developing his character. The famous poncho was a gift from the director. He soon discovered that Leone spoke no English and neither did the rest of the cast and crew with the exception of a stuntman named Benito Stefanelli and a film representative from the Rome office. At first Eastwood had some major disagreements with Leone, particularly over the script which he found too verbose, but after convincing the director to cut his dialogue to a minimum, the two men began to collaborate more productively.

It turned out to be a grueling eight week shoot with one week at Cinecitta's Rome studio and the remaining time spent on location in Manzanias, Spain (near Madrid) and Almeria, a bleak and inhospitable area in the Andalucia region. Most of the extras and bit players were recruited from the local Gypsy population and the set was completely unlike any Hollywood production Eastwood had ever worked on. The actor later said, "We had no electricity; we didn't have a trailer with a toilet. We just went out behind rocks." There were times when the production was almost shut down due to cash shortages but Leone prevailed, shooting multiple takes on each camera setup in case the Italian film labs damaged the footage and improvising when necessary. In fact, for one scene, Leone needed a tree for a hanging sequence and confiscated one from a local farmer by pretending to be a highway official who was in charge of removing dangerous trees.

Upon completion of A Fistful of Dollars, Eastwood returned to America where he had no idea of the success he was about to experience. Leone's Western became a huge hit in Europe when it was released and soon Eastwood was called in to redub his dialogue for the English language version. It too did phenomenal business in the U.S. and paved the way for two more sequels with Leone - For a Few Dollars More (1965) and The Good, the Bad, and the Ugly (1966). Not only did A Fistful of Dollars make Eastwood an international superstar but it established him as new type of Western hero, or more accurately, anti-hero - one whose mercenary motives and guilt-free killing were more in line with the chaotic sixties when traditional values were in question.

One final footnote: Although A Fistful of Dollars is generally acknowledged as the first "Spaghetti Western," it actually had several antecedants including Michael Carreras' Savage Guns (1961), which was filmed in Spain and starred Richard Basehart, and Terror of Oklahoma (1961), directed by Mario Amendola, both of which were made a good three years before A Fistful of Dollars.


Producer: Arrigo Colombo (as Harry Colombo), Giorgio Papi (as George Papi), Peter Saint (assistant producer)
Director: Sergio Leone (listed as Bob Robertson on European prints)
Screenplay: A. Bonzzoni (story), Víctor Andrés Catena (also story), Jaime Comas Gil, Fernando Di Leo (uncredited), Clint Eastwood (uncredited), Peter Fernandez (American dialogue), Sergio Leone, Duccio Tessari (uncredited)
Cinematography: Massimo Dallamano (as Jack Dalmas), Federico G. Larraya
Costume Design: Carlo Simi (as Charles Simons)
Film Editing: Roberto Cinquini (as Bob Qunitle)
Original Music: Ennio Morricone (as Dan Savio)
Principal Cast: Clint Eastwood (The Man With No Name), Marianne Koch (Marisol), Gian Maria Volonté (Ramón Rojo), Wolfgang Lukschy (John Baxter), Sieghardt Rupp (Esteban Rojo), Joseph Egger (Piripero).
C-100m. Letterboxed. Closed captioning.

by Jeff Stafford


back to top
---