DVDs from TCM Shop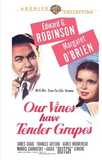 Our Vines Have Tender Grapes A Norwegian farmer tries to... MORE&nbsp> $15.96 Regularly $19.99 Buy Now
USER REVIEWS
See Detailed Ratings
Acting of Lead Performers

Acting of Supporting Cast

Director

Music Score

Title Sequence

Screenplay

Cinematography

Historical Importance

Would You Recommend?

0 Member Ratings
Rate the acting of the Lead Performers

Rate the acting of the Supporting Cast

Rate the Director

Rating of the Music Score

Rating of the Title Sequence

Screenplay

Creatively uses the camera to tell the story

Importance in Cinema history

Would you recommend for fans of this genre
Submit Ratings
Cancel
Write a Review
Read Reviews
NO REVIEWS AVAILABLE
The title has not been reviewed. Be the first to write a review by clicking here to start.
Margaret's Moment

I watched this to see Agnes Moorehead but soon was taken in by Selma's (O'Brien) utter sweetness and awe for life. Like so many, I only knew Margaret for Meet Me in St Louis where she was overshadowed by Judy et al. But here she is the star and makes a good play for it. EGR and my fave Miss Moorehead are just awesome as always. Selma's friend, Arnold, is a stitch.

Lovely, Tender Film

Such a truly wonderful film. It's so endearing and one of my favorites of Mr. Edward Robinson and Ms. O'Brien; The scenes between them are so special that you truly are drawn into their father-daughter moments. I cannot think of a finer film that can be shown anytime of the year. I also love all the supporting characters, with the timeless but so poignant themes that you want it to be like this wherever you go in life. One of my comfort films.

what a good movie

I wonder if mr robinson was playing something closer to his real person.in this movie.

Morals

Great little movie,teaching morals as we've forgotten in this fast too fast world of the 21st century...All acting A-one,especially Miss O'Brian.

Warm Fuzzy

This production perfectly qualifies as a warm and fuzzy, feel good movie.

Great Movie

Every part of this movie is spell binding. I thoroughly enjoyed it.

Just the Best!

It is a terrific movie and the acting is superb. Edward G Robinson was perfect as Papa and Ms. Morehead terrific as the stern, yet oh so loving Mama. Two scenes for me are unforgettable. 1) When Butch Jenkins and Margaret O'Brien are in the bathtub playing and the current from the river carries them into harms way. The town men gather to try to catch them when they come under the bridge. The father of the boy, tells the other men what he is gonna do when he gets ahold of that kid of his. He is gonna spank him good. Here they come speeding down the river and they are rescued, and the boy's father cries and hugs his little boy with all his might. No spanking takes place. I am tearing up just thinking of that scene. The other is when Papa takes Margaret in the middle of the night to town to see the circus caravan as it passes thru. The caravan stops to rest and Papa puts Margaret up on top of an elephant. She was over the moon with the experience....."Jeepers Papa, Jeepers!"

Portrait of American Values & Childhood Lessons

Early this morning I sat at the PC to work on a project and flipped on the TV to fill the quiet. This movie started while I got some coffee. Something about an early scene grabbed me; and I didn't use the keyboard until the movie had ended. While not a unique response, this is unusual for me. I encourage others to watch it and discover they, too, are pulled into the story.So many aspects of core American values and important childhood lessons are credibly merged into the plot that I must wonder whether the "fiction" was condensing actual events into the story of one family in one community.In Edward G. Robinson's eyes I saw the same pain that I saw many years ago in my dad's eyes when he disciplined me or, especially, my younger sister. I saw the same excitement as in Dad's eyes when he surprised us with something that would be memorable. I saw the same compassion as in my dad's eyes when he saw others suffering through heart-wrenching situations. And I saw the same pride as Dad's when he caught us doing something good or simply being genereous, something worthy of recognition -- sometimes loud and sometimes unspoken.Every child should have the opportunity to see this movie and discuss it with a parent. A double-header with "Pay It Forward" might be interesting. Moreover, every American adult should view this to be reminded of their own childhood experiences, and to appreciate the character of America that we want to save and savor.

Um clássico

Este filme um dos melhores dos anos 40. Excelente. Emocionante e encantador. Todos ficam encantados vendo este filme adorvel.

Our Vines Have Tender Grapes

This was a very heart warming movie. I had never heard of this movie, but I do like Margaret O'brien and so I decided to watch it as there was nothing else on. This kept me from going to bed early, I couldn't leave and didn't want to tape it simply because it was too good to turn off! Had I know how good it was going to be, I would have taped it! I certainly hope I don't have to wait another year or more to watch this because my daughter would love to watch this too!

Our Vines Have Tender Grapes

My husband and I were completely enthralled with this story! What an unusual role for Edward G. Robinson. So many aspects of the story touch present day life and unite it with the past. I have always loved stories of hard working, loving people. Margaret O'Brien was a heart grabber. Agnes Moorhead was so sweet. I have never enjoyed a movie so much in a long time. I watched it 3 times! We need this on DVD. My grandaughter (9) loved it as well.

Great Seldom Seen Film

This is exactly the types of movie I love to find playing on TCM. I only could watch part of the movie before I had to leave, but was totally pulled into the story while I did. Not hard to see why Margaret O'Brien was such a sensation, her charm and charisma remain on film for us to enjoy again and again. Looking forward to seeing the entire film next time it airs.

Surprisingly Enjoyable

I watched this movie twice in the past couple of weeks. I enjoyed it so much the first time that I was interested in viewing it again. My 13 year old daughter watched it with me the second time and she really liked it (which was very surprising because it is in black and white and she is a part of this fast moving technology generation). She wants me to purchase it on DVD so she can watch it again...a testament to such a sweet and endearing movie.

A Wonderful Movie!

I've not seen such a heart-warming story in a while. The cast could not have been better selected. Miss Margaret tore out my heart again. Great work!

anticpating on seeing the end of this movie.

Evelyn Henderson

12/17/09

My sister who is 14yrs. older than I am 50 something, know has much I like old movies had reccomended this movie to me about ten years ago, and when it aired this past Sunday, I stayed home and missed going to a church recessional to watch this movie and although it was interesting to me I fell asleep on it,and awoke just as the credits were showing, I hope to get to see it again to the end. would like to buy it, so at least if I fall to sleep on it I can rewatch it over again.

Absolutely LOVED this movie

I watched this movie a few nights ago, I think it was Sunday Dec. 6, 2009, with my parents and we loved it. It had such a sweet storyline. This filming was fantastic and the little girl and boy were great. I loved the quick witted remarks given to the little boy. Just a great family movie.

Outstanding Whole Family Movie

My daughter and I just watched this movie and it was great! Now I am looking to buy it on DVD, So get busy!

A letdown.

What a disappointment, considering cast, writer and crew! It took almost an hour to reach the main plot of the film, and what preceeded it was slow and unengaging.

My oh My!!!

I have just watched this movie for the first time ever and it has now become one of my favorite movies of all time. I am not a big EGR fan, but his performance in this movie was absolutely outstanding!! The tenderness that he showed towards Margaret O'Brien in the film was more than believable. Margaret O'Brien as usual was brilliant!! She will always be one of my favorites. I know she was known as the crier, but honestly I believe she is the best child actor/actress there ever was. The story itself is one of love--for family, for friends, for the disabled. Every child should be shown this movie as a guide on how to treat people, for if even one can learn from it the world would be a better place. I know it sounds very utopian, but I believe it deep in my heart! If only we had moral learning movies like this one today!!

Wonderful Movie

This was a wonderful movie I would love to own I dont think I have ever cried so much watching a movie as I did when I watched this one it was happy it was sad it was just great.

Wonderful, tender movie for the whole family.

Very much enjoyed this movie. EGR was great in the role of father, farmer, husband, friend. I loved Agnes Moorehead in this part as I remember her most from the TV show "Bewitched" She is so amazing as Bruna. Margaret O'Brien is always a joy to watch. I agree with other reviewers that she and EGR were a great match. Bravo TCM. Show it again and again, please.

My first movie!

Maureen Lee Kluck

12/24/08

I was sitting in school when my Mom came in and whisked me away in a MGM Studio Limo to the studio. Someone had seen my photo on my Dad's desk and due to the fact I looked like Margaret O'Brien I was suddenly a Stand-in/Double!!I was dressed in warm jackets and boots and put into a metal bath tub with airplane motors stirring up the waters on Lot 2. I was riding in the tub on the rapids. Unfortuneatley for me and Butch Jenkins stand-in the tub turned over and we were dumped into the cold water. We were rescued and dryed off, redressed and the scene was reshot! That was the beginning of my movie making. I love these movies where there is a moral and love shown. E.G. Robinson was a very nice man and a fantastic actor! Margaret was amazing! The whole Christmas speech was filmed in one shot! Her memory was fantastic and she never made any mistakes that I can remember! We played together in portable school rooms in many movies! She was a very sweet little girl with a fantastic mind. I cherish those days of childhood!

Best Christmas movie.

This movie tells the true meaning of christmas. Margaret O'Brien is a superb actress at any age, but is endearing in thiis movie.

"Our Vines Have Tender Grapes"

EGR had proved that he was able to play a convincing villain but in this role he proved what a versatile actor he really was. He ranks as one of the best. Great cast and great movie!Another must see w/him "Scarlett Street".

Every family should see this movie!

My favorite movie. A must see by everyone, even by children 8-9 years and up. The movie is so moving, so touching, so believeable. Many moral lessons to be learned...honesty, integrity, being a part of a community, sacrificing, love, family unity, family love, neighborly love, romantic love. This one has it all, but in the most moving and heartwarming way imaginable.Please, do yourselves and your families and friends a favor and watch this movie! Not a "chic-flick", but a real family movie to be seen! *Currently only out on VHS format, but please vote for the DVD version!!! Thank you!!!

Excellent Movie

Edward G. and Margaret O'Brien were just the right fit in this movie. Agnes Moorehead was good too. This is one of those movies that you cant duplicate its a one of a kind.This should have been out on DVDThey don't make em like this anymore.

A warm and caring movie..

This film is one of my favorites. Edward G. exercises his wide range of acting abilities. I wonder if he enjoyed playing the role of a struggling and kind farmer. I wonder also, if he had any regrets that his career never included more "benign" roles. His chemistry with Margaret O'Brien in this film is simply precious. Agnes Moorehead was also very good in her part. All in all, the acting was superb. The storyline is great and the "Church scene" will have you grabbing for your Kleenex. This is one film you should not miss.

Wonderful movie

This is truly a beautiful and touching movie. One of Robinson's and O'Brien's best. I loved their father and daughter relationship. Agnes Moorehead is also wonderful. Edward G. Robinson was an incredible actor. He is totally believeable in Our Vines Have Tender Grapes.

GREAT MOVIE

I loved this movie,it has such a tender story and true to life characters.Edward G. Robinson is fantastic and of course Margaret Sulliven is such a fabulous actress in everything she ever played in.Such a wonderful story of daughter and father.
*We protect your personal infortmation and will not provide it to anyone without your consent. For a complete explanation, please refer to TCM's Privacy Policy. By submitting your contribution, you agree to TCM's Terms of Use.