DVDs from TCM Shop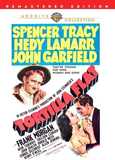 Tortilla Flat Inhabitants of a Southern... MORE&nbsp> $16.95 Regularly $19.99 Buy Now
NOTES
The opening title card reads, "Metro-Goldwyn-Mayer presents Spencer Tracy Hedy Lamarr John Garfield in Victor Fleming's Production of John Steinbeck's Tortilla Flat." The following written prologue precedes the story: "In the California hills just outside the old seaport town of Monterey live warmhearted people of laughter and kindness-the paisanos. They, and their ancestors, have lived there for a hundred or two years, in a little world of their own called Tortilla Flat." The term "paisano," which literally means a friend or compatriot, also refers to persons of Hispanic or mixed Hispanic and Native American ancestry who resided in the country towns of Northern California.
According to a 1935 Hollywood Reporter news item, Paramount initially bought the screen rights to Steinbeck's novel. M-G-M had acquired the rights to the novel by 1940, however, as verified in a 1940 short produced by Frank Whitbeck for the studio that announced the film as "coming" and starring Spencer Tracy. Although the film included many of the characters and situations of the novel, several aspects of the story were changed. In the novel, Sweets is a minor character and does not marry "Danny," who dies after a fall. In the novel, it is "Danny," a recently discharged veteran, who dwells on the responsibilities of property and sinks into an alcoholic depression that ultimately leads to his death. In the novel, "Danny" and "Pilon" do work seasonally, while in the film, much dialogue is devoted to a discussion of their loathing of work.
According to news items, M-G-M had wanted to borrow Rita Hayworth from Columbia to play the role of "Sweets Ramirez," and actors Desi Arnaz and Rags Ragland were both tested for parts in the film. John Garfield was borrowed from Warner Bros. for the film. Actor Robin Raymond was included in the cast in a Hollywood Reporter news item, but his appearance in the released film has not been confirmed. According to a pre-production news item, actress Maria Montez was tested for a role in the film. Other news items indicate that some exteriors and backgrounds for the film were shot on location in Monterey, CA, and Mario Castelnuovo-Tedesco was to have written five new musical sequences for the film. The extent of Castelnuevo-Tedesco's participation in the released film has not been determined. Actor Frank Morgan received an Academy Award nomination for Best Supporting Actor for his role as "The Pirate" in the film.