DVDs from TCM Shop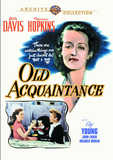 Old Acquaintance Two writers, friends since... MORE&nbsp> $11.95 Regularly $17.99 Buy Now
USER REVIEWS
See Detailed Ratings
Acting of Lead Performers

Acting of Supporting Cast

Director

Music Score

Title Sequence

Screenplay

Cinematography

Historical Importance

Would You Recommend?

0 Member Ratings
Rate the acting of the Lead Performers

Rate the acting of the Supporting Cast

Rate the Director

Rating of the Music Score

Rating of the Title Sequence

Screenplay

Creatively uses the camera to tell the story

Importance in Cinema history

Would you recommend for fans of this genre
Submit Ratings
Cancel
Write a Review
Read Reviews
NO REVIEWS AVAILABLE
The title has not been reviewed. Be the first to write a review by clicking here to start.
'ThankYO' Bette Davis!

Great film. So much intertwining between the characters. Spoiler alert! I was afraid it would turn out like 'Mildred Pierce' . . . and it sort of did, that is minus the smoking gun of course. However since 'Mildred Pierce' was actually made 2 years after 'Old Acquaintance' I guess it's the other way around. The acting wasn't the best . . . Bette Davis doing a characature of herself ('thankYO') and Miriam Hopkins playing a schizo-manic on crack, or at least too much Starbuck's. My guess is they both overacted in order to compensate for their mutual personal dislike for each other, still managing to remain so very professional in front of the camera, perhaps preparing Miss Davis for her on film gratuitous torment of Joan Crawford 19 years later. 'Old Acquaintance' was wonderfully entertaining giving a splendid mental vacation for 2 hours!

Bette Davis magnificent as always!

I loved this movie! I didn't know how much of an admirer of Bette Davis' I was until I saw some of her movies recently. This movie was superb in my opinion because Bette Davis delivered, like only she can. I liked the scene when confronted by Millie about finding out her husband loved her. She brought as always the poise, mannerisms, graciousness, and beauty to this film and filled it with her timeless elegance. I loved it when she spoke to DD in the movie and said ".. I am dangerously close to slapping you.." That was too funny!I have been a huge fan of TCM for many years and always liked Bette Davis' movies and didn't really "grasp" the depth of her gift of acting until recently. She is by far one of the, if not "the" truly gifted and, contrary to what I think a commentary said of her, a beautiful actress.

Miriam Hopkins is too broad.

This is completely a vehicle for the talents of Bette Davis. The film is really "not much". Miriam Hopkins is so over the top, you find it hard to conclude that she could sit still long enough to write a letter, yet she's billed as a writer. She is far too broad to resemble anything but comedic. Now hear me out, Miriam Hopkins is wonderful she's excellent as an actress and performer but Bette Davis is so subtle, thought provoking, and smart. So, wonderful she creates "drama" in any and all of her roles. She is underrated if anything. This one is fine to show off her talents but as a film I wouldn't want to watch it many times. Hopkins is so over dramatic, I find myself thinking, is she "for real" or just "totally clueless". This actually could have been better if the Hopkins part had been filled by someone who could create an authentic reality based counterpoint.

Miriam outbette's Bette

I must grudgingly admit that Miriam Hopkins steals this movie from Bette Davis. I'm a huge admirer of Bette Davis as an actress, but her performance in this film is phony & superficial. The script is good and Hopkins chews the scenery to bits and gives a juicy performance. However, for my money, their first film together (The Old Maid) is far superior to this one. Davis gave one of her most nuanced & emotionally moving performances in The Old Maid. Here, she gives a surface performance- she is "playing Bette Davis". Davis was never at her best in roles where she had to just let her hair down and be natural, such as The Great Lie or The Man Who Came to Dinner. Her boredom with her role is apparent and she overemotes. She was at her best in meaty roles such as The Little Foxes, Jezebel, The Private Lives of Elizabeth & Essex, Beyond the Forest, The Letter, The Old Maid, Of Human Bondage & All About Eve.

Oh, boy!

As I have had the misfortune to have known women identical to Millie, Miriam Hopkin's character, I have a great affection for this film. The fact that Hopkin's and Bette Davis despised one another in real life makes this film all the more believable when they are on the screen together here. These two have roles that play up their real-life tensions and that enhances every scene. The film is way ahead of its time too. It deals with the subjects of a May-December romance, romance novels and fame. My only complaint is the ending. There is no way in Hades these two women would end up as friends! One cannot deal with a manic-depressive as Millie. There is simply too much drama with these types of women and the level headed Kit would never have spent one more second with Millie!

Old Acquaintance (1943)

An excellent classic, Bette Davis once again gives a magnificent performance, Miriam Hopkins does well too. Good story, very well written and directed, fine production values in all aspects. Wonderful.

Thankful for Kit; Iritated by Millie

The contrast between Bette Davis and Miriam Hopkins is certainly brought out in this film. "little Millie Drake" (Miriam Hopkins) is one of the most iritating characters with the most obnoxious voices. She's so pretentious and ego maniacal that she's hard to take for the whole film. Had there been no Kit Marlowe (Bette Davis) in the film, with most of the lines, I doubt I could have stayed with the whole film. I don't like to watch films about women who portray women as idiotic and that's what Hopkins does with Millie. Kit and Davis to this film's rescue. Don't get me wrong, it's a good tale and a great Davis performance, but I could have gone all my life without ever hearing Millie or Hopkins.

Excellent

One of the best films with the Davis/Hopkins duet. Both characters are portrayed by women who bring verve and believability to a story that could have been trite and maudlin.Ironically, today Millie, the character portrayed by Hopkins would be diagnosed as, perhaps, manic depressive and given doses of meds to calm her down, thus ending both her writing career and her ability to grab life with both hands and beat it into submission. Of course, the collateral damage is done to both her family and her best friend. Davis' character, Kit, is both practical and whimsical, knowing exactly what she is missing in life. And just as Millie desired Kit's success so does Kit covet what Millie has and throws away.Both women are total opposites but, together, they form a "whole" person. They compliment each other and create a milieu that is both comfortable, familiar and familial.This movie, if done today, would be considered a "chick flick." That is too bad as it is one of the best character studies around without great doses of angst and "social awareness." It is, instead, like Steel Magnolias, a portrait of women discovering that friendship is one of the most important facets of a woman's life.

Kit versus Millie: Davis versus Hopkins

There's some inticing truth to the characters of Kit (Davis) and Millie (Hopkins). Instead of being women in show business, both Kit and Millie are writers. Kit has made her career as a nonfiction author of academic texts. There's not a lot of fame or fortune in that type of work. But scholars who do it are usually highly regarded by their peers in academe. The general public typically doesn't read their writings. Millie, being jealous of Kit's career, becomes a prolific pulp fiction writer who goes wacky after receiving fame and fortune. Millie typifies a glamour puss who uses that fame and fortune to be bothpompous and extravagant. She had a home, husband and family prior to fame and fortune. Kit tends to them after Millie neglects them because she's so caught up in herself. Of all the roles Bette Davis played, Kit Marlowe seems to be the one most like the person Bette Davis aspired to be. Millie and Miriam Hopkins alike are the types of people Davis couldn't stand.

One of the Essential Bette Davis Classics

I'm grateful to TCM for putting this filmon their August 2009 program. The role ofKit Marlowe that Bette Davis plays is theepitome of the types of women for which Davis sought out scripts. The great character actor wanted to appeal to real people. Even though she felt films out to be "larger than life," that didn't mean the women she depicted weren't everywoman types, much of the time. Although each character is distinctly different,each one, like Kit, represents a type ofwoman who Davis could convey through ideals she felt were essential to the public. Given her success as an actor andthat her mass of films remain classics, obviously Bette Davis knew what she was doing as a business woman. Although, I believe that Bette Davis had a strong moral core. Not a perfect one; none of us has that. But, there were parts she would not participate in. Kit Marlowe is the kind of woman Davis liked to portray.

Don't Miss This Film!

If you've not had the chance to watch this film, now's the time (August 15th on TCM). Bette Davis gives one of four stellar performances of 1939. Of the four, this is the only one that wasn't Oscar nominated. It was the most successful & competitve year Hollywood's ever had. If this film had been released a year later, I bet it would have become an Oscar nominee because there are so many qualities about it that make it a classic film. Most impressive is the very down to earth performance by Bette Davis. Her Kit Marlowe could be so many of us. Davis was already well establishedas a two time Oscar winner & knew exactlywhat types of characters, costumes music scores, settings et al that she wanted to become a part of. Kit's going to be a plain person who's not glamorous, but she's a successful academic writer who becomes a playwright. Leave the glamour to Miriam Hopkins' Millie. The actress & her character want it all anyway!

"Sorry." Davis exits after shaking Hopkins

I really like what the writer before me penned. It brought back to mind that scene we all seemed to wait for with baited breaths. Millie (Hopkins) has been acting awfully pompous with aristocratic arrogance after becoming a successful fiction writer. Her best friend Kit (Davis) has remained the same, regardless of her academic success as a writer. Two very different fields, kinds of success, and women. Millie's living the American dream with an adoringhusband and adorable daughter. Kit has remained single. But once Millie stops nurturing her family, Kit does. The tension between the two women is thick enough to cut. Finally, Kit has had it will Millie's oppulence. As she's just about to walk out of Millie's life for good, Kit pauses, lays down her purse, walks over to Millie, puts both hands on top of her shoulders almost like she's going to kiss her goodbye, then suddenly starts shaking the heck out of her. It's the crux of the film and just what I wanted to see happen. Go ahead Kit, shake some sense into Millie. As she stops the only word Kit says is, "Sorry."

Self-Confidence versus Narcissism

Among many actors Bette Davis worked with 2, in particular, stand out to me asnarcissistic. Most obvious is Joan Crawford. Writing so is nothing new or a secret about her. Another narcissist actsin this film: Miriam Hopkins. Kit Marloweis an academic writer played by Bette Davis. Kit's ego is like Davis': well esteemed. She's content with her work & secure in her abilities. The quality of products she creats is all, not rewards or popularity for them. Hopkins plays herlife-long friend Millie who's married & a homemaker before deciding to write pulpfiction novels that bring her fame & wealth. She neglects her family & becomesan ego maniac, as a result. Kit takes up Millie's duties as wife & mother, butrefuses to become wife or mother. Knowingboundaries, Kit sticks to them. Millie resents Kit for being more liked by her family. Her over-bloated ego resembles Hopkins'. So when the scene comes when Kit gets to shake sense into Millie, it's likely a moment Davis really meant!

Obvious Bette Davis Classic

The part of Kit Marlowe, which Bette Davis landed, was hotly persued by several big name actors like Rosalind Russell. The plot's about 2 friends, Kit & Millie (Miriam Hopkins). Kit's a serious writer 1st. Millie has been a housewife, then decides to become pulp fiction writer. Her success goes to her dizzy mind. Millie neglects her husband and child as a result of being fame-struck and rather dense. Kit fills in a a friend to Millie's husband and as an 'aunt' who is more of a mother than Millie. Favorite scene is after Millie accuses Kit of being involved with her husband, which isn't true. Just as she's walking out the door, Kit stops, puts down her things, goes to Millie, puts both hands on her shoulders and shakes the heck out of her. Then simply says, "Sorry," and exits. It's a moment that's quite gratifying after putting up with Millie's mindlessness for most of the film.

Make 'em like this again

Too bad, so sad that films and movies aren't more like this any longer. All the dolby noise, high tech lighting and tricks, massive explosions or implosions, elaborate makeup and costumes, animation, fancy marketing, etc. do not a better film make. There was no secret about Bette Davis and Miriam Hopkins not liking each other. So, both of them had to act their characters, not themselves, in order to be believable best friends in "Old Acquaintance." Davis has the better role by far, as an academic writer, the playright. Hopkins is a very self-centered wife and mother who gets very caught up in writing pulp romance novels that make bundles of money. That wealth goes to her head, distance her from her family and just about ends her friendship with her best friend. Davic becomnes the child's most attentive woman mother figure and also comforts the neglected husband.

A Complete Film

When I consider all of the situations that crop up in this film, it's easy to veiw it as complete. The plot goes full circle around. All of the acting is well done. The cast fits. Best of all, Bette Davis' Kit Marlowe is so multi-faceted a chatacter that she acts differently with each character. The popular trailer scene when Davis shakes Hopkins becomes a classic one. What I like is the morality of Kit Marlowe. Its refeshing,

"Sorry."

After shaking the heck out of her long time friend, Millie (Miriam Hopkins) who's gone silly, Kit (Bette Davis) says that one word, "Sorry," then exits silly Millie's apartment. Kit could have taken her neglect husband at any time she wanted and didn't. She could have turned Millie's daughter against her and didn't. Instead, she remained a loyal friend. Although Millie becomes a silly trash novel writer and Kit has long been an academic writer, Millie's the one who makes a fortune that goes to her head. Kit's mind remains firmly in place. The ending is rich. This film's very moving.

'The Aquaintance' is one powerful movie

This movie takes you on a journey. There's no blood, guns, car chases, or millions of dollars spent on special effects.How is this possible? ... It's called acting! The Hollywood actors of today just can't measure up.
*We protect your personal infortmation and will not provide it to anyone without your consent. For a complete explanation, please refer to TCM's Privacy Policy. By submitting your contribution, you agree to TCM's Terms of Use.