DVDs from TCM Shop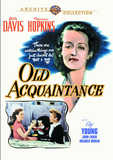 Old Acquaintance Two writers, friends since... MORE&nbsp> $11.95 Regularly $17.99 Buy Now
NOTES
According to an Los Angeles Times news item dated January 22, 1941, Warner Bros. purchased the John Van Druten play for $75,000. The play was performed for President Franklin D. Roosevelt on his birthday. The MPPA initially objected to the Van Druten play because "Kit" and "Rudd" live together before "Rudd" becomes involved with "Deidre." This was changed in the screenplay. Hollywood Reporter news items add the following information about the production: Olivia De Havilland was considered for a role in the film and Franchot Tone was scheduled to play the male lead, which had been announced for George Brent before the latter enlisted in the United States Coast Guard. Tone later turned down the role because, under the terms of a government wage freeze order, the studio was not permitted to pay him for his work on this film. Tone was reportedly willing to turn over his salary to a charity, but the Byrnes Act did not allow that option. The Byrnes Act prohibited an actor from earning more than the salary he or she had been paid immediately previous to October 27, 1942 when the law went into effect, and Tone's earnings the previous year had been uncharacteristically low because of illness.
The Warner Bros. Collection at the USC Cinema-Television Library adds the following information about the production: Jerome Cowan tested for the role of "Preston" and Rosalind Russell and Irene Dunne were considered for the role of "Kit." Although Edmund Goulding worked on early versions of the screenplay, he waived writing credit on the screenplay. The extent of his contribution is unknown. A October 30, 1942 Hollywood Reporter news item notes that Irving Rapper would replace Edmund Goulding as director because of the latter's illness. According to a modern source, when Edmund Goulding had a heart attack before filming started he was replaced by Vincent Sherman.
Modern sources add that cameraman Sol Polito was assigned at Bette Davis' request. During rehearsals for the scene when "Millie" rages against "Kit" for stealing her husband, Miriam Hopkins tried to distract and upstage Davis. Although Davis did not lose her temper with Hopkins in public, she never worked with her again. Miriam Hopkins reprised her role in a Lux Radio Theatre broadcast on May 29, 1944, co-starring Alexis Smith. Television versions of the play were broadcast on November 14, 1951 on ABC and November 29, 1956 on NBC. In 1976 Universal announced a planned remake, but this film was never made. Van Druten's play was also the basis for the 1981 MGM/UA film Rich and Famous starring Candice Bergen and Jacqueline Bisset and directed by George Cukor.