DVDs from TCM Shop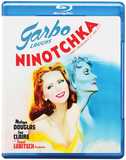 Ninotchka A coldhearted Soviet agent is warmed up by a trip to Paris... MORE&nbsp> $15.95 Regularly $19.98 Buy Now
NOTES
An onscreen inscription preceding the action of the film reads: "This picture takes place in Paris in those wonderful days when a siren was a brunette and not an alarm...and if a Frenchman turned out the light it was not on account of an air raid!" While the film contains a scene in which Felix Bressart tells Greta Garbo that his name-Buljanoff-is spelled with two "l's," the credits have the name with only one "l."
Ninotchka marked Ernst Lubitsch's first assignment as producer for M-G-M. An August 1938 Hollywood Reporter news item indicates that a version of the script was prepared by Jacques Deval. According to an April 1939 New York Times news item, M-G-M was prevented by the Hays Office from scripting a scene in which "Ninotchka" was to thwart the romantic advances of "Count Leon d'Algout" because it would have tended to show that "the Communists are a very low breed." The studio softened many of the potentially controversial aspects of the interplay between capitalist and Communist philosophies in Melchior Lengyel's original story. The New York Times article also noted that M-G-M changed the locale of the story from Moscow to Paris in order to avoid having to depict living conditions in the Russian city as being either "pleasant or unpleasant." Modern sources indicate that author Melchior Lengyel, S. N. Behrman, and Salka Viertel also wrote drafts of the script, and that Gottfried Reinhardt was originally assigned to direct.
Hollywood Reporter pre-production news items noted that M-G-M originally wanted Cary Grant to play the male lead; that production assistant Dr. Eric Lock went to Paris to "get backgrounds"; that the studio negotiated with Universal for the loan of actor Mischa Auer; and that filming began without a male lead having been cast. According to Hollywood Reporter, William Powell was considered for the male lead one week before the start of production. Ninotchka marked Garbo's first starring role in an American comedy and was billed as the film in which "Garbo laughs!"-an obvious play on the publicity campaign for her first sound film Anna Christie, which was advertised with the slogan "Garbo talks!" Modern sources indicate that the slogan "Garbo Laughs!" was created long before the actress was cast in the film. A news item in Hollywood Reporter in 1980 states that the sound of Garbo's laugh was dubbed by another actress because the star "couldn't summon up more than a sombre chuckle." In an October 1939 New York Times article written by Lubitsch, the director stated that he found Garbo to be the "most inhibited person I have ever worked with," and related that he had encountered difficulties in getting her to play a drunk scene because she was too timid to play it in a restaurant filled with extras. Studio publicity information indicates that for the first time in her career as an actress, Garbo attended the preview screenings of the film, one of which took place in Long Beach, where Garbo reportedly stood in line to buy tickets for fifteen minutes before anyone recognized her. According to a Hollywood Reporter pre-release news item, John Waters' second unit filmed the Russian street action and details of Red Square in Moscow.
Ninotchka had problems with censors in many parts of the world, especially with the Soviet censors, who, in 1950-51, according to news items in Motion Picture Herald and Los Angeles Times, threatened theater owners in Vienna with reprisals if they exhibited the film. The Soviets also waged an advertising campaign in Vienna to counter Ninotchka's publicity by buying up all the billboard space in the city and advertising the anti-West film The Fall of Berlin. Exhibition of the film was resumed in Vienna in March 1951, following the transfer of the city's rule from the Russians to the British. A April 3, 1948 Motion Picture Herald article relates a humorous incident that arose from a Soviet note sent to Rome, demanding that authorities take Ninotchka out of the theaters. The note reportedly resulted in a misunderstanding when the Italian officials, who were without a translator on that particular day, believed that the note concerned the Soviet tripartite proposal for Trieste. The Italian Foreign Ministry was said to have been "thrown into an uproar" over the matter.
Ninotchka was nominated for an Academy Award as Best Picture, and appeared on the National Board of Review and FD's "ten best" lists for 1939. Garbo was also nominated for an Academy Award as Best Actress. In 1957, the Writers Guild called the film an "outstanding triumph of original writing."
The first stage production of Ninotchka opened in Paris on April 4, 1950 and starred Sophie Desmarets and Henri Guisal. On February 24, 1954, a musical stage version of the story, entitled Silk Stockings, with songs by Cole Porter, opened in New York with Cy Feuer directing and Hildegarde Neff and Don Ameche starring. Ninotchka was remade by M-G-M in 1957 as Silk Stockings, directed by Rouben Mamoulian and starring Cyd Charisse and Fred Astaire. Two actors who appeared in the 1939 film, Rolfe Sedan and George Tobias, also appeared in Silk Stockings, but they did not recreate their earlier roles. An ABC Special television production of Ninotchka, which aired on the network on April 20, 1960, was directed by Tom Donovan and starred Maria Schell and Gig Young.