DVDs from TCM Shop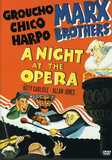 A Night at the Opera Three zanies turn an operatic... MORE&nbsp> $14.95 Regularly $19.98 Buy Now
Articles
SEE ALL ARTICLES
A Night at the Opera (1935)
SYNOPSIS

Con man and "promoter" Otis B. Driftwood is trying to woo the wealthy Mrs. Claypool into investing in an opera company by promising to secure her entry into high society. The stars of the Milan-based company are the vain, mean-spirited Rudolfo and the sweet, talented Rosa. Rosa is in love with the tenor Ricardo, who has been consigned to the chorus by his rival, Rudolfo. Ricardo's agent, Fiorello, and Rudolfo's put-upon dresser, Tomasso, also become involved in Driftwood's scheme, which brings everyone together on an ocean liner bound for New York. Once in the States, Rudolfo has both Driftwood and Rosa fired from the company. They get their revenge, however, by totally devastating the company's production of Il Trovatore, kidnapping Rudolfo, and triumphantly substituting Rosa and Ricardo in the leads.

Director: Sam Wood
Producer: Irving G. Thalberg
Screenplay: George S. Kaufman, Morrie Ryskind
Cinematographer: Merritt B. Gerstad
Editor: William LeVanway
Art Director: Cedric Gibbons
Original Music: Herbert Stothart
Cast: Groucho Marx (Otis B. Driftwood), Chico Marx (Fiorello), Harpo Marx (Tomasso), Margaret Dumont (Mrs. Claypool), Kitty Carlisle (Rosa), Allan Jones (Ricardo), Walter Woolf King (Rudolfo).
BW-92m. Closed captioning. Descriptive Video.

Why A NIGHT AT THE OPERA is Essential

Marx Brothers fans are generally divided over the quality of the early '30s Paramount period (Animal Crackers, Horse Feathers, Duck Soup, etc.) vs. the MGM period (A Day at the Races, Go West, etc.), which was kicked off by A Night at the Opera, their most successful movie. Paramount purists will hail the anarchic comedy of the earlier films, the ones more closely akin to the Marx Brothers' stage career. They are superior, they say, for their lack of both sentimentality and clear logic, for the way the brothers - unfettered by serious or consistent character motivations and definitions - run rampant over the rather fantastic worlds created in the films.

Defenders of the MGM films will usually admit that the franchise went steadily downhill over the years but they like to point out that at least the later films didn't include the boring Zeppo and it's hard to top A Night at the Opera. With its justly famous stateroom scene, the verbal bantering and punning of Groucho and Chico, and the shredding of an entire Verdi opera, this movie has outlasted all the others in the opinion of most moviegoers as the brothers' all-time classic.

The very virtues touted by those who prefer the earlier films are exactly what brought the Marxes to Metro in the first place and what made them willingly follow the advice of the studio's Boy Wonder production chief, Irving G. Thalberg. The last of the Paramount films, Duck Soup (1933), although hailed as a cult classic now and often considered the team's masterpiece, was a miserable flop both critically and commercially. The brothers found themselves without a studio, without one of their members (Zeppo, who left to pursue a career off camera), and without any future film prospects. But Chico, ever the gambler, was a bridge partner of Irving Thalberg, who happened to be a Marx fan. And so, under his powerful patronage, the team got a fresh start at the biggest studio in the business.

Thalberg thought one of the Marx Brothers' major problems was that they appealed only to a minority of moviegoers, particularly the intellectual elite, and that they were ignoring the sizable female audience that so often decided which films the family would see. He also found them to be unsympathetic characters on screen. To solve this, he strengthened the romantic musical-comedy aspect of the plots and put the Marxes into them as kindly and helpful types rather than the uninhibited anarchists they were in the Paramount comedies. The storylines became more straightforward, the brothers' characters more logically integrated, and the production values much more lavish in the typical MGM tradition.

For some, that was a loss. After all, hadn't Thalberg stripped Harpo of his trademark overcoat, in which he could conceal almost anything? And as the films became more formulaic and restrained after Thalberg's death, that opinion seemed to be justified. But the Marx Brothers themselves knew their old approach was beginning to repeat itself too much, so they were cautiously eager to let Thalberg give them a makeover.

Harpo wrote years later, "Our trouble, Irving said, was that we were a big-time act using small-time material. We belonged in A-pictures, not in, hodgepodge, patchwork jobs. Our movies should have believable plots, love stories, big casts, production numbers. We were afraid this would take us out of our element, but Thalberg said, 'Don't worry about a thing. You get me the laughs and I'll get you the story."

Get the laughs they certainly did, and audiences are still laughing at their antics today. Here are some of the most famous Marx Brothers scenes: 15 people crowding into Groucho's tiny shipboard stateroom; Groucho ordering two hardboiled eggs from the ship steward, changing it to three each time Harpo honks his horn; Groucho and Chico agreeing on the terms of Ricardo's contract by tearing away all disputed passages until they're left with only a scrap of paper. And despite the introduction of a "kinder, gentler" Marx Brothers, A Night at the Opera still contains many elements of their trademark zany, anarchic humor: Chico, Harpo and Allan Jones disguising themselves as rather strange and inexplicable bearded aviator heroes to escape the authorities; the brothers eluding a private detective by leading him on a mad chase through a hotel suite whose furniture they keep rearranging; and, of course, Groucho's one-liners, particularly those hurled at Margaret Dumont in what is half courtship, half character assassination.

Despite its eventual success, A Night at the Opera was nearly a disaster. It was previewed in Long Beach, Calif., where the audience sat stone-faced throughout the entire show. In the lobby later, Groucho was practically suicidal, and Chico, desperate for an excuse, insisted the response was because the mayor of Long Beach had recently died. Everybody, especially director Sam Wood, was ready to re-cut the picture, but Thalberg insisted they preview it in San Diego the next night before doing anything. The San Diego audience fell into the aisles laughing. To this day, no one can explain the reaction in Long Beach.

by Rob Nixon
back to top
---
A Night at the Opera (1935)
"Alone," the song Allan Jones and Kitty Carlisle sing and Groucho plays on the harp, became one of the top hits of 1936. It was written by Nacio Herb Brown and Arthur Freed, who went on to become the head of MGM's musical production in the 1940s - the unit responsible for such hits as Singin' in the Rain (1952) and On the Town (1949).


The rock group Queen released an album in 1975 titled A Night at the Opera, containing one of their most famous songs, "Bohemian Rhapsody." A year later, they released the album A Day at the Races, which, like the 1937 Marx Brothers film of the same name, was judged by critics to be not as good as its predecessor.


A totally unrelated animated film with the same title was made in The Netherlands in 1998.


In the ocean liner sequence, Chico and Harpo slip away from the elegant upper decks to party with the immigrant steerage passengers below. The poor masses are shown to be more fun loving and lively than their superiors, a scene reminiscent of a very similar one in Titanic (1997).


MGM continued to make a bundle on the movie by reissuing it a few years later on a double bill with the Clark Gable-Spencer Tracy-Jeanette MacDonald film San Francisco (1936). It turned out to be a popular combination: Jeanette MacDonald singing opera as the city fell to rubble around her, and the Marx Brothers reducing Verdi's Il Trovatore to virtual rubble.

by Rob Nixon
back to top
---
A Night at the Opera (1935)
A Night at the Opera was the first Marx Brothers film without Zeppo. Feeling his talent was being wasted playing the bland straight man in their first five movies, he left the group shortly after the debacle of Duck Soup (1933). When Groucho, Harpo and Chico first met with Irving Thalberg to discuss working at MGM, the producer asked if three brothers would cost less than four. "Don't be silly," Groucho shot back. "Without Zeppo we're worth twice as much."


Zeppo went on to become a very successful agent. As his brothers' representative, he negotiated the deal to buy the rights to the Broadway hit Room Service, which the Marxes made into a picture in 1938. His second wife, Barbara, from whom he was divorced in 1972, later married Frank Sinatra. Something of a mechanical wiz, he patented in 1969 a wristwatch for cardiac patients, from which an alarm would sound if the wearer went into cardiac arrest. His company, Marman Products, produced clamping devices that were used in the first atomic bomb raids over Japan in 1945.


The perennial Marx Brothers leading lady - and the object of Groucho's flirtations and insults - Margaret Dumont was very much like the character she played in A Night at the Opera, Mrs. Claypool, and in seven other Marx films. Morrie Ryskind, co-author of three Marx movies, including this one, said she was a society widow in need of a job, so she went on the stage. Although she had great success in Marx Brothers' shows and, later, movies, she claimed never to quite get what was going on. Groucho once said she was "always the stuffy, dignified matron. She took everything seriously. She would say to me: 'Julie [his real name], why are they laughing?'" Dumont was born in Atlanta in 1889 and brought up in the home of her godfather, Joel Chandler Harris, creator of the Uncle Remus stories. Early in life, she trained for the opera. She died in 1965.


Director Sam Wood temporarily replaced the ill Victor Fleming (himself a replacement for George Cukor) during the making of Gone with the Wind (1939).


Allan Jones was Jeanette MacDonald's first choice to be her co-star in Naughty Marietta (1935), but because he was tied up with this picture, she made the movie with Nelson Eddy, the first of their eight movies together. Jones is the father of the singer Jack Jones, popular in the 1960s.


Kitty Carlisle married Moss Hart, frequent collaborator of George S. Kaufman, who co-wrote this script. Although an accomplished singer, she is best known as a panelist on a number of TV game shows of the 1950s and 60s, including To Tell the Truth and I've Got a Secret. She made only four movies after A Night at the Opera; the most recent is Six Degrees of Separation (1993).

FUN QUOTES FROM A NIGHT AT THE OPERA


Driftwood (Groucho): I saw Mrs. Claypool first. Of course, her mother reallysaw her first but there's no point in bringing the Civil War into this.


Driftwood: You're willing to pay him a thousand dollars a night just forsinging? Why, you can get a phonograph record of Minnie the Moocher for 75cents. And for a buck and a quarter, you can get Minnie.


Driftwood: Let there be dancing in the streets, drinking in the saloons, andnecking in the parlor.


Mrs. Claypool: I've been sitting right here since 7:00.
Driftwood: Yes, with your back to me. When I invite a woman to dinner I expect her to look at my face. That's the price she has to pay.


Driftwood: That woman? Do you know why I sat with her? Because she remindedme of you.
Mrs. Claypool: Really.
Driftwood: Of course. That's why I'm sitting here with you. Because you remind me of you. Your eyes, your throat, your lips. Everything about you reminds me of you...except you. How do you account for that? If she figures that one out she's good.


Driftwood: It's all right, tha-that's in every contract. Tha-that's what they call a sanity clause.
Fiorello (Chico): Ha ha ha ha ha ha ... you can't fool me. There ain't no sanity clause.

Otis B. Driftwood: That can't be my shirt, my shirt doesn't snore.
Fiorello: Shh! Don't wake him up. He's got insomnia, he's trying to sleep it off.

Otis B. Driftwood: You didn't happen to see my suit in there, did you?
Fiorello: Yeah, it was taking up too much room, so we sold it.
Otis B. Driftwood: Did you get anything for it?
Fiorello: Uh... dollar forty.
Otis B. Driftwood: That's my suit all right.

Lassparri: Never in my life have I received such treatment. They threw an apple at me.
Otis B. Driftwood: Well, watermelons are out of season.

Otis B. Driftwood: Have you got any milk-fed chickens?
Waiter: Yes, sir.
Otis B. Driftwood: Well, squeeze the milk out of one and bring me a glass.

Henderson: You live here all alone?
Otis B. Driftwood: Yes. Just me and my memories. I'm practically a hermit.
Henderson: Oh. A hermit. I notice the table's set for four.
Otis B. Driftwood: That's nothing - my alarm clock is set for eight. That doesn't prove a thing.

Henderson: Am I crazy or are there only two beds in here?
Otis B. Driftwood: Now which question do you want me to answer first Henderson?

Compiled by Rob Nixon
back to top
---
A Night at the Opera (1935)
The story behind A Night at the Opera is very much the story of its script. Once Irving Thalberg and the Marx Brothers agreed to an approach to the movie, the process of developing the final script was a long one involving many people. The first writer to tackle it was James McGuinness, a former sportswriter and eventual head of the MGM story department, who had penned Tarzan and His Mate (1934). He concocted a plot built around Harpo as the world's greatest tenor, who never sings or speaks throughout the film. Thalberg rejected this idea and, at Groucho's insistence, brought in noted songwriters Bert Kalmar and Harry Ruby, who had contributed to the scripts of the Marx Brothers' earlier films Duck Soup (1933) and Horse Feathers (1932) and to their hit play Animal Crackers, made into a movie in 1930.

Some sources say Kalmar and Ruby were the creators of the next phase of the story; others credit George Seaton and Robert Pirosh, two relatively unknown writers Groucho considered "unspoiled" neophytes. Whoever it was, the new story was based on an old Broadway legend and popular backstage tale that would cast Groucho as a producer plotting to stage the worst opera in history so that the show would close quickly. The backers he had soaked for ten times the production costs would assume they had lost their money, and Groucho could escape to South America with the sizable profits. But his plans are thwarted when the opera becomes a huge hit and he is left owing ten times what the show actually brings in.

Groucho loved the idea; Thalberg nixed it. He explained they didn't want a funny story but a good, simple plot that the Marx Brothers could use as a springboard for their comic ideas. So the bogus play idea was shelved - and resurfaced more than 30 years later as the Mel Brooks film The Producers (1968). (And that film has now been turned into a stage production that is currently the biggest runaway blockbuster on Broadway in years.) The only remaining elements of Kalmar and Ruby's contribution were the character names of Groucho as Otis B. Driftwood and Margaret Dumont as Mrs. Claypool. As for Seaton and Pirosh, they got their break as the scripters of the Marxes' follow-up movie, A Day at the Races (1937).

Finally, the Marx Brothers and Thalberg agreed on established playwrights George S. Kaufman and Morrie Ryskind, two of the creators of the play Animal Crackers and the writers of the first Marx Brothers movie The Cocoanuts (1929). When they had finished their draft, Thalberg brought in Jack Benny's top gagman, the 300-pound writer Al Boasberg. He punched up the jokes and wrote the famous stateroom scene, which almost didn't happen thanks to Thalberg's constant pressure on the writer. Tired of repeated calls asking for the material, Boasberg told Thalberg the scene was ready and to come to his office to pick it up. Thalberg and the Marx Brothers arrived to find no Boasberg and no sign of the script. They looked everywhere and were about to give up when Groucho happened to glance up. There he spied the scene, cut into ribbons and nailed to the ceiling. According to Groucho, it took them hours to piece it together.

Later, Thalberg hit on the idea of having Groucho and the boys try the material out in front of live audiences before committing a minute of it to film. The Marxes took five scenes on a road-show tour of Seattle, Salt Lake City, Portland and Santa Barbara. An article in The Reader's Digest detailed the process: "When the patrons failed to laugh at a gag, the line came out. When they laughed late, the line was sharpened to take effect more quickly. When they laughed mildly, the line was sent back to the workshop. When they roared, the line was okayed for the film version." Ryskind and Boasberg sat in the audience at every performance (four times a day) making notes and timing audience reactions. Later, when director Sam Wood would try to change the pace or timing of a scene or bit, the writers would remind him that X number of seconds had to be left for laughter. That's why in the film there are what seem to be inexplicable pauses between lines - the performers are holding for the timed response.

by Rob Nixon
back to top
---
A Night at the Opera (1935)
The Marx Brothers could be just as nutty off camera as on. A regular target of their pranks was Thalberg, who had the habit of keeping even the biggest stars waiting for appointments. Finding themselves barred from the producer's office one day, the three puffed on cigars and blew the smoke under his door until they choked him out of the room. Another time, they barricaded his door with office furniture so he couldn't get out. And once, when he left a meeting with them to attend to other business, he returned to find them sitting in front of his fireplace - nude, according to some versions of the story - roasting potatoes.

The film's director was the very serious, very conservative Sam Wood, a man who by most accounts had little or no sense of humor. Allan Jones remembered him as "a disagreeable guy, very insecure." Jones also said Wood responded to actors' questions by saying, "I don't know, I don't know. Just do it again." Wood, who was against improvisation and ad-libbing, would shoot as many as 20 takes of each scene, a method the Marx Brothers found irritating and inhibiting. Jones believed he shot so many takes because he wasn't really sure which was the best until he looked at the day's work.

Sam Wood's stuffiness made him the perfect Marx target. The director had an ulcer, so he started each day with a big glass of milk. The brothers began to have it delivered to him in a baby bottle - a joke Wood never got. He also imposed a fine for being late to the set, which Groucho was in favor of at first. But Chico and Harpo nailed their brother's garage door shut, making him the first to pay the $50 penalty. Then the three turned the penalty into a game, betting on who would be the next to be fined. Wood eventually abandoned the idea.

Despite all the games and pranks, Kitty Carlisle said the atmosphere on the set was "deadly earnest." She recalled how Groucho would come up to her from time to time, try out a line, and ask, "Is this funny?" If she said "no," he would "go away absolutely crushed and try it out on everyone else in the cast." On the other hand, Chico, she said, was always off in a back room playing cards. And Harpo would work very diligently until about 11 a.m. and then plop himself down on the nearest piece of furniture and begin yelling, "Lunchie! Lunchie!"

by Rob Nixon
back to top
---
A Night at the Opera (1935)
Con man and "promoter" Otis B. Driftwood is trying to woo the wealthy Mrs. Claypool into investing in an opera company by promising to secure her entry into high society. The stars of the Milan-based company are the vain, mean-spirited Rodolfo and the sweet, talented Rosa. Rosa is in love with the tenor Riccardo, who has been consigned to the chorus by his rival, Rodolfo. Riccardo's agent, Fiorello, and Rodolfo's put-upon dresser, Tomasso, also become involved in Driftwood's scheme, which brings everyone together on an ocean liner bound for New York. Once in the States, Rodolfo has both Driftwood and Rosa fired from the company. They get their revenge, however, by totally devastating the company's production of Il Trovatore, kidnapping Rodolfo, and triumphantly substituting Rosa and Riccardo in the leads.

A Night at the Opera was the first Marx Brothers film without Zeppo. Feeling his talent was being wasted playing the bland straight man in their first five movies, he left the group shortly after the debacle of Duck Soup (1933). When Groucho, Harpo and Chico first met with Irving Thalberg to discuss working at MGM, the producer asked if threebrothers would cost less than four. "Don't be silly," Groucho shot back. "Without Zeppo we're worth twice as much."

But despite all the games and pranks the Marx Brothers were fond of playing, Kitty Carlisle said the atmosphere on the set was "deadly earnest." She recalled how Groucho would come up to her from time to time, try out a line, and ask, "Is this funny?" If she said "no," he would "go away absolutely crushed and try it out on everyone else in the cast." On the other hand, Chico, she said, was always off in a back room playing cards. And Harpo would work very diligently until about 11 a.m. and then plop himself down on the nearest piece of furniture and beginyelling, "Lunchie! Lunchie!"

While some Marx Brothers fans prefer the earlier Paramount features like Horse Feathers (1932) to the MGM features they made, the majority opinion is that A Night at the Opera is their finest film. Here are some of the most famous Marx Brothers scenes: 15 people crowding into Groucho's tiny shipboard stateroom; Groucho ordering two hardboiled eggsfrom the ship steward, changing it to three each time Harpo honks his horn; Groucho and Chico agreeing on the terms of Riccardo's contract by tearing away all disputed passages until they're left with only a scrap of paper. And despite MGM's introduction of a "kinder, gentler" Marx Brothers, A Night at the Opera still contains many elements of their trademark zany, anarchic humor: Chico, Harpo and Allen Jones disguising themselves as rather strange and inexplicably bearded aviator heroes to escape the authorities; the brothers eluding a private detective by leading him on a mad chase through a hotel suite whose furniture they keep rearranging; and, of course, Groucho's one-liners, particularly those hurled at Margaret Dumont in what is half courtship, half character assassination.

Director: Sam Wood

Producer: Irving G. Thalberg
Screenplay: George S. Kaufman, Morrie Ryskind
Cinematographer: Merritt B. Gerstadt
Editor: William Levanway
Art Director: Cedric Gibbons
Original Music: Herbert Stothart
Cast: Groucho Marx (Otis B. Driftwood), Chico Marx (Fiorello), Harpo Marx (Tomasso), Mrs. Claypool (Margaret Dumont), Rosa (Kitty Carlisle), Riccardo (Allen Jones), Rodolfo (Walter Woolf King).
BW-92m. Closed captioning. Descriptive Video.

by Rob Nixon


back to top
---
A Night at the Opera (1935)
Awards and Honors

A Night at the Opera was a huge hit for the Marx Brothers and MGM, and a welcome change for the comedians whose previous film, Duck Soup (1933) had tanked at the box office. The film brought in more than $3 million on a cost of just over a million - and the Marxes, thanks to an exceptionally sweet contract, owned 15 percent of the gross.

A Night at the Opera was one of the 25 films chosen in 1993 to be catalogued in the Library of Congress as a National Treasure.

The Critics' Corner: A Night at the Opera

"The loudest and funniest screen comedy of the winter season."
- The New York Times

"None of their previous films is as consistently and exhaustingly funny, or as rich in comic invention and satire."
- The New York Evening Post

"One of the most hilarious collections of bad jokes I've laughed myself nearly sick over."
- Otis Ferguson, The New Republic

"The Marx Brothers have worn reasonably well in the three decades since they burned themselves out somewhere between A Night at the Opera and A Day at the Races."
- Andrew Sarris, The American Cinema (Dutton, 1968)

"A Marx Brothers movie is a series of sketches on a theme. But a Thalberg movie is a story clearly told. Not only does he lumber the Marxes with young lovers, but he organizes the adventure around a plot and assigns the boys set roles in that plot. Concomitantly, we lose the wonderfully surreal aspect of the Paramount Marxes, the jesting that is physically possible but socially improbable...What's odd about all this is that A Night at the Opera is second in their canon only to Duck Soup. (Some prefer it.) This proves that even Thalberg could not, finally, contain the boys, and that, perhaps not inadvertently, he had given them the sweetest challenge to their anarchic energy in utilizing opera as a background. Nothing is more alien to the Marxes than opera, with its piss-proud tenors and society divas. Nothing more surely deserves the Marxian treatment."
- Ethan Mordden, The Hollywood Studios (Knopf, 1988)

"It's a top budget job, opulent and meticulous, with its fair share of vices: this is the first Marx Brothers film where you really feel like strangling the romantic leads. But it has even more virtues: there's no Zeppo, the script's generally great (Kaufman and Ryskind), Dumont's completely great, and the Brothers get to perform some of their most irresistible routines - the stateroom scene and all."
- Geoff Brown, TimeOut Film Guide

"Best Marx Brothers picture to date. Abounds in laughs and side-splitting situations."
- Boxoffice Magazine

"The Marx Brothers sometimes said that this was their best film; it isn't, but it was their greatest hit. Two beautifully stuffed American targets - grand opera and high society - are left dismantled, flapping like scarecrows. (If you ever could listen to Il Trovatore with a straight face, you can never do so again.)...This comedy has its classic sequence: the stateroom scene, which is widely regarded as the funniest five minutes in screen history. It will sustain you through the dreadful duets."
- Pauline Kael, 5001 Nights at the Movies

"Duck Soup was 70 minutes; A Night at the Opera was 92. But you could relieve yourself in the breathing spaces. Opera has the Party of the First Part and the stateroom scene, and it's clear that when that didn't work onstage it was [Irving] Thalberg who said keep it in - because the reality of the room is different on film. My friends, that is quietly brilliant....But don't kid yourself: Without this film, opera wouldn't be where it is in America."
- David Thomson, Have You Seen...?

"The last vintage Marx Brothers film...Their cheekiness, their desire and ability to stultify bourgeois decorum, and the unparalleled combination of Groucho and Chico's linguistic wit with Harpo's demoniac miming, ensure victory for the Marxes as ever."
- Peter Cowie, Eighty Years of Cinema

"The backstage finish, with Harpo doing a Tarzan on the fly ropes, contains more action than the Marxes usually go in for, but it relieves the strictly verbal comedy and provides a sock exit."
- Variety

"Fortunately not even the painfully sickening romance between Jones and Carlisle (including a quayside to ocean liner duet) can detract from the effortless majesty of the Marx Brothers' comic antics. The delirious climax sees the threesome wreck a performance of Verdi's "Il Trovatore" in a completely irreverent assault on high culture by their inimitable blend of disreputable shenanigans."
- Jamie Russell, www.bbc.co.uk

Compiled by Rob Nixon
back to top
---