DVDs from TCM Shop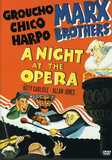 A Night at the Opera Three zanies turn an operatic... MORE&nbsp> $14.95 Regularly $19.98 Buy Now
Trivia
The famous "stateroom scene" was originally conceived as a way of getting a cheap laugh by having Groucho Marx, crowded out of his room, changing his pants in the corridor.
The first storyline for A Night at the Opera was about Groucho as an producer of an opera. That story was dropped but appeared many times in Hollywood as a story idea - until Mel Brooks made Producers, The (1968) and got an Academy Award.
In the scene where Harpo, Chico and Riccardo are impersonating the three aviators in front of the mayor, Groucho turns around to speak to them in a "foreign language." What is actually being said is a direct response to the accusations of imposters, only the audio track is played backwards. The first time Groucho actually says, "Did you hear what he said? He said you were frauds and imposters!" which is then followed by Chico and Riccardo protesting loudly, "How can he say a thing like that," "This is ridiculous," and other such comments.
The opera performed as the movie's climax is Giuseppe Verdi's Il Trovatore.
Sam Wood, freshman Marx Brothers director in this film, was a perfectionist. The scene in which Harpo Marx hangs from the rope was filmed so many times that Harpo's hands became cut and swollen from the rope.
The first Marx Brothers film made without brother Zeppo Marx, it started a new trend of Marx Brothers movies featuring a Zeppo-like supporting character who carries the love story and sings the song.