DVDs from TCM Shop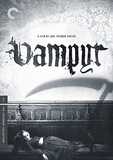 Vampyr Classic tale of a young... MORE&nbsp> $29.95 Regularly $39.95 Buy Now
Home Video Reviews
Alfred Hitchcock once referred to Carl Dreyer's 1932 horror film
Vampyr
as "the only film worth watching...twice." You can now put Hitchcock's words to the test with the Criterion Collection's new two-disc edition of what Dreyer himself described as a "waking dream" of a film. It is the unsettling tale of a student of the occult named Allan Gray (or David Gray, according to some foreign prints of the film) who is met by various supernatural hosts and the presence of a mysterious evil in a village outside of Paris. While technically a vampire tale, complete with rolling fog, breathing shadows, the risen dead and a hammer and stake that someone might just take to heart, Dryer's take on a familiar story told many times over remains wholly unique.
Coming off the crushing box office disaster
The Passion of Joan of Arc
(1928),
Vampyr
was Dreyer's hope for a commercially successful genre picture, privately financed by Baron Nicholas de Gunzburg (who agreed to act as the producer if he could star in the lead role; he's credited as Julian West in the final picture). Given the success of spooky potboiler films like
The Lodger
(1927) and
The Cat and the Canary
(1927), Dreyer was confidant he could have his artistic take and eat sizable profits too with this crowd-pleasing horror flick. After Dreyer had read 30-40 mystery stories and recognized many recurring elements of the horror/thriller genre in preparation of his script, he said confidently, "We can jolly well make this stuff too." He and co-writer Christen Jul based their screenplay on a collection of supernatural tales entitled
In a Glass Darkly
, by the 19th-Century Irish Huguenot writer Joseph Sheridan Le Fanu-emphasizing one tale in particular, the modern vampire story "Carmilla." As for other ingredients that went into
Vampyr
, Dreyer was most likely affected at least in some part by the craze for vampire tales, then a part of the zeitgeist even before Tod Browning's 1931 film of
Dracula
.
Dreyer started planning his vampire tale in the fall of 1929, explicitly influenced by Browning's other vampire tale, the now-infamously lost Lon Chaney horror tale,
London After Midnight
(1928). Dreyer may have also seen the 1927 stage production of
Dracula
, starring Bela Lugosi, that premiered on Broadway and enjoyed hit seasons in Europe. As for another key horror film that came well before
Vampyr
, Dreyer claimed to have never seen F.W. Murnau's
Nosferatu
(1922). This may seem impossible, given that Murnau and his vampire tale are so nakedly influential in so many different films and national cinemas, but it's also true that
Vampyr
stands out as a much different story than Murnau's tale that was based (illegally) on Bram Stoker's novel,
Dracula
. Whereas Murnau emphasized expressionistic sets and ghastly make-up on actor Max Schreck's Nosferatu, Dreyer chose to dwell on the inner illogic of this nightmare demon world of oppressive shadows and muted light dancing around each other in a naturalistic world. His approach differed not only from Murnau's but also from Hollywood's. Instead of an overt representation of what goes bump in the night, Dreyer instead took a more impressionist approach that expressed more eerie dread within psychological and inner turmoil, but always within a knowable space. For this purpose, Dreyer avoided the use of Hollywood's favored studio sets and shot the entire film on location.
The camerawork by Rudolph Maté, later the director of stylistic films like
The Dark Past
(1948) and
D.O.A.
(1950), pushes even further a sense of disconnect from the rational; the camera seems to have a point of view all of its own, one that subverts any ability for us to identify with the main character. Of course, any empathy we might have with Allan Gray is hampered by the fact that he's a rather grey character himself. Passive in his actions and his reactions, he is literally the outsider, often seen peering in on the action through windows and doors. In contrast to the cast of spooks lingering around the village, Gray is clean cut, with neatly parted black hair. Inquisitive and searching, he's Agent Dale Cooper from
Twin Peaks
, without a damn fine cup of coffee and sinister timber.
Vampyr
is composed with a much lesser emphasis on the human face as
The Passion of Joan of Arc
did. Instead, Dreyer chose to keep the camera at a distance from the face; there are few close-ups in the film. Dreyer leaves the map of human emotion and tells the story with the moody sets, evocative lighting (especially with the disembodied shadows), Mate's deceptive camera movement and the illogical cutting. The camera alone maintains a tension that is unsettling, like when the affected woman awakes to say, "I'm afraid of dying. I am damned." Instead of cutting to a close-up where we the viewer can empathize with the dying woman, Dreyer stays in a disaffected wide shot.
The young Marcel Carne, then a critic for
Cine-Magazine
, wrote about the film's Paris premiere in September 1932: "A genius of a both diabolical and mysterious kind bursts forth in these muted, oppressive images-as the juice seeps from an overripe fruit." Alas, his reaction was in the minority. At the world premiere took place in Berlin in May 1932--almost exactly four years after the release of Dreyer's commercial failure
The Passion of Joan of Arc
(1928)--
Vampyr
was met with the disastrous box office reaction; on its opening night in Berlin, it was booed by a section of the audience, a sign of its eventual bottom-line anemia. Dreyer felt uFa's decision to hold the release of the film until after the release of Hollywood's horror cycle of 1931-including Universal's vaunted
Frankenstein
(1931) and
Dracula
(1931) and Paramount's
Dr. Jekyll and Mr. Hyde
(1932)-damaged his film's reception.
Vampyr
was completed by mid-1931, well before the Hollywood horrors made their debut, but sat on the shelf for nine months. Despite the box office and critical drubbing, Dreyer felt he made the film he wanted to make. When asked immediately after the premiere what his intentions with the film had been, Dreyer said, "I have not had any particular intention. I just wanted to make a film different from all other films. I wanted...to break new ground for the cinema. That is all...I have broken new ground."
Criterion's edition includes typically outstanding supplements. At the top of the list is
Carl Th. Dreyer
, a 1966 documentary by Jorgen Roos that chronicles Dreyer's career. In the documentary, a Who's Who of European film culture--Henri-George Clouzot, Henri Langlois, Francois Truffaut, Jean-Luc Godard and others--pop up for the release of Dreyer's last film,
Gertrud
. A visual essay by scholar Casper Tybjerg compliments the audio commentary by film scholar Tony Rayns with more discussion on the influences and the production history in the creation of
Vampyr
. (A side note: Eureka's Masters of Cinema Region 2 edition of
Vampyr
boasts an audio commentary by Guillermo del Toro, a tantalizing feature that Criterion's edition lacks.) Also of interest is a radio broadcast from 1958 of Dreyer reading his own essay about his thoughts and philosophy about filmmaking. Off disc, the supplements are just as stellar; a book featuring Dreyer and Christen Jul's original screenplay (where David Grey is named Nikolas) is included, as well as Sheridan Le Fanu's 1872 story "Carmilla," one of the sources for the film. Finally, the extensive 43-page booklet features new essays about the film's production history and its place in the history of cultural representations of the vampire by, respectively, critics Mark Le Fanu (a descendant of Sheridan Le Fanu) and Kim Newman. Martin Koerber supplies some notes on the restoration of
Vampyr
, while Criterion rounds out the booklet with an interview with Baron Nicolas de Gunzburg, originally printed in the spring 1964 issue of "Film Culture."
For more information about
Vampyr
, visit
The Criterion Collection
.To order
Vampyr
, go to
TCM Shopping
.
by Scott McGee