DVDs from TCM Shop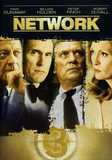 Network Television programmers turn a... MORE&nbsp> $10.95 Regularly $14.98 Buy Now blu-ray
Quotes
Diana


Hi. I'm Diana Christensen, a racist lackey of the imperialist ruling circles.

Laureen Hobbs


I'm Laureen Hobbs, a badass commie nigger.

Diana


Sounds like the basis of a firm friendship.

Diana


I'm interested in doing a weekly dramatic series based on the Ecumenical Liberation Army. The way I see the series is: each week we open with an authentic act of political terrorism taken on the spot, in the actual moment. Then we go to the drama behind the opening film footage. That's your job, Ms. Hobbs. You go to get the Ecumenicals to bring in that film footage for us. The network can't deal with them directly; they are, after all, wanted criminals.

Diana


The time has come to re-evaluate our relationship, Max.

Max


So I see.

Diana


I don't like the way this script of ours has turned out. It's turning into a seedy little drama.

Max


You're going to cancel the show?

Diana


Right.

Louise Schumacher


Do you love her?

Max


I don't know how I feel. I'm grateful I can feel anything.

Max


I know I'm obsessed with her.

Louise Schumacher


Then say it. You keep telling me that you're obsessed, you're infatuated. Say that you're in love with her.

Max


I'm in love with her.

Louise Schumacher


Get out, go anywhere you want, go to a hotel, go live with her, and don't come back. Because, after 25 years of building a home and raising a family and all the senseless pain that we have inflicted on each other, I'm damned if I'm going to stand here and have you tell me you're in love with somebody else. Because this isn't a convention weekend with your secretary, is it? Or -- or some broad that you picked up after three belts of booze. This is your great winter romance, isn't it? Your last roar of passion before you settle into your emeritus years. Is that what's left for me? Is that my share? She gets the winter passion, and I get the dotage? What am I supposed to do? Am I supposed to sit at home knitting and purling while you slink back like some penitent drunk? I'm your wife, damn it. And, if you can't work up a winter passion for me, the least I require is respect and allegiance. I hurt. Don't you understand that? I hurt badly.