DVDs from TCM Shop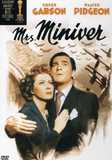 Mrs. Miniver A British family struggles to... MORE&nbsp> $15.96 Regularly $19.98 Buy Now blu-ray
Home Video Reviews
Winston Churchill is said to have written MGM studio head Louis B. Mayer that
Mrs. Miniver
(1942), a paean to the courage of British families during the dark days of World War II, was "propaganda worth a hundred battleships." The film - now on DVD from Warner Video is based on the novel by Jan Struther and was started when much of America favored isolationism. But while it was still in production, Japan bombed Pearl Harbor, changing most American minds and turning
Mrs. Miniver
into the year's hottest property. Audiences around the world were inspired by Greer Garson and Walter Pidgeon as the stalwart British couple enduring the London Blitz. MGM's foreign office announced that the film was breaking box-office records formerly held by
Gone With the Wind
(1939) everywhere from Cairo to Buenos Aires.
Norma Shearer had been Mayer's first choice for the all-important title role in
Mrs. Miniver
, but Shearer, at 39, was not thrilled with the prospect of playing a woman with a grown son. Neither was second choice Ann Harding. Garson, Mayer's protege and a hit in her first MGM film,
Goodbye, Mr. Chips
(1939), had the same reservations since she was only 33 when Mrs. Miniver was being cast. Mayer convinced her to accept the role after performing the entire script, playing all the roles himself and leading Garson to later remark that he played Mrs. Miniver much better than she. During filming, Garson fell in love with nine-years-younger Richard Ney, the actor cast as her grown son. Mayer persuaded the couple to wait until the film had played through its first run before being wed; their marriage lasted four years.
Mrs. Miniver
racked up 12 Academy Award nominations and won six Oscars® including Best Picture, Director (William Wyler), Actress (Garson) and Supporting Actress (Teresa Wright), plus an Irving G. Thalberg Memorial Award to the film's producer, Sidney Franklin. Garson, who emerged from the film as MGM's biggest female star, entered Oscar lore with her acceptance speech, which began "I am practically unprepared." She rambled on for several minutes, leaving one wit to observe that her speech was "longer than her performance." As the legend grew, some witnesses with faulty memories claimed that she spoke for over an hour.
The Warner Video DVD of
Mrs. Miniver
is a sharp black and white transfer with only a few minor print scratches. The extras are in perfect keeping with the patriotic tone of the main feature. "For the Common Defense" is a short subject from the "Crime Doesn't Pay" series and stars Van Johnson and John Litel as U.S. agents in South America trying to shut down a counterfeit ring; the culprits are funneling money to the enemy (German and Japan). The other short, "Mr. Blabbermouth!", is a more blatant example of a pro-American propaganda short from the period with the title character presenting a major security risk to our homeland. Full of racial slurs and sledgehammer message-mongering, it's an intriguing relic from the World War II era. Also on the disk is footage of Greer Garson at the Academy Awards and a photo gallery.
For more information about
Mrs. Miniver
, visit
Warner Video
. To order
Mrs. Miniver
, go to
TCM Shopping
.
By Roger Fristoe