DVDs from TCM Shop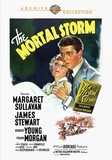 The Mortal Storm The Third Reich's rise... MORE&nbsp> $16.95 Regularly $19.99 Buy Now
USER REVIEWS
See Detailed Ratings
Acting of Lead Performers

Acting of Supporting Cast

Director

Music Score

Title Sequence

Screenplay

Cinematography

Historical Importance

Would You Recommend?

0 Member Ratings
Rate the acting of the Lead Performers

Rate the acting of the Supporting Cast

Rate the Director

Rating of the Music Score

Rating of the Title Sequence

Screenplay

Creatively uses the camera to tell the story

Importance in Cinema history

Would you recommend for fans of this genre
Submit Ratings
Cancel
Write a Review
Read Reviews
NO REVIEWS AVAILABLE
The title has not been reviewed. Be the first to write a review by clicking here to start.
The Mortal Storm

This is a powerful film whose message is as relevant back in 1940 as it is today. The most disturbing scenes were those young students, in this case Nazis , who were trying to shutdown free speech and thought in the classroom of Professor Roth. This was chilling in light of what is going on in many college campuses today.The acting was great in this film and it took courage to make this film in early 1940 considering the pressure coming from the German Embassy to stifle the production of this film. Hats off to MGM for resisting the pressure somewhat.

Are you kidding?

Not once in this movie is the word "Jew" mentioned. The term is "non Aryan" How pathetic. Go over to Warner Brothers and have a look at "Confessions of a Nazi Spy". They don't pull punches! Oh, gee whiz...can one envision Margaret Sullivan as a "half Jew"? Get real. Or James Stewart as an anti-Nazi? Let alone Maria Ouspenskaya as his mother?MGM was afraid (and this was 1940) to offend the Nazis in Germany. How sad. The best bit comes with Dan Dailey leading the young Nazis in the Horst Wessel" song. What a load of crap!Addie Appelbaum

A Cautionary Tale

This is an important film not just because the acting is outstanding (Margaret Sullivan, James Stewart, Robert Young, Robert Stack, Ward Bond, Frank Morgan...), but because its message is timeless. While the target of The Mortal Storm is the Third Reich, the film's message that it can happen here is powerful. This film warns us that we must be forever vigilant in the defense of liberty. The story is dark and disturbing but the message is one of hope. Courage, honesty, decency all triumph over lies and evil. A noteworthy aspect of the film is that five years after it was made, the world would know of the true horror of fascism and the price of pure evil. The casualty numbers, the death camps, destroyed cities and villages--all would convey the price paid when good people remain silent in the face of evil. However, this film manages to convey that danger without blood or gratuitous violence. While the horror of the Holocaust and Second World War were yet to come, the tragedy of those events is prefaced in this film. The Mortal Storm is a cautionary tale. Silence in the face of evil is incredibly dangerous.

THE MORTAL STORM

OUTSTANDING!! EVERYONE SHOULD SEE THIS MOVIE!!

I Liked It !

Again this is fine its well done and worthwhile. But Film acting sure has changed and evolved since this film. This is 1940 and the Actor's Studio opened in 1947. The interaction of the actors is very "erect". Not a lot of reality. That's fine. I did like Frank Morgan I felt he did his best and he was very good. The other actors were also good. The film is fine. But, I'm very glad that James Dean, Montgomery Clift and Brando came along, this acting is too "flat" and unemotional for my liking. But I have respect for this film Also, I actually liked Margret Sullavan in this, she was energetic and brought quality to the disturbing subject matter. James Stewart proves once again he is quality actor as does Robert Young.

The good guys invoke God

The good guys in this accurate, fine film (that will forever be relevant) show their allegiance with their words: (1) "I'll pray for you" (2) "God be with you" (3) "God bless you, child" (4) "Germany will find its virtues again: freedom; belief in God" (5) "God bless you; God keep you all" (6) "I'll pray for you; both of you" (7) "May the blessing of God be upon my son and his wife" (8) "Thank God for that" (spoken by a Nazi who realized the error of his ways). The bad guys here (and everywhere) place a man on a pedestal, and not only push God off, but out. Such arrogance never ends well.

always relevant

This is a great story and it must have been a daring film when it was first made. It exposes the fanaticism of Nazi beliefs in a way that must have shocked many Americans at the time. It's message about speaking truth to power and taking a stand against bigotry is relevant today. James Stewart and Margaret Sullivan are excellent as the heroes in the film but Robert Young as the ardent Nazi who is actually conflicted over his devotion to fascism and to his former friends is equally good. Maria Ouspenskaya as the mother of Stewart's character is just perfect in her role of family matriarch living in the mountains along the German-Austrian border. The film is so powerful in its message about the fanaticism taking hold in Germany that it was banned in that nation. I remember finding this movie quite by accident and I am glad that I did.

Superb!

The most interesting part of this film is that it was made before the U.S. entered WWII. MGM, the leading studio at the time, was headed by Jewish men and I believe they wanted this film shown as a warning to the world. As early as 1936, the Nazi persecutions were occurring but the world turned aside and, even when fleeing Jews spoke at rallies in the U.S., we didn't listen. The acting in this film, particularly by Jimmy Stewart and Maria Ouspenskaya, is outstanding and the story is riveting but chilling. I've viewed this film literally dozens of times and it never ceases to amaze me how the events of those times run parallel to today. I wish this film was shown in every high school in our country, as it is the young who are so easily swayed by incendiary rhetoric without questioning what that rhetoric means or stands for.

Interesting movie !!

Great acting, with a great story line that fit the time !!!! Great characters!!!

Must See

Good people torn by evil.It can happen anywhere.

God's mandates and man's meanderings

Several characters in this classic believe in God and our punished for not believing in (a) man. Such has always been true and shall remain so as long as God's mandates are dumped in favor of man's meanderings.

So relevant today...

The Mortal Storm has always been one of my most favorite films and most influential movies of all times embracing the world of today. As posted in another review..."The Mortal Storm" should remind us all of the terrible consequences that emerge when a naive citizenry allows a charismatic bully to take control of government." A lesson which has had many egregious consequences in the lives of all peoples in all countries throughout time. Wonderful cast...they, the actors, disappear into the story, the message. In my humble opinion the best possible compliment a "movie star" can receive as a tribute to the performance of their craft.

The Moral Storm

Very powerful movie,always see it when TCM airs it.Fine acting,even from Stewart,who I consider rather overrated most times with his aw shucks acting.Robt Young deserved a much better career but still endured to a great TV career.Robt Stack,too,but think he fared better than Young.

The Mortal Storm

I am so glad we have films like these to remind us of a history that isn't all that far behind us. I often wondered how Hitler was able to do what he did, and this movie helps to personalize and show how the system of fear works. Everyone becomes suspicious of everyone else - even your own family members. Then you have people who try to kiss up to the leaders and will do anything to be seen in a favorable light. That's probably how a lot of people got ahead. They knew what they were doing was wrong, but they were scared for themselves so they didn't have any qualms anymore about turning in family members. This film was acted out well and certainly helps to bridge the gap between dry old history tomes and the real life stories of those who lived through it.

Powerful

Germany was going through horrible times with their dictator. The cause was the National Socialist Party, and Der Fuhrer was causing havoc all around. People had no choice but to go along or join up, because to do otherwise was sheer folly.It was good to see major stars in this movie, or those who would become such. They include Robert Stack, Robert Young, Dan Dailey, Maria Ouspenskaya, et al, not to mention James Stewart and Margaret Sullavan. They all did a fine job.America was not yet in the war. This was a good publicity piece intended to make Americans want to get involved, perhaps.Jews were not mentioned, but of course the studio and others in Hollywood were run by Jewish people. Perhaps this is an irony. Did Jewish money run the entire American movie business?

TImes Have Changed

Every time I see a James Stewart film, I wonder what has happened to our world. This is a sad but true account of Nazi Germany and an excellent film about a tragic time in our history. The cast is superlative!. I only wish movies like this were still made today but alas.....We now have garbage and more garbage coming from Hollywood. Anything for a buck! The last film I paid to see in a theater was No Country for Old Men in 2007. Six years ago? I admired John Wayne for his many roles but James Stewart was one of the best actors of all time. I am so grateful to TCM for sharing these films

A Slow Hypnotic Infusion

This is not only a powerful, entertaining movie, but one that demonstrates how a society can be slowly drawn into a hypnotic state and thrust into socialism by an overreaching federal government . Freedoms are stripped from citizens on the pretext of the all-powerful government fulfilling all of their needs; led by a charismatic dictator! Guns, weapons are confiscated, and free speech is eliminated, unless, of course, if it agrees with the state. Sounds all too familiar in regard to what might be happening to us in America? A slow erosion of godly principles, deterioration of the family unit, in favor of the "state?" A great movie, but one that forewarns us of the dangers that threaten all of us as a freedom loving people. FIVE STARS!

Worth seeing Maria Ouspenskaya at work

So glad to finally see this film, which does a good job of compressing the timeline in which the rise of the Third Reich tears apart a family and community. Of course, this is helped by solid performances from Stewart and Sullivan (as can be expected by this pair), Frank Morgan as the patriarch, Robert Young and Robert Stack early in their careers...but the standout here is Maria Ouspenskaya, that master actor/teacher from the Moscow Theatre/Stanislavsky school. Her bridal cup toast to Martin and Freya is the heart and soul of this story, and one of the best monologues captured on film.

The Mortal Storm

"The Mortal Storm" (MGM 1941) is a powerful drama showing the effect of Hitler's Nazi party coming to power on two German families. James Stewart gives a fine performance as a medical student who's in love with the daughter of his professor (both non-Aryans). When both their families are affected by Nazism, their only chance for them staying together is fleeing from Germany into Austria. It's sad at the end when after a grueling trip through the mountains she is shot and dies in his arms. It's curious as to why the ones being persecuted are referred to as non-Aryans instead of Jews, although National Socialism targeted many others including liberals, communists, gypsies and the so-called "inferior races". To correct a previous posting - no one (especially James Stewart) in "The Mortal Storm" spoke with an accent (German or otherwise), with the exception of Russian-born actress Maria Ouspenskaya, who played Stewart's mother. I watch this excellent film every time it's aired on TCM, except yesterday 11/25/12 when I was on vacation. Please show it again soon!

The Mortal Storm

A passionate & well-detailed condemnation of Nazism. The delicate performances of Stewart & Sullavan are one of director Borzage's greatest belief's, that of love's power to transcend any obstacle; great supporting work from the rest of the cast. Nazism is portrayed as a mass insanity, offering no analysis of the socioeconomic roots of conflict. A powerful film that express' the style & philosophy of Phyllis Bottome's story. I give it a 4.5/5.

So so

I don't fault Borzage for wanting to make a statement, but I don't feel the compressed timeline of this move was the right way to do it. Hitler is appointed Chancellor of Germany, and overnight, life-long friends turn bitter enemies. It comes off almost as a satire on Nazism, except it wasn't meant to be. I was left with a dissonance that I found hard to get past. I watched two of the three Borzage movies during TCM's tribute, Strange Cargo being the other one. Your mileage may vary, but I don't think he's my cup of tea.

So Glad This Was Produced in 1940

The Mortal Terror

5/26/12

I'm glad you showed Robert Young in Three Comrades before this film.Gotfried was a hero,whereas his character here was a rat.He was a very fine actor who deserves praise.

The Mortal Storm

What a powerful movie--and in many ways, unfortunately, we may, in America, be facing similar changes to our way of life if the present administration in Washington, continues its course. I wish many other citizens could view this movie, and wake up! before it is too late.

Excellent film, brave movie by the movie industry

I am proud and pleased to see the willingness of the American movie industry to release such an obviously anti-Nazi film at this late date in the war in Europe. Acting is fantastic and I truly enjoyed it as one of my "new" favorites of its time, being the first time I had ever seen or even heard of it. I recommend it strongly to my fellow black and white movie lovers.

Why is this movie not better known?

This is one of my all-time favourite movies - easily in my top five. I remember seeing it for the first time in my late teens and being blown away. I just don't understand why no-one has heard of it. Why isn't it spoken of in the way other great films from that era are, such as Casablanca, Citizen Kane, Rebecca and It's a Wonderful Life ?

Mortal Dilemna

Wowwhatagreatfilm

12/7/11

Powerful, given the time and tide.I'm sure the goons portrayed saw themselves as vilified,as they proved as things come to light 70 years hence.Too bad something wasn't done for them instead of idling away waiting for Pearl Harbor

The Mortal Storm

This movie really goes to the heart. It is exceptional in acting and shows what many went thru during those times. Nationalism is an awful religion. Those that do not take part always suffer. History brings that out. Its refreshing to see a movie where the pacifist is the good guy. The central theme of this movie is as good today as it was then. This movie is in my top ten list.

mortal storm

I am German and can relate to the over-all powering of the mindset during this time in our history. Adolf Hitler was and still is a very powerful person. So many books and movies have been written and made about the Third Reich, however this movie captures the reality of the times during that era in history. It was so well acted by James Stewart, Robert Young, Maureen Sullivan, not to mention Ward Bond and Robert Stack. Hopefully, and I pray this well never happen again. Taking in consideration when this movie was made, I would certainly rate this as an all time classic.

True for all time

I watched "The Mortal Storm" for the first time last night, courtesy of Turner Classic Movies. I am thankful I did, for there are many images in the film I won't soon forget. The acting is also superb, especially that of the professor and Jimmy Stewart's mother, both accomplished actors twice nominated for an Oscar in supporting roles. I agree with the many comments by past reviewers that this is indeed a timeless movie for it has a universal message applicable in all times and places. It is truly amazing this fine film is so rarely shown on television and unavailable on DVD. However, like the equally timeless, forgotten classic "My Son John," I understand why both have been suppressed by Hollywood: "The individual must be sacrificed to the will of the state (as said by a character in 'The Mortal Storm')" is something that Hollywood has overwhelmingly held dear for too long. Government is God. However, The Individual, played so well by the characters in the film who were unwilling to join the blinded National Socialists, believed that God should not be eliminated from a nation's collective conscious. Great lines are delivered by the professor, including "Germany will find its old virtues again: Freedom; belief in God." Jimmy Stewart's mother blesses her son, and part of "The Gate of the Year" poem is read in the movie. The poem implores the reader to have faith in God over man. A perpetual struggle in the modern West is where should we place our trust - with God, or with man. "The Mortal Storm" and "My Son John" have been suppressed through the years for they have been labeled "seditious to the new ideals" (part of another great line in the great movie, "The Mortal Storm)." One of many great scenes include where Robert Stack's character recalls the good times. F. F. Coppola definitely borrowed from, or possibly paid homage to this movie. A great fact is Stewart helped bring an end to the German Socialists with his bombing raids.

70 years later...

this film still carries quite a punch. Having majored in and taught History, the sequence of the joy felt by many at the rise of Hitler, the calling out of the professor in his classroom, and the book burning are powerful. I'd use them in a heartbeat to illustrate the times for my students. Then the confrontation in the pub where the brownshirts wanted everyone singing and the subsequent beating of the teacher. So many powerfully understated scenes, one right after another. A truly great motion picture. While I braced myself for what was sure to be a happy Hollywood ending, it did not try to resolve the complexities in a trite fashion. This film simply never did let me down. Great acting, camera work, and atmosphere throughout. Until watching it today, I had never heard of it before. Thanks TCM for introducing me to yet another amazing film!

The Mortal Storm (1940)

A very powerful and moving story and beautifully acted by all, especially Margaret Sullavan and Frank Morgan, who delivers one of his finest performances. Tragic, touching and very memorable. It shows how effective a war propaganda film can be. Great score. This film prompted Nazi Germany at the time to ban all American films.

Real-life tearjerker

I felt very overwhelmed after viewing this film, and I didn't expect to feel so strongly. It's a really courageous film. What's striking about it is that it was filmed in February 1940 and premiered in June of the same year. That was a full 18 months before the attack on Pearl Harbor. The book was published in the late 30s. It's profound because it was not only timely but prophetic. That's scary. This is a good example of the Jewish establishment in Hollywood using the power of its media to illuminate, warn and hopefully prevent tragedy. While the Jews are not mentioned specifically in the film, there are speeches about what happens if you are not Aryan or pro-Aryan and there is also mention of concentration camps. That's the most important detail, because the U.S. and the Roman Catholic church did not acknowledge these atrocities were occurring until years later. If this film were remade today (and it very easily could be), I think you could substitute the fanatacism of the religious right in place of the Nazis. These wars are still happening today, in a domestic and spiritual sense, and as a result, 'The Mortal Storm' remains just as timely and perhaps as prophetic as ever.

Profound!

Saw this classic before, anxious to see it again! The history events unfolding today bring to mind the message of this movie. Hollywood got it right in this film, especially with the cast. The waya strong political infusion, its brainwashing effects is so masterfully delivered in this screenplay. The chemistry between Jimmy Stewart and Margaret Sullivan is superb. For a boomer, at first, I had a little trouble seeing "good ol' Jim Anderson (Father Knows Best role) as a member of the Nazi party! Ward Bond was a bit more believable.

Powerful.

This is one of the best movies that shows how war tears at the hearts and souls of people. It shows how war divides friends, brothers and sisters, and whole families.

In My Top Ten.

I found this film very moving.When I first saw it, I start off thinking it was funny with James Stewart sounding like James Stewart and everybody else speaking with a German accent.But as the film went on I found it very powerful.The scene near the end brought me to tears for the only time watching a film.

The Best.

The is one of the greatest movies I have seen, and I love it! It has such a powerful message, and I encourge all of you to watch it.

Top of my top 10 of all time

Fan of Classic Movies

3/28/09

This is possibly my favorite movie of all time. Every time it is on TCM I watch it, and have rearranged my work schedule to see it. I get something different each time I see it. The great story, relationship of politics to family, how strong personal believes are and how quickly they can change, and living life in total fear. The movie makes you feel all of that. What a movie!I am shocked when I get into discussions about Jimmy Stewart's movies that no one ever knows about this movie and I think it is very sad. Many people know about several of his greats like "It's a Wonderful Life," or "Mr. Smith Goes to Washington," or "Rear Window," but it is my opinion that this movie was the icing on the cake from an incredible actor's movie career. How this movie is not in a box set with Jimmy Stewart's great movie collection is unbelievable.

Great Movie

This movie is so realistic as it seems to apply to current events. The loss of our freedom which are socialist, Marxist, and communistic actions that cause us to lose our capitalistic free state or better stated our republic. Everyone needs to pay close attention to these types of opinions. God Bless our freedoms. --- This needs to be taught in our schools so this generation may understand what our freedoms really are and what happened during the Holocaust. It would be of value to show this film more often.

One of the greats........

The Mortal Storm is one of the greatest films ever made. It's message is as potent and important today as it was when the film was released in 1940. It ranks right up there with The Moon is Down, Edge of Darkness, Operation Secret, Days of Glory, Joan of Paris, and The Cross of Lorraine. All of these should be on Dvd. Maybe a nice, big box set. How many of these have you got in your vaults, Mr. Turner?

One of the BEST Jimmy Stewart Films!

Don of Sacramento

5/20/08

I can't believe this film is not on DVD. Its political statements are so germane for today. It is a must-see.

I LOVE Jimmy Stewart

I love this movie and wish that I could buy it so I can watch it whenever I want... Please bring it to dvd.

My favorite Jimmy Stewart movie.

They don't come better. I see in the other reviews that this was banned by Hitler - what a compliment!

Much needed film. BRING IT BACK TCM!!!

TCM, what's going on? This is a very important film especially relevant for today's world. Get this film back on TV and give it a prominent spot. PRONTO!

Banned by Hitler!

Lawrence Kilpatrick

6/17/07

This film was actually banned by Hitler, so you know it has something important to say. Action, suspense, romance and a great message. Great movie!

Terrific movie!

Everyone should see this film at least once. It has many lessons we can learn within it. Superb acting and ripe with wisdom.

I agree, this should be on dvd.

This film will keep you glued to your seat wondering what will become of the characters. Based on a book of the same name The Mortal Storm will make you think long after viewing it.

TCM where is the dvd?

This is the best Stewart flick out there and still no dvd. What's a mattah you? Are you afraid that you will offend some Nazis? If that is the case you will only offend half of Hollywood, the other half will love it!

Wonderful film

I saw this film a few weeks ago and was astonished at how prophetic it was prior to Hitlers reign.

Great movie!

Margaret Sullavan does a superb job as Freya. This movie is so so so much better than the book. Come on TCM, get it back on TV at a decent time!

A very thought provoking film.

There is a wealth of wisdom exuding from this film. There simply is no way a person can come away from it more of a human.

Wonderful film.

I found this film to be exhilarating and insightful. It is important to be reminded how the lack of respect for sacredness of humanity (not lifestyles which is disgustingly superficial) breeds hatred, condemnation and finally murder on a grand scale. Much like what happened in Iraq prior to the war. Sadly too many people politicize atrocities, turn their heads the other way, and make stupid accusations to keep them in their comfort zone. (Like war for oil and other ridiculous comments.) This film is a reminder of the VALUE of human life.

Great film! But where's the DVD?

I liked this film the most out of all of Stewarts. I am confounded as to why it is not available on dvd. Please play it again so we can at least record it.

Gripping!

This movie had me till the credits rolled. The ski scene was especially troublesome at the end (as far as not biting my nails off). Good job TCM for showing this rare classic! Bring it back soon!

Wonderful film!

One of Jimmy Stewart's three best films. Super message, a must see!

Jimmy Stewart- a class act.

Stewart shines again in The Mortal Storm. This film should be required viewing for everyone so to never forget what humanity can do to one another. Thank you Turner Classics for showing this, please bring it back soon and please make it available to purchase!

Superb acting!

James Stewart and Margaret Sullavan are a wonderful team in this little known gem of a movie. Maria Ouspenskaya as the mother of Martin (James Stewart) is so old world and true to life, they just do not come more real than that. Please watch this film the next time it is on! Well worth the time!!

Ten out of ten!

This movie is terrific on all accounts. One can really get caught up in the suspense. I liked the movie much better than the book, which is odd as it is usually the other way around. Hopefully the movie will get to dvd soon. Thanks TCM!

Such an outstanding movie!

What a forgotten treasure! I'd never heard of "The Mortal Storm" until watching it today, and I was moved by the great performances by all, superb direction and heartbreaking story. I won't be forgetting "The Mortal Storm," and I hope it is rebroadcast (and put on DVD) in the near future.

Play it again Sam!

This film is alive. It is very easy to loose yourself in it. Please play it again and bring it to dvd.

Thanks Jimmy!

Great movie!! Please run it again!

PAY ATTENTION!!!!

EVERY AMERICAN SHOULD SEE THIS FILM. WHEN HITLER WAS BEGINNING TO TAKE OVER THE WORLD, NOBODY WANTED TO GET INVOLVED. NOW IN 2007 WE HAVE ALL KINDS OF PROTESTING AGAINST THE WAR AND THE BOMBING OF 9-11. JUST LEAVE IT ALONE AND WE WILL BE OK. I DON'T THINK SO!!!!!THIS CAN HAPPEN HERE IN THE GOOD OLD USA IF PEOPLE DON'T WAKE UP AND PAY ATTENTION TO WHAT IS GOING ON IN THE WORLD AND ESPECIALLY THE MIDDLE EAST.

Prescient, riveting film

While not that well known, this film should be required viewing in high schools everywhere - a compelling story of "mob think" and the danger of jingoism, nationalism, and blindly identifying and persecuting "enemies of the state." Sound familiar in 2007?

Love this movie! Hate the lack of availability!

As I watch this film I marvel at how little attention it has received. I wonder if the folks watching it back when it came out were shocked later when so much of what was said about Hitler came to be. I can only imagine what it must have been like.

This film must to get to DVD.

Why is this film not yet on DVD? It has to be one of Stewart's best films.

Get this film back on TV and quick!

This film is so important especially for today. Many aspects apply to what is going in this world. Not to mention this is Jimmy Stewart's best movie. Please get this on DVD as well!

A must-see movie!!!

Very intense movie. Jimmy Stewart really comes through on this one.

Excellent Movie!!!

This movie is too important to leave on the shelves, it is timely and very entertaining.

Extraordinarily Meaningful Movie

W Terry Harrison

12/10/06

"The Mortal Storm" should remind us all of the terrible consequences that emerge when a naive citizenry allows a charismatic bully to take control of government. The Nazi regime was just one example. It can happen anywhere in Western society, and this excellent movie warns us that the potential for modern fascism to take root is very real indeed.

Wonderful!!!

Love the Classics....

12/10/06

This movie is an absolutley wonderful...dramatic and very intense storyline, played out beautifully by Jimmy Stewart and Margaret Sullivan. The plot and especially the ending is so captivating and real. I mean, you stop noticing that these are actors and you begin to live out the story. It's just a well-done and deeply moving film. Watch this...you won't regret it!

Hard to watch, but intriguing

Jimmy Stewart Fan

12/10/06

I finally saw this on TV yesterday. It seemed like it was always scheduled at 3 am or else cancelled to show a tribute to another actor. Very interesting movie. It is difficult to watch in a way because you see family and friends being torn apart, but I really enjoyed it at the same time. Why the heck is this on DVD yet?Also, I have to give kudos to all who were involved in this in the first place. This was a pretty risky movie in a way. The US hadn't entered the war yet, but had Germany won World War II, there would have been MAJOR repercussions against those involved in a movie that spoke out against Hitler and the Nazi Regime.

Impactful movie....

What a tragedy that this "Little Corporal" should have been such a blight on a great people, steeped in fine tradition and long standing values. But it's safe to say now, that his immortal soul is merely fodder for the brimstone and hell-fires of eternity. Obviously, this is a very impactful film to elicit such emotion some 66 years after its first release. A fine film depicting a time in history when a pall of darkness and despair, blanketed the world.

A Surprising Good Film - Highly Recommend It!

I saw this film a while back when a friend loaned me this film on VHS. I had never seen or heard of this early James Stewart movie. I was surprised how well done and moving the film is. It also teaches a valuable lesson. The entire cast give very good performances. I hope that this film is put on TCM soon. Also, I can't understand why this film has not been released yet on DVD!Any fan of James Stewart would certainly like to have this film in their movie library. Highly recommend the movie.
*We protect your personal infortmation and will not provide it to anyone without your consent. For a complete explanation, please refer to TCM's Privacy Policy. By submitting your contribution, you agree to TCM's Terms of Use.