DVDs from TCM Shop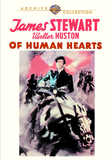 Of Human Hearts A rebellious son neglects his... MORE&nbsp> $18.95 Regularly $21.99 Buy Now
NOTES
DVDs from TCM Shop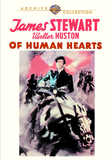 Of Human Hearts A rebellious son neglects his... MORE&nbsp> $18.95
Regularly $21.99 buy now
The working title of the film and the title of the novel on which it was based, Benefits Forgot was taken from a quotation in William Shakespeare's As You Like It, Act II, Scene 7: "Freeze, Freeze, thou bitter sky, Thou dost not bite so nigh as Benefits Forgot." According to the Variety review and the film's presskit, the final title of the picture Of Human Hearts was selected by M-G-M after a nation-wide contest was advertised on the studio's radio program, "Good News of 1938," to determine who could select the best title. The prize, $5,000, was awarded to Greenville, SC high school student Ray Harris; in addition to the prize money, Harris was also a specially invited guest at the film's world premiere, which was held in his hometown. Information in the Screen Achievements Bulletin in the AMPAS Library file on the film includes telegrams and letters indicating that at one time writer Conrad Richter had considered going to arbitration to receive screenplay credit on the picture. After reading the script, however, he sent a telegram stating: "Mr. Foote entitled to sole credit please give it to him." Richter was subsequently given credit for his contribution to the treatment, but his name was not included in the onscreen credits.
Portions of the film were shot on location in Agoura Ranch, Agoura, CA and Lake Arrowhead, CA. According to information in news items and the presskit, over seven hundred people worked at the Arrowhead location for more than two weeks on a specially built village, the largest special location site built by M-G-M since The Good Earth. A Life magazine article noted that the film's battle scene, which was not based on a specific battle, cost $50,000, and required 2,000 men to film. Life also noted that the picture was one of a "new cycle of interest in the Civil War aroused by the novel Gone With the Wind." Early Hollywood Reporter production charts include Ted Healy in the cast, however, Healy died on December 21, 1937, shortly before the end of filming for Of Human Hearts. Although he is visible very briefly in one scene, he is not credited in the CBCS or in any post-production sources. According to news items, Healy was forty-one when he died of a heart attack after a party subsequent to the press preview of the Warner Bros. film Hollywood Hotel, in which he had a featured role. His last completed film was Love Is a Headache.
Robert McWade, who portrayed Dr. Lupus Crumm in the picture, died after completing his role. According to news items in Hollywood Citizen-News and Motion Picture Daily, director Clarence Brown had told McWade, "Well, Bob, you played your last scene. You might as well go home," just before McWade died of heart failure.
John Miljan was listed in the CBCS as Captain Griggs, however, that role was played by Minor Watson. Because Miljan was not seen in the viewed print, or mentioned in any other source, it is possible that he was erroneously included in the CBSC. News items and reviews variously note that John Carradine was borrowed from Fox for his role, Beulah Bondi was borrowed from Paramount, and the film marked the screen debut of child actress Leatrice Joy Gilbert, the daughter of silent screen stars Leatrice Joy and John Gilbert. The Hollywood Reporter review and some news items incorrectly noted that Charles Coburn was making his motion picture debut in Of Human Hearts. Although Coburn had not appeared in films for several years, he made his debut in Boss Tweed (1933), and had also appeared in The People's Enemy in 1935 (see entries above and below). Marjorie Main was identified in a production still, but is not seen in the released film. Apparently, her part was cut before the film's release. Of Human Hearts received one Academy Award nomination, for Bondi as Best Supporting Actress, however, she lost to Fay Bainter for Jezebel. Bondi portrayed James Stewart's mother for the first time in Of Human Hearts. She subsequently portrayed his mother in the 1938 film Vivacious Lady, the 1939 film Mr. Smith Goes to Washington (see below and above), and the 1947 film It's a Wonderful Life.