DVDs from TCM Shop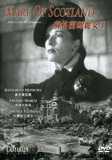 Mary of Scotland Biography of the flighty... MORE&nbsp> $6.95 Regularly $11.99 Buy Now
NOTES
Maxwell Anderson, who wrote Mary of Scotland in blank verse, won a Pulitzer Prize in 1933. His portrait of Mary Stuart, which Helen Hayes performed on Broadway, is somewhat more sympathetic than historians generally allow. According to published biographical accounts, Mary Stuart was the daughter of James V of Scotland and Mary of Guise and, through her grandmother, Margaret Tudor, was heir to the English throne after Henry VIII's children. Brought up in France as a Roman Catholic, Mary married Francis II in 1560, who soon died, then returned to Scotland in 1561. In 1565, she married her cousin, Henry Stewart (Lord Darnley), and began a rigorous campaign to establish herself as absolute ruler and to promote Catholicism in Scotland. As depicted in the film, Mary thwarted an insurrection by her half brother, the Earl of Moray, in which her secretary, David Rizzio, was murdered. Lord Darnley's murder in 1566, however, has been attributed to Mary and to James Hepburn, the Earl of Bothwell, whom Mary then married in May 1567. As shown in the film, this marriage instigated a rebellion among Mary's nobles and led to her abdication twenty days later. After her son was crowned, Mary fled to England and was imprisoned by Elizabeth I. She consented to divorcing Bothwell, who also was imprisoned and died an insane man in 1578. In spite of several Catholic uprisings, Mary remained Elizabeth's prisoner until she was executed in 1587. Modern sources point out that, contrary to the play and the film, Mary and Elizabeth never met. Critics also note that the movie neglects the passage of time at the end of Mary's story, making her appear still youthful at the time of her execution.
Prior to making Mary of Scotland, John Ford and Dudley Nichols had collaborated on the award-winning 1935 film The Informer (see entry above). (Reviewers noted that as Mary of Scotland was being shot in March, Ford and Nichols were collecting their Academy Awards for The Informer.) According to a pre-production article in New York Times, Tallulah Bankhead and Bette Davis were considered seriously for the role of Elizabeth. Bankhead was reported to be Ford's choice, but Florence Eldridge, who was married to Fredric March, won the part. (Davis went on to play Elizabeth in the 1939 film The Private Lives of Elizabeth and Essex and the 1955 film The Virgin Queen.) A New York Times news item states that March conceded to Katharine Hepburn's contractual demand for top billing because he particularly wanted to play the part of Bothwell. According to studio production files, March was paid $125,000 for his performance, while Hepburn received $50,000. Hollywood Reporter production charts add Halliwell Hobbes, Jean DeBriac, John Blood, Bobs and Billy Watson, Tommy Bupp, and Maxine Jennings to the cast, but their participation in the final film has not been confirmed.
In a Motion Picture Herald pre-production article, RKO executive Ned Depinet is quoted as saying about the film: "Sex has definitely lost its place in the movies. The public doesn't give a hang about sex any more if we feed it good, clean wholesome pictures with a plot." The Motion Picture Herald writer responded to Depinet's remarks with his own observations: "If Mary, Queen of Scots didn't have sex, and lots of it, we have been grossly deceived. And doesn't Mr. Depinet know about Elizabeth, the virgin queen? Virgins just have to have sex. They can not do or be without it. No sex, no virgin." In October 1936, the film was awarded a special medal for "particular merit" by the Fourth International Exhibition of Cinematographic Art in Venice, Italy.
Modern sources add the following information about the film: Hepburn wanted George Cukor as director, but after the failure of Cukor's previous Hepburn vehicle, Sylvia Scarlett , producer Pandro S. Berman refused to team them again. In addition to Bankhead and Davis, Ginger Rogers also campaigned for the role of Elizabeth. In the film, the Earl of Bothwell's family name, James Hepburn, was not mentioned because Katharine Hepburn is a direct descendent of the nobleman. Hepburn performed her own stunts, which included vaulting on the back of a horse, in the production. Modern sources complain that, after Ford left the production, RKO re-edited the film. After Swing Time, Mary of Scotland was RKO's most expensive production of 1936. Additional modern source credits include: Robert Parrish (Assistant editor); Mel Berns (Make-up artist); and Louise Sloan (Miss Hepburn's hairdresser). Modern sources list twins Jean and Judith Kircher, not Kirchman as listed in studio production files, with the role of "Prince James." It is not known which spelling is correct. In addition, modern sources complete Walter Byron's character name as "Sir Francis Walsingham" and list Gaston Glass's character as "Chatelard."
Other films about Mary Stuart include a 1923 British silent called The Loves of Mary, Queen of Socts, directed by Denison Clift and starring Fay Compton; and a 1971 British Universal production, Mary, Queen of Scots, which was directed by Charles Jarrott and starred Vanessa Redgrave and Glenda Jackson.