DVDs from TCM Shop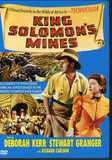 King Solomon's Mines A spirited widow hires a... MORE&nbsp> $14.95 Regularly $19.98 Buy Now
NOTES
The onscreen credits at the begining of this film feature the following acknowledgment: "Metro-Goldwyn-Mayer is grateful beyond measure to the government officials of: Tanganyika, Uganda Protectorate, Kenya Colony and Protectorate [and] Belgian Congo, whose limitless cooperation made this motion picture possible." This picture marked actor Stewart Granger's American film debut. The Variety review notes that the Africans who appeared in the film were natives "recruited on the spot" in Africa. A 1952 New York Times article noted that the picture was the first major film to be shot almost entirely on location in Africa since M-G-M's 1931 film Trader Horn (see AFI Catalog of Feature Films, 1931-40; F3.4726). The article also noted that the elephant stampede sequence in the film was reshot in Hollywood using a trained elephant, as the footage of the actual stampede in Africa was lost when the cast and crew of the film fled from the deadly rush of the animals. According to February 1950 New York Times news item, filmmaker and explorer Armand Denis and his wife, who were in Africa acting as technical advisors on the picture, suffered injuries requiring plastic surgery when their car hit a hartebeast.
M-G-M studio publicity material indicates that filming took place at the following locations in Africa: Murchison Falls in Uganda; Astrida, "the land of giant Watusis"; Volcano Country and Stanleyville in Belgian Congo; Tanganyika; and Rumuruti and Machakos in Kenya. The company used Nairobi, Kenya as its location headquarters. A January 1950 Daily Variety news item announced that M-G-M planned to dub the film in twenty-eight different languages. According to a biography of Deborah Kerr, Kerr landed her role in the film almost inadvertently when she expressed her wish to play the part of "Rose" in C. S. Forester's The African Queen to M-G-M production chief Dore Schary. Schary told her that Warner Bros. had the rights to The African Queen, but that he had a starring role for her in another African-set story that M-G-M owned. King Solomon's Mines received Academy Awards in the categories of Cinematography and Film Editing. The picture was also nominated for an Oscar in the Best Picture category.
Other films based on H. Rider Haggard's novel include: the 1936 British film King Solomon's Mines, directed by Robert Stevenson and Geoffrey Barkas and starring Paul Robeson and Cedric Hardwicke. In 1959, M-G-M released a film entitled Watusi, that was loosely based on Haggard's novel. That film was directed by Kurt Neumann and starred George Montgomery, Taina Elg and Rex Ingram. Reviews of the 1959 film indicate that M-G-M used some footage of the earlier film for Watusi. Modern sources indicate that leftover footage from its 1950 film was also used in the 1977 Canadian-British film King Solomon's Treasure. Another film based on Haggard's Allan Quatermain is the 1987 Cannon release Allan Quatermain and the Lost City of Gold, which was filmed concurrently with its 1985 King Solomon's Mines and also starred Chamerlain and Stone. Deborah Kerr and Stewart Granger reprised their film roles for a Lux Radio Theatre broadcast on December 1, 1952.