DVDs from TCM Shop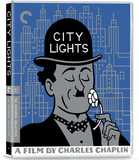 City Lights In this silent film, the... MORE&nbsp> $19.47 Regularly $29.95 Buy Now blu-ray
Articles
SEE ALL ARTICLES
City Lights (1931)
SYNOPSIS

The Tramp falls in love with a blind flower girl (Virginia Cherrill) who, through a misunderstanding, mistakes him for a millionaire. Seeing an opportunity to be close to her, The Tramp does not correct her mistake. Soon The Tramp meets a real millionaire (Harry Myers) when he saves him from a drunken suicide attempt. Grateful, the millionaire treats The Tramp like a long lost friend and gives him a taste of the high life. The only problem is that the only time the millionaire recognizes him is when he's dead drunk. Meanwhile, The Tramp sets out to raise money for an operation that will restore the blind girl's sight, but what will she think of him when she finds out he is not the millionaire gentleman she thinks he is?

Director: Charles Chaplin
Writer: Charles Chaplin
Cinematography: Rollie Totheroh, Mark Marlatt and Gordon Pollock
Art Direction: Charles D. Hall
Editing: Charles Chaplin
Music Composer: Charles Chaplin
Music Director: Alfred Newman
Music Arranger: Arthur Johnston
Cast: Charles Chaplin (A Tramp), Virginia Cherrill (A Blind Girl), Florence Lee (The Grandmother), Harry Myers (An Eccentric Millionaire), Allan Garcia (James, the butler), Hank Mann (A Prizefighter).
BW-87m.

Why CITY LIGHTS is Essential

When Chaplin made City Lights, sound had already been present in motion pictures for several years, and it was quickly becoming the norm. Chaplin was one of the last holdouts in making the transition to sound. He felt that The Little Tramp would simply not be the same if he were to talk. The art of pantomime, he feared, would be lost forever with the coming of sound. City Lights was a big risk for him. He wanted to prove that silent films still had relevance in the world when audiences only seemed to want more talkies. When City Lights succeeded beyond his wildest dreams, it was a major personal triumph. Even though he eventually did make the transition to sound, City Lights reminded everyone that a film could be just as funny and touching without spoken dialogue.

Charles Chaplin had been one of the top box office stars for years before City Lights. With the transition of the movies to sound, Chaplin worried not just about how audiences would respond to a silent film, but also how they would respond to him. The success of City Lights proved that Chaplin was still a relevant and beloved star that audiences were willing to line up around the block to see.

City Lights is considered by many to be Chaplin's masterpiece. Blending his trademark physical humor and pathos, the simplicity of the story has resonated with great poignancy over the years. City Lights, in turn, became a timeless classic that continues to find new audiences 80 years after its release.

The film contains one of Chaplin's most famous comic routines in which he is forced to get into the boxing ring with a brute twice his size. The routine, which has The Tramp darting around the ring gracefully hiding behind the referee for the majority of the match, kept audiences in stitches at the time of its release and has lost none of its brilliant comic timing over the years.

The last shot of City Lights that holds on The Tramp's face after he is recognized by the Blind Girl is hailed by many as one of the most heartbreaking, perfect shots in the history of cinema. Chaplin himself was quite proud of it, calling it in a 1966 interview "a beautiful sensation of not acting, of standing outside of myself. The key was exactly right -- slightly embarrassed, delighted about meeting her again -- apologetic without getting emotional about it. He was watching and wondering without any effort. It's one of the purest inserts--I call them inserts, close-ups--that I've ever done." Critic James Agee called the scene "the greatest piece of acting and the highest moment in movies."

by Andrea Passafiume
back to top
---
City Lights (1931)
City Lights has remained in the public consciousness as one of Charlie Chaplin's greatest works of cinema for 80 years since its release and still enjoys regular showings around the world in Chaplin retrospectives.

Other filmmakers have attempted to make silent films in the sound era since City Lights using only visual narration and sound effects and/or music such as Russell Rouse's The Thief (1952) starring Ray Milland, Luc Besson's Le Dernier Combat (1983), and writer/director/star Charles Lane in Sidewalk Stories (1989).

Many of Chaplin's visual gags in City Lights have been repurposed by other filmmakers in such films as The Producers (1968) - champagne is poured into a violin player's pants - and Ken Russell's The Boyfriend (1971) - a Charlie Chaplin lookalike appears with a pooper scooper. The score from City Lights has also been used in other films such as All Night Long (1981) and Scent of a Woman (1992).Initially Chaplin's subplot about the eccentric millionaire who befriends The Trampwas based on an old story idea he had in which two rich members of a gentlemen's club conduct an experiment with a tramp. The rich men pick up the tramp when he is sleeping, lavish him with luxurious treatment, and then promptly return him to the street where they found him. Although this idea was abandoned for City Lights, it later became the basic concept for the 1983 comedy Trading Places. It is not known whether this was a coincidence or an intentional homage by the screenwriters.

Home movie footage shot on the set by Ralph Barton, one of Chaplin's friends, can be glimpsed in the 1983 documentary, The Unknown Chaplin.

by Andrea Passafiume
back to top
---
City Lights (1931)
In addition to writing, directing and starring in City Lights, Charlie Chaplin also composed the beautiful musical score.

There was one scene shot that was ultimately cut from City Lights that involved The Tramp and a piece of wood. As Eric L. Flom describes the scene in his book Chaplin in the Sound Era: An Analysis of the Seven Talkies: "Charlie is seen alone on a bustling city street, and notices a small block of wood stuck in the grating at his feet. Rather casually, he attempts to knock the wood through the grate with his cane, only to find it hopelessly stuck, rotating with each successive stab. His interest is piqued, and soon what began as an offhand curiosity becomes a full-blown fixation; the piece of wood envelops Charlie's total concentration. In the process, Charlie's obsession soon becomes everyone else's entertainment, attracting the attention of a window store clerk, stopping foot and automobile traffic, and, naturally, drawing the attention of police as well."

Albert Einstein and his wife Elsa were Chaplin's personal guests at the Los Angeles premiere of City Lights on January 30, 1931.

The crucial scene where The Tramp meets the Blind Girl for the first time was so important to Chaplin that he spent five days doing take after take to get it right. The scene is listed in the Guinness Book of World Records for having "The Most Retakes of One Scene." According to Guinness, it took a total of 342 takes to get the scene the way that Chaplin wanted it.

Chaplin spent $60,000 of his own money to publicize the premiere of City Lights in New York. $30,000 went to newspaper ads, and the other $30,000 went to renting an electric sign for the front of the theater.

Actress Virginia Cherrill was Cary Grant's first wife. He was her second husband. They were married in 1934 and divorced just a year later.

Orson Welles is said to have stated that City Lights was one of his favorite movies.

During the filming of City Lights, Winston Churchill visited the set and footage exists of him and Chaplin together.

Famous Quotes from CITY LIGHTS

Note: "Quotes" are taken from dialogue in the silent film's title cards.

"Be careful how you're driving."

"Am I driving?"

-- The Tramp (Charles Chaplin) and The Eccentric Millionaire (Harry Myers)

"You can see now?"

"Yes, I can see now."

--The Tramp and the Blind Girl (Virginia Cherrill)

Compiled by Andrea Passafiume
back to top
---
City Lights (1931)
It seemed that everyone in Hollywood was willing to talk -- except Charlie Chaplin. After the completion of his most recent film The Circus (1928), the movie business found itself in the midst of a painful transition period into talking pictures with the advent of sound technology. At first synchronized sound seemed little more than a novelty, with unperfected technology that generated embarrassing results more often than not whenever a character spoke. However, when The Jazz Singer (1927) and The Broadway Melody (1929) became wildly popular and made enormous profits, every studio in town began to wire for sound.

Desperate to jump on the talking picture bandwagon, studios began forcing their well-established silent film stars to make talkies. Some of the stars, such as Greta Garbo, survived the transition. Others, however, did not. The careers of people who had ruled the box office during the height of the silent era, such as John Gilbert, suddenly came crashing down when audiences, for whatever reason, failed to accept their previously unheard voices on the silver screen. It was a scary and unstable time for everyone in Hollywood.

At the time Charlie Chaplin was one of the world's biggest movie stars. Since he owned his own studio and ran every aspect of it himself, he didn't have to worry about being thrown into a talking picture against his will. However, that didn't stop his fans and colleagues from wondering whether or not he would eventually take the leap like everyone else.

Chaplin made no bones about the fact that he was not impressed with the sound pictures he had seen and had no intention of making one himself. At first he kept tabs on the talkies and was convinced that the trend would just be a passing fancy. As sound technology continued to make improvements, however, Chaplin gradually began to see that sound would in all likelihood be there to stay. It was a fact that caused him great distress since, to him, pantomime was a language that could be understood and enjoyed by anyone in the world. Sound, he feared, would destroy it. "A good silent picture had universal appeal both to the intellectual and the rank and file," said Chaplin in his 1964 autobiography. "Now it was all to be lost."

Despite pressure to make a talking picture and avoid being left behind in the silent era dust, Chaplin decided to make his next film in the same manner that he always did: his way. "I was determined to continue making silent films," said Chaplin, "for I believed there was room for all types of entertainment. Besides, I was a pantomimist, and in that medium I was unique and, without false modesty, a master. So I continued with the production of another silent picture, City Lights."

The story idea for City Lights began when Chaplin thought up a scenario about a circus clown who loses his sight in an accident. On the advice of his doctor, the clown hides his ailment from his frail daughter, fearing that the shock might be too much for her. The blind clown evolved over time into the character of the blind flower girl.

The subplot of the eccentric millionaire who befriends The Tramp, according to Chaplin's autobiography, grew out of an old story idea he had in which two rich members of a gentlemen's club conduct an experiment with a tramp. The rich men pick up the tramp when he is sleeping, lavish him with luxurious treatment, and then promptly return him to the street where they found him.

When word got out that Chaplin's next film was going to be silent, people began to have doubts. The press openly speculated about whether his career would survive such a bold rebellious move. Chaplin was well aware of the risks. "Nevertheless, City Lights was an ideal silent picture, and nothing could deter me from making it," he said."

Before he began casting City Lights, Chaplin worried that the coming of sound would ruin his film in other ways. "Since the advent of talkies, which had now been established for three years, the actors had almost forgotten how to pantomime," he said. "All their timing had gone into talk and not action. Another difficulty was to find a girl who could look blind without detracting from her beauty."

Chaplin initially had a great deal of difficulty casting the crucial role of the Blind Girl. Many actresses applied for the job, but none was suitable to the notoriously meticulous Chaplin. However, one day he saw a film company shooting a scene on a beach in Santa Monica with several attractive young bathing beauties. One of the girls, Virginia Cherrill, was a casual acquaintance, so she waved and asked if she would ever get the chance to work with him. "Her shapely form in a blue bathing suit did not inspire the thought of her playing such a spiritual part as the Blind Girl," said Chaplin. "But after making one or two tests with other actresses, in sheer desperation I called her up."

To Chaplin's surprise, Virginia Cherrill seemed to understand what he was looking for more than any of the other actresses he tried. "I instructed her to look at me but to look inwardly and not to see me, and she could do it," said Chaplin. "Miss Cherrill was beautiful and photogenic, but she had little acting experience." Chaplin, needing to move forward with the production, decided to hire her. For the other important role of the Eccentric Millionaire, Chaplin hired Australian actor Henry Clive (he would later be replaced by Harry Myers).

As cameras prepared to roll on City Lights, the stakes were high for Chaplin. While he had the utmost confidence in his talents as an entertainer, he could not be certain that audiences would still find his silent work relevant in a world taken over by talking pictures. Still, he was determined to find out.

by Andrea Passafiume
back to top
---
City Lights (1931)
Even though he had great confidence in City Lights, Chaplin still couldn't help but worry that he would be seen as old-fashioned for making a silent picture. Now 40 years old, The Little Tramp, who had been one of the world's top box office stars for over a decade, could feel the public's interest in his career slowly waning, and it bothered him. "In the past my work had usually stimulated interest among producers," he said in his 1964 autobiography. "But now they were too preoccupied with the success of the talkies, and as time went on I began to feel outside of things; I guess I had been spoiled."

Since Chaplin owned his own studio, he was able to control every aspect of the production on City Lights. He could take his time and go at his own pace, spending as much time and money as he saw fit to get things done to his satisfaction. He demanded excellence from everyone working with him, but most of all he demanded it of himself.

Shooting got off to a somewhat rocky start when three days into the production Chaplin fired the actor playing the Millionaire, Henry Clive. When shooting the scene in which the Millionaire drunkenly tries to commit suicide by drowning himself, Clive refused to dive into the water. Some sources say that Clive had a cold at the time and asked Chaplin if they could wait until the sun had warmed the water before getting in. Chaplin responded by promptly replacing him with a new actor, former vaudevillian Harry Myers.

Chaplin also found himself often frustrated with co-star Virginia Cherrill and her lack of acting experience. For the crucial scene in which The Tramp meets the Blind Girl for the first time, Chaplin spent five days doing take after take over and over until Cherrill got it the way he wanted it. "This was not the girl's fault," said Chaplin, "but partly my own, for I had worked myself into a neurotic state of wanting perfection."

Chaplin's penchant for perfection carried over into all aspects of the production of City Lights. He had a very clear vision as to how every scene should play. Actor Robert Parrish, who had a small part as one of the newsboys who pelt The Tramp with peashooters, remembered in 1991: "Chaplin was a dervish. He would blow a pea from the peashooter, playing both my part and the part of Austen Jewell, the other newsboy. He then would run over and react as the Tramp being hit by it, then back to the newsboys and blow another pea. He would then play Virginia Cherrill's part of the Blind Girl. Then he was the Tramp. Then he would instruct what the background people should be doing. Everyone watched as he acted out all the parts for us. When he felt he had it all worked out, he reluctantly gave us back our parts...I believe he would have much rather played them all himself if he could."

According to Virginia Cherrill, she and Chaplin never cared for each other, and were never involved romantically like Chaplin had been with several of his other leading ladies. "I never liked Charlie...and he never liked me," she said in a later interview. "Most of the girls that worked for him had been involved with him," she said. "I was too old. I was twenty and had been divorced."

Cherrill and Chaplin butted heads often during the filming of City Lights, leaving Cherrill often frustrated. She described the experience of working with him as sometimes "painful. It seemed that the times you thought it was good, he'd hate it, and the other times when you felt flat and forced, he'd say it was great. If he enjoyed something, he'd do it forever until he was bored."

At one point, Chaplin went so far as to fire her. "There was no commissary at the studio and I had to 'brown bag' it every day," explained Cherrill. "I was not allowed to leave for lunch, but one day I did and was five minutes late. I kept Charlie waiting, which was not allowed. We got into a screaming row and I was fired."

As a result, Chaplin started testing other actresses for the part of the Blind Girl even though it would mean a tremendous amount of re-shooting. He came close to hiring his paramour and The Gold Rush (1925) co-star Georgia Hale. However, in the end he realized that it would make sense to keep the work that he already had and keep going. He re-hired Virginia Cherrill to resume her role, but not before she shrewdly made him double her salary.

One of Chaplin's most joyous times came during the film's famous boxing match scene that has The Tramp paired with a bruiser twice his size to hilarious effect. "The filming of the boxing scene was the only social life we had at the studio," recalled Virginia Cherrill. "Charlie must have had over a hundred extras present...and he encouraged his friends in town to come and watch. Everyone loved boxing in Hollywood in those days. And Charlie was so funny in the ring. The boxing scene became sort of a party at the studio. Charlie loved every minute of it."

While his demand for perfection could sometimes ruffle feathers, there was no question that Chaplin poured his heart and soul into the pantomime art that he deeply loved. The film's poignant final shot was one that he was particularly proud of, having put a great deal of work into it despite its deceptive simplicity. He felt "a beautiful sensation of not acting, of standing outside myself," he said. "The key was exactly right -- slightly embarrassed, delighted about meeting her again -- apologetic without getting emotional about it. He was watching and wondering without any effort. It's one of the purest inserts -- I call them inserts, close-ups -- that I've ever done."

Shooting on City Lights wrapped in the Fall of 1930. Chaplin immediately began working on post-production, editing the picture himself as he always did. City Lights would not be a silent film in its truest sense when Chaplin was through with it. Conceding the inevitability of sound, Chaplin added a few well-placed comic sound effects that utilized the technology to generate laughs without actual dialogue.

Chaplin also composed music for the synchronized soundtrack to accompany the film. "One happy thing about sound was that I could control the music," said Chaplin, "so I composed my own. I tried to compose elegant and romantic music to frame my comedies in contrast to the tramp character, for elegant music gave my comedies an emotional dimension. Musical arrangers rarely understood this. They wanted the music to be funny. But I would explain that I wanted no competition, I wanted the music to be a counterpoint of grace and charm, to express sentiment, without which, as Hazlitt says, a work of art is incomplete."

When all was said and done, City Lights was nearly three years in the making between its initial concept to its release in theaters. Chaplin had sunk over $2 million of his own money into it along the way to realize his vision. To remind sound-oriented audiences of what to expect from City Lights, Chaplin billed the film as "a comedy romance in pantomime written and directed by Charles Chaplin."

Before it was released into theaters, Chaplin had a secret sneak preview screening in downtown Los Angeles. Unfortunately, it was an experience that he described as "ghastly" because "our film was thrown on to the screen to a half-empty house. The audience had come to see a drama and not a comedy, and they did not recover from their bewilderment until halfway through the picture. There were laughs, but feeble ones." Some of the audience members even walked out in the middle of the film, according to Chaplin. "I left the theater with a feeling of two years' work and two million dollars having gone down the drain," he said in his autobiography.

Despite that setback, Chaplin prepared City Lights for its official Los Angeles premiere at the brand new downtown Los Angeles Theatre at 615 S. Broadway on January 30, 1931. To his delight, enthusiastic crowds had formed, which gave him hope that the public was still very interested in his films. "The main street was packed with people for several blocks," recalled Chaplin. "Police cars and ambulances were attempting to plow through the crowds, which had smashed in the shop windows next to the theater."

With his special guest Albert Einstein seated next to him, Chaplin settled in to see how this new audience would react to his latest effort. "The picture started," he said. "It showed the credit titles, to the usual first-night applause. Then at last the first scene opened. My heart pounded. It was a comedy scene of the unveiling of a statue. They began to laugh! The laughter increased into roars. I had got them! All my doubts and fears began to evaporate. And I wanted to weep. For three reels they laugh. And from sheer nerves and excitement I was laughing with them."

Right in the middle of the film, however, disaster struck--at least, it was a disaster to Charlie Chaplin. The theater manager, H.L. Gumbiner, was justifiably proud of the gorgeous new state-of-the-art Los Angeles Theatre. Unfortunately, he had terrible timing. To Chaplin's horror, Gumbiner had the film stopped halfway through. "Before continuing further with this wonderful comedy," boomed Gumbiner's voice over a loudspeaker to a bewildered audience, "we would like to take five minutes of your time and point out to you the merits of this beautiful new theater."

Chaplin was livid. "I could not believe my ears," he said. "I went mad. I leaped from my seat and raced up the aisle: 'Where's that stupid son of a bitch of a manager? I'll kill him!'"

The audience was on Chaplin's side. They began stomping their feet, calling out, and eventually booing the poorly timed intrusion. Finally getting the message, Gumbiner stopped and the film started back up. However, Chaplin wondered if the film could recover from such an incident. "It took a reel before the laughter got back into its stride," said Chaplin. "Under the circumstances I thought the picture went well. During the final scene I noticed Einstein wiping his eyes -- further evidence that scientists are incurable sentimentalists."

The following day Chaplin traveled to New York for the film's east coast premiere. To his chagrin, he noticed that there had been very little publicity done for the City Lights premiere there. Chaplin took matters into his own hands, asking United Artists to help get the word out and taking several big ads out in the local New York newspapers. "I spent $30,000 extra with the newspapers," said Chaplin, "then rented an electric sign for the front of the theater costing another $30,000. As there was little time and we had to hustle, I was up all night, experimenting with the projection of the film, deciding the size of the picture and correcting distortion." Chaplin spent the day of the premiere granting interviews with the press, all in an attempt to drum up interest in City Lights.

Just as Chaplin had hoped, the New York premiere was a triumph. The next morning he received some very good news. "I was awakened by my publicity man," he recalled, "who came bursting into my bedroom at eleven o'clock, shrieking with excitement: 'Boy, you've done it! What a hit! There's been a line running round the block ever since ten o'clock this morning and it's stopping the traffic. There are about ten cops trying to keep order. They're fighting to get it. And you should hear them yell!'"

It was music to Chaplin's ears as the movie houses stayed packed with people coming to see City Lights and the rave reviews started pouring in. The risk of making a silent film in a sound world had paid off, proving that his unique talents were still as relevant as ever.

City Lights went on to be a bona fide classic that has continued to find new audiences with each new generation. Considered by many to be Chaplin's finest masterpiece, the film became one of his most beloved and definitive films. Chaplin's achievement with City Lights was extraordinary. He was able to create a critical and commercial smash hit silent film three years after almost everyone else had jumped on the sound bandwagon. Although Chaplin would eventually make the full transition into sound, City Lights was a great personal triumph of supreme artistry, vision and determination.

by Andrea Passafiume
back to top
---
City Lights (1931)
In 1928, as the talkies threw the film industry and film language into turmoil, Chaplin decided that his Tramp character would not be heard. City Lights would not be a talking picture, but it would have a soundtrack. Chaplin personally composed a musical score and sound effects for the picture. With Peter Lord, the famous co-creator of Chicken Run and Wallace & Gromit, we see how Chaplin became the king of slapstick comedy and the superstar of the movies.

Producer: Serge Toubiana
Director: Serge Bromberg
Cast: Peter Lord
BW & C-27m. Closed Captioning.


back to top
---
City Lights (1931)
"Nobody in the world but Charlie Chaplin could have done it," a reviewer for the Los Angeles newspaper The Record wrote following the first press screening of Chaplin's City Lights (1931). "He is the only person that has that peculiar something called 'audience appeal' in sufficient quantity to defy the popular penchant for pictures that talk." Flying in the face of a film-industry revolution, Chaplin had -- after months of anxiety-ridden consideration -- decided to complete the silent film as it was originally conceived, even though the rest of Hollywood had fully embraced the concept of "talkies."

Chaplin's only concession to the sound era in City Lights is to employ music and sound effects. His faith in his instincts was justified by several critics who chose the film as the best of its year, and by its later recognition as perhaps the finest of Chaplin's many masterpieces. Chaplin's unique blend of visual humor and pathos was never more fully realized than in this film, which was named to the National Film Registry in 1991.

Chaplin not only starred in City Lights but produced, directed, scored and edited it in addition to co-writing the script. The film's plot is constructed with elegant simplicity. Chaplin's Little Tramp, adrift in an unfriendly big city, befriends both a blind flower girl (Virginia Cherrill) and an alcoholic millionaire (Harry Myers) who treats the tramp royally when drunk but doesn't even recognize him when sober. Determined to raise the money for an operation that will restore the girl's sight, the tramp tries jobs ranging from street-cleaner to prizefighter before the millionaire offers the needed cash as a gift. Unfortunately, the forgetful millionaire sobers up to believe he has been robbed and the poor tramp is sent to jail.

The movie's highlights include a slugfest between the skinny tramp and a brawny boxer (Hank Mann), and a touching finale in which the now-sighted girl at last recognizes her benefactor. It was rare for Chaplin to begin a film with an ending clearly in mind, but in this case he considered the conclusion to be all-important and constructed the entire film to lead up to this poignant moment. The celebrated critic James Agee wrote of this exquisitely wrought final sequence, "It is enough to shrivel the heart to see, and it is the greatest piece of acting and the highest moment in movies."

Producer/Director/Film Editor: Charles Chaplin
Screenplay: Charles Chaplin, Albert Austin, Harry Crocker
Cinematography: Gordon Pollock, Rollie Totheroh
Original Music: Charles Chaplin, Jose Padilla (uncredited)
Principal Cast: Charles Chaplin (The Tramp), Virginia Cherrill (The Blind Girl), Harry Myers (The Millionaire), Allan Garcia (The Millionaire's Butler), Hank Mann (The Boxer), Florence Lee (Blind Girl's Grandmother), Jean Harlow (customer in restaurant, uncredited).
BW-83m.

by Roger Fristoe
back to top
---
City Lights (1931)
AWARDS AND HONORS

In 1991 City Lights was added to the National Film Registry for preservation.

City Lights was named one of the ten best films of 1931 by the New York Times.

The National Board of Review named City Lights the best film of 1931.

In 2007 City Lights was ranked number 11 on the American Film Institute's 10th Anniversary list of the 100 greatest American films of all time.

In 2003 Chaplin's Tramp character in City Lights was ranked number 38 on the American Film Institute's list of the top 100 movie heroes of all time.

In 2000 the American Film Institute ranked City Lights number 38 on its list of the top 100 funniest American movies of all time.

In 2006 the American Film Institute ranked City Lights number 33 on its list of the top 100 most inspiring American films of all time.

In 2002 the American Film Institute ranked City Lights number 10 on its list of the top 100 greatest love stories ever made.

The American Film Institute currently ranks City Lights as the number 1 romantic comedy of all time.

Time magazine critics Richard Corliss and Richard Schickel included City Lights on their list of the top 100 films ever made.

Critic Reviews: CITY LIGHTS

"Charlie Chaplin, master of screen mirth and pathos, presented at the George M. Cohan last night before a brilliant gathering his long-awaited non-dialogue picture, City Lights, and proved so far as he is concerned the eloquence of silence...It is a film worked out with admirable artistry, and while Chaplin stoops to conquer, as he has invariably done, he achieves success."
-- The New York Times

"It's not Chaplin's best picture, because the comedian has sacrificed speed to pathos, and plenty of it...But the British comic is still the consummate pantomimist, unquestionably one of the greatest the stage or screen has ever known. Certain sequences in City Lights are hilarious. Perhaps the high spot is a burlesque prize fight which in rehearsal time alone must have taken weeks to shoot...Cast support is minor other than in Myers, who does exceptionally well in foiling the star. Miss Cherrill is very fair of face but demands upon her are not enough to permit rating other than expected. Chaplin making a silent is merely sticking to his last. He never talked on the stage when in vaudeville before going into pictures, and, having made himself the foremost exponent of pantomime the world knows today, there doesn't appear any reason why he should talk. With his ability to create and take familiar situations to make them look differently he can go on making successful silent films until he chooses to retire--so long as they entertain. Talkers have not affected Chaplin and neither will he affect talkers. There will always be room for a Chaplin...There was no one like him before in pictures, and since sound came in that is doubly true. The only thing sound can do to a silent Chaplin is, perhaps, make him slightly less important in the general public eye as time goes on."
-- Variety

"If only one of Charles Chaplin's films could be preserved, City Lights would come the closest to representing all the different notes of his genius. It contains the slapstick, the pathos, the pantomime, the effortless physical coordination, the melodrama, the bawdiness, the grace, and, of course, the Little Tramp--the character said, at one time, to be the most famous image on earth."
-- Roger Ebert

"Chaplin's masterpiece tells story of his love for blind flower girl, and his hot-and-cold friendship with a drunken millionaire. Eloquent, moving and funny. One of the all-time greats."
-- Leonard Maltin, Movie and Video Guide

"Chaplin's most masterful blend of pathos and comedy...You can't leave the planet without seeing this movie at least once."
-- The San Francisco Chronicle

"The most wistfully Chaplinesque of Chaplin features. The final shot is among the most celebrated in movies."
-- J. Hoberman, The Village Voice

Compiled by Andrea Passafiume
back to top
---