DVDs from TCM Shop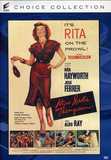 Miss Sadie Thompson A moralist sets out to reform... MORE&nbsp> $18.95 Regularly $20.95 Buy Now
Home Video Reviews
Sony's latest "Collector's Choice" DVD collaboration with The Film Foundation, the film-preservation entity founded twenty years ago by Martin Scorsese, is the glittery and alluring "The Films of Rita Hayworth." There are five pictures here: three from the peak of Hayworth's career and glamour, and two from her comeback years (her first comeback, that is!). The box set is beautifully presented in a foldout case with attractive photographs, but the DVD transfers themselves are single- rather than dual-layered, and the picture quality is not as sublime as one would expect when Scorsese and The Film Foundation are involved. Based on viewing the previous "Collector's Choice" sets, such as those devoted to Budd Boetticher, Samuel Fuller, Kim Novak and film noir, this one falls a notch below, image-wise.
That is not to say the films look downright bad or unwatchable. They simply don't look flawless and the previous collections have for the most part conditioned us to expect flawlessness. (The high retail price implies perfection, too.) Still, most movie fans are going to want this collection, especially if they don't already own
Gilda
(1946) or
Cover Girl
(1944), the two titles already issued on DVD.
The film in the least-good physical condition here (it definitely has not been restored) is also one of the three that are new to DVD:
Miss Sadie Thompson
(1953). It's from the period of Hayworth's first comeback in the early 1950s, after her divorce from Prince Aly Khan. She made it hot on the heels of
Affair in Trinidad
(1952) and
Salome
(1953, also included here), and it is a true star vehicle. In fact, it's really the last film she ever made in which she is the whole show.
Hayworth stars as Sadie Thompson, a prostitute who finds herself temporarily stuck on American Samoa -- a Pacific island populated by U.S. Marines, including the amorous Sgt. O'Hara (Aldo Ray), native villagers, local government officials, and one very uptight, powerful missionary, Alfred Davidson (Jose Ferrer), who recognizes Sadie from a brothel raid in Honolulu that he organized some time ago. (The words "singer" and "nightclub" are used instead of "prostitute" and "brothel," but the film leaves no doubt as to the true meaning.) When Sadie's sultriness whips the girl-starved Marines up into a lather, the drinking, singing, dancing and carousing that follow are deemed by Davidson to be a bad influence. He arranges to have Sadie deported from the island on the next available ship, and the psychological clash that follows reveals a false moral and religious righteousness that veers into hypocrisy -- subject matter that keeps
Miss Sadie Thompson
relevant even today.
Certainly this material struck a chord with America when it first appeared in print. W. Somerset Maugham's short story
Miss Thompson
(later retitled
Rain
) was first published in 1921. In 1922 it was adapted as the Broadway play
Rain
, starring Jeanne Eagels in a legendary, long-running performance. That production was revived briefly in 1935 with Tallulah Bankhead as Sadie. A Broadway musical version, entitled
Sadie Thompson
, ran in 1944 starring June Havoc. Hollywood first came calling with
Sadie Thompson
(1928), starring Gloria Swanson, and then a scant four years later with
Rain
(1932), starring Joan Crawford and Walter Huston. The power of both those pictures was helped by the pre-Code times in which they were made.
Miss Sadie Thompson
, on the other hand, was encumbered by censorship problems and had to tone down its sexuality. Nonetheless it manages to imply a great deal and is ultimately a very good vehicle for Hayworth, despite dialogue that is sometimes too on-the-nose and an ending that feels rushed.
The role allows Hayworth to display impressive dramatic range, from free-spirited party girl to religiously awakened woman, and she strongly draws one's sympathy and interest. The scene where she admits the truth about herself to Aldo Ray is a beautiful piece of acting; Hayworth mixes defiance, anger, shame and vulnerability in a way that appears effortless.
She also has the opportunity to sing (though her voice is dubbed as usual), dance, and display her dazzling smile -- surely as good reasons as any for looking at a Rita Hayworth picture. Hayworth performs three songs by Lester Lee and Ned Washington, including the Oscar-nominated "Blue Pacific Blues" and the sultry "The Heat is On," in which she sings and dances in the middle of a smoky crowd of drooling Marines. The sequence caused big problems with the censors, but it's simply an entertaining and sexy interlude. To see Rita Hayworth surrounded by happy servicemen is also a nice visual reminder of her iconic pinup status during WWII.
Jose Ferrer didn't really want to do
Miss Sadie Thompson
. He later said he only agreed to take the part of Davidson because his agent insisted that if he did a major film opposite a star like Hayworth and for a studio player like Harry Cohn, it would dispel any lingering hesitations the industry had about hiring him because of his political leanings. (Ferrer had recently been grilled by the House Un-American Activities Committee.) "I accepted the job on that crass, opportunistic basis," Ferrer later said. While Ferrer does seem to plod through the paces of his role and not much more, his natural presence alone is quite effective in defining Davidson as righteous and rigid.
Elsewhere in the cast, Aldo Ray does fine as the naïve but well-meaning Sgt. O'Hara and builds surprisingly OK chemistry with Hayworth -- he even dances with her for a minute. Look also for a prominent Charles Buchinsky -- aka Charles Bronson -- as one of the other Marines.
Miss Sadie Thompson
was shot in 3D but was given only a limited, 2-week release in 3D before opening wide in 2D; the 3D fad had simply died down by December 1953. Here, of course, it's presented in the flat 2D format, but one can tell that director Curtis Bernhardt and cameraman Charles "Buddy" Lawton, Jr. did not go for gimmicky, cheap 3D effects. Instead, they used composition to generate wonderful and immersive depth, especially in the beautiful landscape shots on the Hawaiian island of Kauai. The lushly tropical look also adds successfully to the eroticism of the Sadie character and the story itself.
The other titles in this collection are
Cover Girl
,
Gilda
,
Salome
and
Tonight and Every Night
(1945), an underrated Technicolor musical that is likely to be the most pleasant new discovery for Rita Hayworth fans. (For more on that film, see my programming article
here
.) Other critics who have seen the earlier DVD editions of
Cover Girl
and
Gilda
claim that these new transfers are inferior. If true, that is surprising, and perhaps another sign of the Great Recession at play; maybe Sony just couldn't justify the expense of making things look perfect on these discs.
Certainly they skimped a bit on the extras this time around. There is one commentary track, by Richard Schickel on
Gilda
; trailers for each film except
Cover Girl
; brief introductions read by actress Patricia Clarkson for
Tonight and Every Night
and
Miss Sadie Thompson
; and two featurettes -- a four-minute discussion of
Cover Girl
from director Baz Luhrmann, and a 16-minute look at
Gilda
from Luhrmann and Martin Scorsese, who both discuss the personal effect the film has had on them and their own movies. These are well-edited and well worth a look, but some collectors will be disappointed not to find greater resources spent on the supplements.
The package comes with an insert and a donation envelope from Hayworth's daughter, Princess Yasmin Aga Khan, who for thirty years has been working with the Alzheimer's Association to raise awareness and funds to combat the disease, which afflicted her mother.
Look for the next "Collector's Choice" release in 2011 -- a box set devoted to the early sound films of Frank Capra.
For more information about
Miss Sadie Thompson
, visit
Sony Pictures
. To order
Miss Sadie Thompson
(available only as part of
The Films of Rita Hayworth
Collection), go to
TCM Shopping
.
by Jeremy Arnold