DVDs from TCM Shop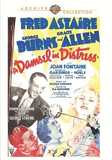 A Damsel in Distress An American dancer on vacation... MORE&nbsp> $15.96 Regularly $19.99 Buy Now
NOTES
P. J. Wodehouse's novel was first serialized in The Saturday Evening Post. A stage version of the story was written in 1928, but information concerning its production has not been found. A Damsel in Distress was the first RKO film that Fred Astaire made without Ginger Rogers. In his autobiography, Astaire notes that, because both he and Rogers were growing restless with their teaming, they agreed after Shall We Dance to pursue separate projects. (Rogers then appeared in RKO's 1937 film Stage Door.) According to a Hollywood Reporter news item, producer Pandro S. Berman purchased the rights to Wodehouse's novel in November 1936 as a vehicle for Astaire. RKO borrowed George Burns and Gracie Allen from Paramount for the production. Hermes Pan won an Academy Award for his choreography on the picture's "fun house" sequence, which was performed in the carnival setting by Astaire, Burns and Allen. In addition to his singing and dancing, Astaire performs a long drum solo in the film. Hollywood Reporter production charts add Mickey Rooney to the cast, but his participation in the final film has not been confirmed. Composer George Gershwin died of a brain tumor on July 11, 1937, two months before production on the film began.
Modern sources add the following information about the production: George Gershwin convinced Berman, with whom he had worked on Shall We Dance, to buy the rights to Wodehouse's story. Berman then used the novel's purchase to persuade the Gershwin brothers to come to Hollywood to write music for the film. Without benefit of a screenplay, the Gershwins completed their songs by May 1937, apparently using the 1928 stage version as their dramatic blueprint. The brothers wrote nine songs for the production, one of which, "Pay Some Attention to Me," was not used in the final film. Ira Gershwin's lyrics to another song, "Put Me to the Test," were dropped, but the song's music was used in one of the dance numbers. (In 1944, the lyrics were used in the Columbia film Cover Girl, set to music revised by Jerome Kern.) Determined that at least some of his music would be performed by proficient singers (which was not the case in Shall We Dance), George Gershwin composed two songs, "The Jolly Tar and the Milkmaid" and "Sing of Spring," for madrigal singers. The script was finished on September 25, 1937. To accomodate the specific needs of the film, Wodehouse's novel was altered in two significant ways. In the novel, "Jerry" and "Alyce" do not get together until the end of the story; the film romance, however, proceeds in a standard boy-meets-girl-boy-loses-girl-boy-gets-girl-back format. And in a conscious contrast to the familiar Astaire-Rogers' plots, "Jerry" does not fall in love with "Alyce" at first sight, as he does in the novel.
One scene in the script, in which "Jerry" forces his way into "Alyce's" sitting room, caused censors much concern. To keep the scene intact, RKO had to make clear that the sitting room was not "Alyce's" bedroom and that the door to the hallway was unlocked. At Astaire's urging, Victor Baravalle was hired as music director, and arranger Robert Bennett, who had worked on Shall We Dance and Swing Time, also was brought on board. (Hal Borne, Astaire's rehearsal pianist, most likely worked on the production as well.) Before Joan Fontaine was selected for the role of Alyce, Ruby Keeler and British musical star Jessie Matthews were considered for the part. Although sufficiently "English" to play the role, Fontaine was not trained as a dancer, except for a few tap lessons she had received from Ruby Keeler's brother, and her one number with Astaire had to be carefully choreographed and filmed to hide her lack of expertise.
Burns and Allen were paid $10,000 a week for the picture. In his autobiography, Astaire states that "George [Burns] brought along an idea for a dance in which we three would use whisk brooms for props, whisking in rhythm, brushing each other off." In one of his autobiographical books, Burns claims that he had seen the routine executed many years before by the vaudeville team of Evans & Evans and, after buying the rights to it from the surviving Evans, auditioned it for Astaire with Evans and Allen. Hermes Pan's "fun house" number was inspired by a visit to the Ocean Park amusement center in Santa Monica. Impressed with the performance of vaudeville dancer Joe Niemeyer, who appears in one scene as an imitator of "Jerry," Astaire hired him as a stand-in, a job that he continued in for twenty years. According to Fontaine's autobiography, much of the film was shot at the RKO ranch. A Damsel in Distress was the first Astaire movie to lose money at the box office. Modern sources add Pearl Amatore and Jac George (Madrigal singers) and Monte Blue to the cast. Modern sources also list Ralph Brooks's role as (Sightseer). Wodehouse's novel was first filmed in 1920 by Albert Capellani Productions. June Caprice starred in and George Archainbaud directed this silent version (see AFI Catalog of Feature Films, 1911-20; F1.0890).