DVDs from TCM Shop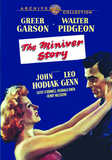 The Miniver Story A brave family comes together... MORE&nbsp> $15.96 Regularly $19.99 Buy Now
NOTES
This film was a sequel to the Academy Award-winning 1942 film Mrs. Miniver (see below). Greer Garson, Walter Pidgeon, Henry Wilcoxon and Reginald Owen recreated their roles from the 1942 film. The Miniver Story opens with the following written prologue: "This is the story of a woman after a war-- who lived and hoped and struggled through the anxious years, and now saw them end and another peace begin...It starts in London on V-E Day, 1945." The film includes intermittent voice-over narration by Walter Pidgeon in the role of "Clem Miniver."
Hollywood Reporter news items note that Garson suggested the basic idea for the story of the sequel, and that producer Sidney Franklin assigned British novelist and playwright Harold Millar to write the screenplay. The film was shot entirely at M-G-M's Elstree Studios, in England. H. C. Potter directed the film until late January 1950, when he was replaced by Victor Saville, who did not receive a screen credit. The substitution was made as part of M-G-M's compliance with British labor laws, which did not allow non-British subjects to work in Britain for more than 180 days. For more information on the studio's productions at Elstree, please see the entry above for Edward, My Son. Although The Miniver Story was completed under Saville's direction, Potter returned to England to direct the retakes. Actress Cathy O'Donnell was borrowed from Selznick Productions fror the picture.
The film marked the American motion picture debut of actor Peter Finch (1916-1977). Finch, who was born in Australia, began appearing in films in his native country in 1936. After moving to England, he appeared in a number of British productions before and after World War II, then went to Hollywood in the early 1950s, where he worked at M-G-M and other studios. Throughout the 1960s and 1970s, Finch appeared in many American, British and international co-productions. His final feature was Network (1977), for which he earned an Academy Award for Best Actor, awarded posthumously. The Miniver Story also marked the film debut of British actor James Fox, who portrayed young "Toby Miniver" and was billed as William Fox on this and several other films in the early 1950s.
The Miniver Story received mostly unfavorable reviews at the time of its release and performed poorly at the box office. The New York Times reviewer noted that "'Mrs. Miniver'...finally succumbs to cancer and the painful inadequacies of her script in Metro's post-war sequel." The reviewer also wrote that "the only poignant thing about this picture is the reduction to such a sorry state of a character whom we hold in special memory. It is just well that she has died."