DVDs from TCM Shop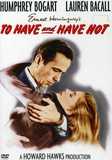 To Have and Have Not A skipper-for-hire's... MORE&nbsp> $14.96 Regularly $19.98 Buy Now blu-ray
USER REVIEWS
See Detailed Ratings
Acting of Lead Performers

Acting of Supporting Cast

Director

Music Score

Title Sequence

Screenplay

Cinematography

Historical Importance

Would You Recommend?

0 Member Ratings
Rate the acting of the Lead Performers

Rate the acting of the Supporting Cast

Rate the Director

Rating of the Music Score

Rating of the Title Sequence

Screenplay

Creatively uses the camera to tell the story

Importance in Cinema history

Would you recommend for fans of this genre
Submit Ratings
Cancel
Write a Review
Read Reviews
NO REVIEWS AVAILABLE
The title has not been reviewed. Be the first to write a review by clicking here to start.
Lauren Bacall

The chance to see Lauren Bacall saunter across that bar room toward Humphrey Bogart in the final scene is reason enough to watch and love this film. She is magnificent and her chemistry with Bogie is beyond measure. The fact that it's a good story and a great period piece with excellent acting only makes it all the more inviting.

To Have and Have Not

"To Have and Have Not" was a great watch, but I must admit wanting a little more from it, perhaps, it suffered from the burden of a great reputation. Clearly they were trying to emulate the success of "Casablanca" with Humphrey Bogart once again playing the reluctant hero in a French colony now under German rule. This film is saved from being a carbon copy by a great cast and top notch direction from Howard Hawks. Hawks always managed to succeed despite what genre may be tossed his way and this one is no different, just gorgeous to look at. As for the cast, Bogart is Bogart, and is reliable as he always was. Walter Brennan felt a bit like an unnecessary character but I can see that many would enjoy his performance. For me, that distinctive voice kind of grates on me and I always felt he was trying to hard to be quirky. A real surprise was Hoagy Carmichael in the Dooley Wilson role from "Casablanca" as the bar room piano player. I was thrilled every time he performed. The big draw however, was Lauren Bacall. In her signature way she is possessed with a smoking sensuality, perhaps never more than in this film, but is also curiously wholesome. Smoking cigarettes was never sexier than when she lights up. And the final scene where she does the little hip shimmy as she exits the screen - deadly - a scene now burned into the memory banks of my favourite movie moments. Four stars, mostly for Bacall.

Brennan was always the best (and the oldest)

In this 1944 film, Baby Bacall was 19, but could pass for 29. Big Daddy Bogart was 44, but had the look of a 54-year-old. Grandpa Brennan was 50, but when stooped over looked about 80. One of our best actors.

Celebrating Howard Hawks

Director Howard Hawks' films before THAHN, "To Have And Have Not" hints at his style, successfully evolving. His lusty silent "A Girl in Every Port" (1928) stars It Girls, Louise Brooks Myrna Loy rival males. "Scarface" (1932, 4stars) set the standard for gangster films; Paul Muni luvs Ann Dvorak vs George Raft. "Only Angels Have Wings" (1939, 4stars) boss-pilot Cary Grant wins Jean Arthur from rivals. Best media satire, "His Girl Friday" (1940, 4stars): editor Cary Grant vs Ralph Bellamy for sassy Ros Russell. In "Ball of Fire" (1941, 4stars) Gary Cooper vs professors a gangster for sassy Barbara Stanwyck. Best war biopic "Sgt York" (1941, 4stars) Coop earned an Oscar; pacifist Alvin York learns from Rev. Walter Brennan, while fighting rival for Joan Leslie. Hawks' production pattern is clear. "Casablanca" (1942, 4stars) in Hawks' style, changed Bogart from tough guy into romantic hero, its the perfect prequel to THAHN (1944, 4stars). It has multiple happy endings. It's a hit. It promotes patriotism, WW2 decades since now. Betty Bacall became a star. Everytime Bacall Bogie are on screen we see their romance building. Fireworks fly. They found true love, marrying in 1945 until his death. Thanks to Hawks' living legacy; 40 years after his 4star films, Carl Reiner spoofed Becall's best Bogie enticement, in "just whistle" seduction scene. In 1982 Reiner's "Dead Men Don't Wear Plaid" dialogue Rachel Ward seduces Steve Martin: "If you need me, just call. You know how to dial, don't you? You just put your finger in the hole make tiny little circles." Today TCM's tributes to Hawks' films testify truly, too.

Friendly Movie

Kirsten I. Russell

11/17/15

I just turned on TCM without having looked at a schedule. What fun to find TO HAVE AND HAVE NOT playing! This first pairing of Bogie and Bacall isn't just sizzling hot--it's happy. All the intrigue in the movie is secondary to this couple's scenes together, where they are NOT pretending to fall in love. The feeling I always get from this is the opposite of "falling," because I feel cheered up and buoyant after watching this, and isn't that what two people feel when they "fall" in love with each other?

Great movie but...........

Seems to be an attempt to recreate "Casablanca", still a great movie. Only irritant was the strange "bee bite" comments that went on and on. Actually bees sting, not bite also.

HAIL HOWARD HAWKS !

As any serious scholar or student of the studio system in Hollywood's heyday knows, Howard Hawks is in the top 3, of the most successful directors. Intelligent people worldwide are still fascinated by John Ford's westerns. Alfred Hitchcock's suspense-filled mysteries intrigue five-generations of the intelligencia. Rivaling these two aces, is the ace of aces among world-class film directors, Howard Hawks. He created more 4-star films (the highest of ratings among most critics) in many more genres than any other director in the history of film. Howard Hawks is famous as a movie-making maverick with a distinctive talent for creating sassy female characters that enchant male bosses. Please consider his hits: "A Girl in Every Port" (1928), "The Dawn Patrol" (1930), "The Crowd Roars" and "Scarface" (1932), "20th Century," "Barbary Coast," "Bringing Up Baby," "Only Angels Have Wings," "His Girl Friday," "Sergeant York," "Ball of Fire," "Corvette K -255,", "To Have And Have Not," "The Big Sleep" (1946), "Red River" (1948), "A Star Is Born," "I Was A Male War Bride," "The Thing From Another World," "The Big Sky," "Monkey Business," "Gentle Prefer Blondes," "Rio Bravo" (1959), "Hatari" (1962), and "El Dorado" (1967). Twenty-three successes. Who else compares to this heroic champion, across so many different genres, among film directors? Hail Howard Hawks!

You know how to whistle!

The scene ending with Bacall saying "You know how to whistle, don't you, Steve? You just put your lips together and... blow" is over the top. Wow! What chemistry in that scene. Was that scene the best or not?" All perfectly acceptable language, yet descriptive, hot and or so very mind blowing.

All Time Great Story

Superb acting by everyone in this film. I mean Everyone! Bogart is as cool as a man can be......Bacall is sizzling HOT. Everyone else does exactly what they are supposed to do in grand fashion.

Wow! LOVE this movie!

What DOESN'T this movie have? A smart, witty, captivating script by Wm. Faulkner and Jules Furthman that never loses your interest. Direction by Howard Hawks, which is *always* a very good thing. And a fabulous, top-notch cast which includes Bogie & Bacall falling in love with each other onscreen before our very eyes; a perfect and scene-stealing performance by one of my favorites, Walter Brennan; the very talented French actor, Marcel Dalio ("Grand Illusion"); songwriter-pianist extraordinaire, Hoagy Carmichael, playing some of his compositions, and so many more great actors and other details and nuances that make this a MUST SEE. This always has been, and always will be, one of my all time, Top 10, favorite movies because it manages to roll everything --- humor, intrigue, tension, action, drama, etc. --- into one movie and do it EXTREMELY well.

HOT!

This was the film during which Bogie and Bacall fell in love in real life and, whew, does it ever show! You can tell how smitten he was from the outset and their love scenes and playful banter show it clearly. Bogie's performance is fantastic in this film and I believe it's because he couldn't take his eyes off Bacall. Hoagy Carmichael, always a favorite of mine, pairs really well with Bacall's singing and he does quite a good job on his own too. I'm so glad they decided not to dub Bacall's voice because her sultry voice fits the part so well here. The film barely resembles the Ernest Hemingway story, as it was re-written so much that you need to read Hemingway's version just to read a great story not told here. For me, this film is five stars all the way!

Love the classics!

I'm a lover of the classics, and this one is definitely one of the great one's. Especially knowing this is the beginning of the great romance between "Bogie and Bacall" This one's worth watching!

Correction

Hemingway wrote the novel To Have and Have Not. Faulkner co-wrote the screenplay.

Borring!!!

What a waste of thirty five millimeter film. One thing that drove me crazy was Brennans "bee bite" scene, every time it came up I went channel surfing. Terrible picture! Next time TMC shows it find some excuse to miss it.

Walter Brennan's age

To answer a previous reviewer, Walter Brennan, born in 1894, was 50 when this film was released in 1944.

Harry (Steve) Morgan

In response to Stephanie Jones' review of "To Have and Have Not" from 12/23/06, I don't really know the reason why Marie (Lauren Bacall) calls Harry Morgan (Humphrey Bogart) Steve. Maybe it was a guy she was involved with before she came to Martinique, and she subconsciously called Harry by that name. Bogart's son's name is Steven (inspired by THAHN maybe), and Harry (Steve) calls Marie Slim (director Howard Hawks wife's name).

To Have & have Not

Hawks' own adaptation of a story concieved by Ernest Hemingway & William Faulkner. Bogart and ,in her debut, Bacall, are sizzling on screen, each giving Osacr-worthy performances. Unlike "Casablanca," the two leads manage to work together to win the war & rescue each other from isolation. The sheer reason to see this film is for the magic chemistry between the two leads under Hawks' direction in this romantic masterpiece. I give it a 4.5/5.

A Real Love Develops From Screen Love

Bogie and Bacall really shine here.Great movie,not a disappointing scene at all.Loved seeing some familiar faces from CASABLANCA.

"There will be always someone else"

Paul De Bursac's profound pronouncement to Captain Morgan (who even orders rum when at the bar with Johnson) is a highlight, and made more compelling and memorable when spoken by a man in which English is not his forte. With cigarettes galore, Bogie and Bacall (44 & 19 at the time) have great give and take in "To Have and Have Not" (he calls her "Slim" so she calls him "Steve") and they made a few good movies together; Hawks and Brennan made even more.

Couldn't Take My Eyes Off The Screen

What a great treat this movie is. Watching Lauren Bacall sing and strut her way into super stardom in her first movie was so great. Yeah, Bogie is the star, but it s clear in every scene that he's as smitten as I. The story is practically the same as Casablanca, but it was fresh. And, when Bacall wiggles out of the door at the end with Walter Brennan hopping after her, I wanted more

Lucky Bogey!

He certainly was one of the luckiest guys on the face of the earth when Lauren fell for him ... and we get a glimpse of the sweet beginning of this extraordinary love affair each time we watch TH HN ...(huge "SIGH")

BOGART & HIS LADY

ALWAYS ENJOY BOGART MOVIES. LOVED BACALL IN HER FIRST FILM.

To Have And Have Not

Easily, my favorite Bogart Film. Creative use of the sets. There is a lot that can be said that's probably already covered a 100 times over. See this movie once, and your hooked.I do wonder how old Walter was when he made this film. I recently learned what Lauren's real name actually is and have seen their home in Holmby. Seen only - not entered. Not too surprising was learning that the public cannot view his final resting spot. I guess they had kooks back then as we do now.I recommend this movie 1st, Deadline USA, Maltese Falcon and The Big Sleep in that order. I feel Casblanca, is far over rated.

The Makng of a Legendary Leading Couple.

Frank Harris Horn

8/23/10

Humphrey Bogart and Lauren Bacall (in her film debut) become one of Hollywood's legendary leading couples as they star in Howard Hawks' suspenseful wartime masterpiece based on Ernest Hemingway's best-seller set in the Caribbean during World War II. Bogie is Harry Morgan, a world-weary gunrunner, who has an encounter with a sultry siren-in-distress (Bacall), and finds himself involved with Free French resistance fighters in their campaign against the Nazis. Full of intrigue and racy banter (including Bacall's legendary whistling instructions), this thriller excites further interest for what it has and has not. Smartly written by William Faulkner and Jules Furthman. This was the first of four movies Bogie and Bacall made together in their illustrious careers. Co-starring Walter Brennan, Dolores Moran, Hoagy Carmichael, Sheldon Leonard, Marcel Dalio, Dan Seymour, Janette Gras, Walter Molnar & Patricia Shay.

Bogart & Bacall-First Pairing

Humprey Bogart met Lauren Bacall while making "To Have and Have Not"(1944) and they married shortly after filming was completed. Their marriage lasted until his death in 1957. Bogie and Bacall went on to make 3 more films - "The Big Sleep"(1945), "Dark Passage"(1947) and "Key Largo"(1948), all at Warner Bros. "To Have and Have Not", based on an Ernest Hemingway story about an American boat captain in Martinique getting drawn into aiding the French Resistance during WW2, was loosely remade as "The Breaking Point" in 1950 by Warner Bros., starring John Garfield and Patricia Neal.

Bogey and Bacall do it again!

Bogey and Bacall in War time Martinique. Similar in many ways to Casablanca. Bogey is an American that ends up having to help out the resistance and gets the girl along the way with a piano playing friend in a nice hotel/club. This time though he captains a charter boat. Bacall is uber sexy. Hemmingway wrote it. Hawkes directs. There really isn't any reason not to like it, except maybe a bit too short. Bogey is the king of cool!

Worst book, worst movie

Howard Hawks was right when he called this the worst that Hemingway wrote--of course, it must have been diffcult to choose which book was, since Hemingway was an all around lousy writer anyway. Try reading one of Hemngways books without falling a sleep, and this is without the benefit of a sleeping pill. By the way, this was also the worst film the Hawks ever produced.

To Have and Have Not (1945)

The chemistry between Bogart and Bacall is not like anything ever seen on the screen before or since. Outstanding story, amazing screenplay. A great classic that never fails to entertain and intrigue. Outstanding in all ways.

One of Bogart's Finest!

This film equals Bogart's role in Casablanca. My interest was held hostage throughout the entire film. It was somewhat similar to Casablanca in that the location of Martinique was also Vichy France territory. Humphrey Bogart once again starts off aloof from political involvement between Vichy and the Free French. But, in this film one can surmise that the character Bogart plays is no fan of the pro-Nazi Vichy French. Right from the first scene this is apparent.The acting of Bogart, along with Bacall and Brennan was phenomenal. It was good to see Bacall when she was younger and Walter Brennan's magnificent role in one of his earlier works.

To Have and Have Not - QUESTION/HELP

Great Movie.......why does Bacall refer to Bogie (Harry Morgan) as "Steve" throughout the whole movie????

To Have and have Not

Bogart and bacall a team in movies and real life. Supporting cast was great to especially Walter Brenan

FANTASTIC!

this is a great movie i love bogie and bacall!! i know almost every line from this its like they were made to do movies together there is such an on screen and of course there was an off screen chemistry between them that is what makes their movies so great and enjoyable to watch!!

mybloto

best bogart-bacall movie ever made!

Why is Bogart called Steve by Bacall's character?

I have been watching this movie for awhile and was wondering why Bacall was calling Bogart Steve rather than his name of Harry? Anyone know the answer to this for me?
*We protect your personal infortmation and will not provide it to anyone without your consent. For a complete explanation, please refer to TCM's Privacy Policy. By submitting your contribution, you agree to TCM's Terms of Use.