DVDs from TCM Shop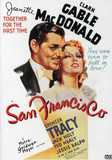 San Francisco A beautiful singer and a... MORE&nbsp> $15.79 Regularly $19.98 Buy Now
Home Video Reviews
A big hit of 1936 and a nominee for Best Picture,
San Francisco
displays both the strengths and weaknesses of the studio system in the Golden Era. As a star vehicle for Clark Gable it can't be bettered; Anita Loos' convoluted story gives his Blackie Norton a spiritual redemption via a spectacular natural disaster. Barbary Coast singer Jeanette McDonald isn't the specific disaster we're thinking of, but she has an equal effect on his destiny.
The movie also features film theoretician Slavko Vorkapich's best and most famous montage sequence, the San Francisco earthquake of 1906 -- which took place 100 years ago just last month.
Synopsis: Well-heeled man about town Blackie Norton (Clark Gable) is the owner of the Paradise, a wide-open show club on the wide-open Barbary Coast. Blackie is secretly generous to the financial needs of his old pal Father Tim Mullin (Spencer Tracy), a priest with no illusions of convincing Blackie that the sin city needs cleaning up. Blackie is more interested in getting the city government to pay attention to the Coast's need for a real fire department and building codes. Singer Mary Blake (Jeanette MacDonald) dazzles Blackie with her voice and her looks but won't fall for his fast moves; instead she inadvertently starts a business war between Blackie and opera impresario Jack Burley (Tim Holt). It's obvious that Mary's voice belongs in the opera but Blackie wants to control her life on and off the stage. Blackie's rejection of religion keeps Mary at arm's length. The situation is at a standstill until the fateful great earthquake and fire of April 18, 1906.
It's tempting to call
San Francisco
the first disaster film but it really doesn't fit the pattern popularized by the likes of
The High and the Mighty
and
The Towering Inferno
. It isn't organized as a stack of soap opera sub-plots for an ensemble cast. The story isn't high art but the dramatics are sufficiently interesting to make the last-act eruption of the historic event a big surprise for many a viewer.
The movie is really an ode to the City by the Bay -- note that they didn't name it "Earthquake." In one scene a rowdy patron of the Paradise says he's from Los Angeles and is given the Bum's Rush. It was so popular that Fox copied its formula with another disaster-related period epic, 1937's
In Old Chicago
.
MGM's seemingly inexhaustible production team marshals vast sets and special effects that still thrill audiences. The film is progressive both technically and artistically. Many shots utilize primitive traveling matte work to combine crowds with miniatures and to put patrons into the balconies of a painted opera house. The earthquake sequence uses miniatures, full-scale crumbling "shaker" sets, rear projection and matte paintings. Its overall design is by Slavko Vorkapich, a specialist in semi-abstract montages utilizing experimental editing techniques usually seen in
Avant-garde
films. Vorkapich's effects are jarringly violent, even though they show little actual trauma. Shots of falling bricks and masonry are juxtaposed with people and horses looking up in terror, and visual association causes us to imagine them being buried or crushed. One shot simply tilts up and into a statue, making it look as if it is tipping onto our heads. Impressionistic blur-cuts of falling stones and dust turn the screen into chaos.
San Francisco
represents the studio system at the top of its form. MGM tailors the main role for its top star Gable. He and Spencer Tracy are two-fisted heroes with differing philosophies. The attractive but corrupt Gable learns from disaster and comes over to the side of the angels. It's an unapologetically sentimental tale of redemption on the Barbary Coast.
Gable's Blackie Norton character is easy to peg as an idealized version of a studio mogul. The plot hangs on his fractured negotiations to keep and control a 'star' that he loves, even though he stifles her future in a higher class of entertainment. Blackie even puts Mary into a 'trashy' costume to rid her of high-toned notions. It makes us wonder if Louis B. Mayer fancied himself a lover of his female stars as well as their boss.
We're more acutely aware now of the calculation behind the religion in scenarios like this one. There's nothing wrong with Blackie Norton's big conversion scene, as living through a disaster doubtlessly moves many to prayer. The film's overpowering sanctimoniousness might have come from emotional story confabs in Louis B. Mayer's office: "Have Jeanette singing with the survivors, clutching orphaned children! Let her song bless the injured being carried into the surgeon's tent!" We can imagine Mayer's yes-men straining to top each other's cornball visual ideas.
The aftermath of the quake is beautifully handled. Norton wanders in a daze, overwhelmed by the scale of death and suffering; as strangers are reunited with their loved ones he realizes how desperate he is to find Mary. Blackie's guidance to prayer by Spencer Tracy wouldn't be so mawkish if the film didn't affect such a cloying attitude toward religion. Father Mullin's placid saint is personally dedicated to Blackie's spiritual destiny. Mullin bests Norton in boxing bouts, as we all know that Might is always Right. Mullin blesses or condemns Blackie depending on whether he's doing right or wrong by singer Mary Blake. Mary's voice is equated with spiritual perfection: She hits notes perfectly because her soul is pure.
Spencer Tracy was nominated for an Oscar for mostly staring with kind eyes and noble understanding. Tracy was obviously a great actor but tended to gravitate toward dead-cinch sentimental roles more often than demanding ones. He clicked with the studio heads (as did Gable, on a bigger scale) because he could be repackaged three or four times a year in the same part, only different. If the movies were interchangeable it was because people like Louis B. Mayer liked them that way.
The uplifting finale is an expression of the spirit of the entire nation, offering the story of San Francisco as an inspiration to work itself free of the Depression. When the call goes out that the fires are extinguished the editing mimics examples seen in Soviet films and leftist American work, like King Vidor's
Our Daily Bread
. Groups and lines of beaming citizenry advance downhill -- men, women, European and Asian immigrants -- in a glorious parade of humanity. "We'll build a NEW San Francisco!" someone shouts, as if the dispossessed citizens are going to start pouring foundations as soon as the smoke clears. You can bet that the reality of reconstruction in San Francisco wasn't quite the collectivist effort championed here. The people on the hill, for the most part, are analogous to last year's millions displaced from New Orleans -- the uprooted common citizens were probably the last to have a say in what the new city would be like.
Comic Ted Healey appears as a sidekick entertainer, without his 3 Stooges. Jessie Ralph's rich widow entices Mary to wed the dull Jack Holt, and bring fresh blood to the family. Shirley Ross plays Gable's second-string Paradise entertainer but would find immortality two years later by singing
Thanks for the Memories
with Bob Hope in
The Big Broadcast of 1938
. The famous D.W. Griffith did some second-unit directing and appears in one scene as an orchestra conductor.
Warners' DVD of
San Francisco
is an excellent transfer and encoding of a B&W film that shows minimal wear and tear - just a faint scratch or two and a few replacement sections of diminished quality. Overall it plays beautifully; it also sounds a lot better than older TV prints. Ms. MacDonald's voice is greatly improved and the rumble-rama sound mix for the earthquake scene holds up well. (* see footnote below)
The extras are led off by TCM's sleek docu on Gable,
Tall, Dark and Handsome
. Hosted by Liam Neeson, it's a great introduction to a star who still has a hold on the public imagination seventy years later. Featurettes include a trailer, two
Fitzpatrick
travelogues and a color cartoon called
Bottles
.
An
alternate ending sequence
is an extended finale with more and different shots of the 'present day' San Francisco that sprang from the ashes of the old; it's not clear why it was changed, unless it's to eliminate a shot of the Golden Gate Bridge still under construction.
* 1.Louis B. Mayer seemed to be a sucker for classy ladies with good singing pipes; MGM gravitated to warbly operetta at every opportunity. Jeanette MacDonald's trained voice and Polly-Pureheart screen persona must have been Louie's idea of female perfection.
For more information about
San Francisco
, visit
Warner Video
. To order
San Francisco
, go to
TCM Shopping
.
by Glenn Erickson