DVDs from TCM Shop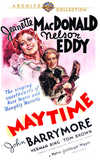 Maytime An opera star's manager... MORE&nbsp> $15.96 Regularly $19.99 Buy Now
Articles
SEE ALL ARTICLES
Maytime (1937)
Singer-actress Jeanette MacDonald gave much of the credit for the success of MGM's Maytime (1937), one of her biggest hits with frequent co-star Nelson Eddy and her personal favorite among her movies, to director Robert Z. Leonard. "He was not only one of the ablest directors but one who, being a singer himself, was deft and sympathetic in his handling of the musical phases of the story," MacDonald once said. "He didn't believe in the iron-handed technique. Mr. Leonard always kept us pliable and spontaneous." Leonard, who had sung with the California Light Opera Company before entering films as an actor in 1907, directed two other films starring MacDonald and Eddy, The Girl of the Golden West (1938) and New Moon (1940); and two other MacDonald vehicles, The Firefly (1937) and Broadway Serenade (1939).

The story of Maytime, taken from the Sigmund Romberg operetta and cast in the form of an extended flashback, begins in the early 20th century. MacDonald plays Marcia Morney, an elderly woman who looks back on her tumultuous life as an opera star who once was the toast of Paris. She marries her domineering voice instructor (John Barrymore) but falls in love with a handsome baritone (Eddy) who becomes her co-star on the American operatic stage. The triangle leads to tragedy, although Marcia is reunited with her true love in an idyllic Hereafter. The score, one of the richest in an Eddy/MacDonald movie, includes "Will You Remember," "Dancing Will Keep You Young" and the gloriously sentimental "Maytime Finale" from the Romberg original; "Czarita," an opera based on Tchaikovsky's Fifth Symphony and created especially for the film by music director Herbert Stothart; excerpts from several famous operas; and original songs by Stothart, Chet Forrest and Bob Wright. Stothart won an Oscar nomination for his scoring of the film, which also garnered high praise for its sets, costumes and cinematography.

Maytime the stage operetta had proved so popular that two productions ran simultaneously on Broadway in 1917. It became a silent film in 1925 before being resurrected by producer Irving Thalberg as a vehicle for Eddy and MacDonald. Filming began in Technicolor with Edmund Goulding directing and Paul Lukas and Frank Morgan among the supporting cast, but Thalberg's death on September 14, 1936, brought the production to a halt. Hunt Stromberg and Leonard stepped in as producers, with Leonard directing. Most of the existing footage was scrapped, and John Barrymore and Herman Bing took over the Lukas/Morgan roles in the now black-and-white film.

The third of eight Eddy/MacDonald movies, Maytime won the best notices of the series, including Frank Nugent's declaration in The New York Times that it was "the most entrancing operetta the screen has given us... [It] approaches perfection." MacDonald said that, in addition to Leonard's sympathetic direction, the inspirations for her glowing performance included the fact that she was "deeply in love for the first time" ñ with actor Gene Raymond, whom she married shortly after filming ended. "Whatever the impetus," she added, "I consider Marcia Morney my finest performance and my favorite role."


Producer: Hunt Stromberg, Robert Z. Leonard
Director: Robert Z. Leonard
Screenplay: Noel Langley, Claudine West (uncredited), from play by Sigmund Romberg and Rida Johnson Young
Original music: Sigmund Romberg, Herbert Stothart, Chet Forrest, Bob Wright
Non-Original music: Leo Delibes, Gaetano Donizetti, Charles Gounod, Giacomo Meyerbeer, Gioacchino Rossini, Pyotr Illyich Tchaikovsky, Richard Wagner
Art Direction: Cedric Gibbons, Fredric Hope (Associate), Edwin B. Willis (Associate)
Cinematography: Oliver T. Marsh
Costume Design: Adrian
Editing: Conrad A. Nervig
Cast: Jeanette MacDonald (Marcia Morney/Miss Morrison), Nelson Eddy (Paul Allison), John Barrymore (Nicolai Nazaroff), Herman Bing (August Archipenko), Sig Ruman (Fanchon), Tom Brown (Kip Stuart), Lynne Carver (Barbara Roberts).
BW-132m. Closed captioning.

by Roger Fristoe


back to top
---