DVDs from TCM Shop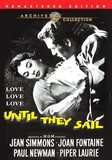 Until They Sail Four sisters in New Zealand... MORE&nbsp> $15.96 Regularly $19.99 Buy Now
NOTES
A written prologue during the opening credits reads "M-G-M gratefully acknowledges the generous cooperation of the government and Army of New Zealand in the making of this motion picture." After a brief opening scene in a New Zealand courtroom, voice-over narration is then provided by Jean Simmons as the character "Barbara Leslie Forbes." She introduces of herself and her three sisters with an interior monologue. At various points through the film, radio broadcasts which the characters listen to provide information about the war in the Pacific.
As portrayed in the film, following New Zealand's declaration of war against Germany in 1939, New Zealand soldiers were shipped out for duty overseas, leaving their homeland almost devoid of marriageable men. American military personnel were subsequently stationed in New Zealand following the United States' entry into the war in December 1941. Modern sources estimate that over 15,000 American soldiers married Australian and New Zealand women they had met while stationed in those countries. Although petitions were initially required before these soldiers could transport their "war brides" to the United States, the December 28, 1945 War Bride's Act required only proof of marriage to ensure legal migration. Some modern sources estimate that the total war bride migration as a result of World War II was one of the largest migrations to the United States since the 1920s.
A December 24, 1952 Hollywood Reporter news item states that Mark Robson and Robert Wise's Aspen Productions originally purchased the film rights to James A. Michener's short story "Until They Sail," but filming was postponed due to casting difficulties. According to a September 14, 1953 Hollywood Reporter news item, after purchasing the rights from Aspen Productions, Harold Hecht of Hecht-Lancaster-Hill Productions wanted his partner, Burt Lancaster, for the lead and planned to have their subsidiary Norma Productions produce it. However, by December 1954, Hollywood Reporter reports that Hecht was considering Kim Stanley for the female lead, while Lancaster was assigned to direct the film with shooting scheduled for December 1955. A December 20, 1954 Hollywood Reporter news item states that Richard Collins was originally considered to write the screenplay and James Hill, the third Hecht-Lancaster-Hill partner, was assigned to produce the film. By December 1955, M-G-M stepped in to purchase the rights from Hecht-Lancaster-Hill for $75,000 with plans for Glenn Ford to star in the film, and a August 23, 1956 Hollywood Reporter news item states that Marcel Norring was considered for a leading role.
By 1957, M-G-M had decided that Paul Newman was to star and shooting began that year with one of the original purchasers, Robert Wise, directing. The other purchaser, Robson, had produced another film based on a Michener novel entitled Return to Paradise in 1953 (see entry above). Although the two films' plots differ greatly, some modern sources attribute Until They Sail as a remake of the earlier film, also set in World War II South Pacific. As noted in reviews, some scenes were shot on location in Christchurch and Wellington, New Zealand.
This film marked the motion picture debut of actress Sandra Dee (1942-2005), who became one of the most popular teenage stars of the late 1950s and early 1960s. Her embodiment of the pretty blonde teenage ideal of the era was immortalized in the 1972 Broadway musical and subsequent 1978 film musical Grease, about teen life in the 1950s, in the song "Look At Me, I'm Sandra Dee." Dee was married to popular singer Bobby Darin in the 1960s. The biographical film Beyond the Sea, which deals with Darin's relationship with Dee was released in late 2004, a few months before Dee died. That film was directed by and starred Kevin Spacey as Darin and Kate Bosworth as Dee.