DVDs from TCM Shop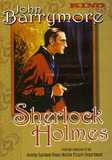 Sherlock Holmes Sherlock Holmes faces off... MORE&nbsp> $17.95 Regularly $24.95 Buy Now blu-ray
Home Video Reviews
John Barrymore's 1922
Sherlock Holmes
was not the first screen incarnation of Sherlock Holmes, the most well-known fictional character in English literature, and certainly not the definitive. This production, directed by Albert Parker as a mix of dime novel adventure and pulp crime thriller, is ostensibly based on Doyle's stories but more directly on the play by William Gillette, a stage actor who made a career playing Holmes. It offers an origin story to the detective and his battle with criminal mastermind Moriarty (Gustav von Seyffertitz) that begins at college, where Holmes' friend and fellow student Watson (Roland Young) introduces him to a mystery that leads Holmes into the criminal empire of Moriarty. Jump ahead a few years and Holmes is now the brilliant (and publically modest) detective of 221 Baker Street, dedicated to dismantling Moriarty's underworld web and still carrying a torch for a beautiful young woman (Carol Dempster) he met once in his college days.
That young woman is Alice Faulkner and her plight -- she's held prisoner by Moriarty, who is after letters in her possession that he can use to blackmail a Crown Prince -- brings Holmes' battle with Moriarty to a head. That's the simplified version of the story, which is overly convoluted and tangled and, for a Holmes mystery, often quite sloppy. Or is simply that Holmes is so smitten with Alice that he's not thinking clearly when he leaves her in the clutches of her captors, convinced she'll be safe for the time being? Not the most logical of deductions, to this untrained mind.
The confused motivations and complications are simply discarded when the film shifts from mystery to elaborate battle of wits between Moriarty, determined to finally kill the meddling detective, and Holmes, who plots to end Moriarty's reign of terror. It's also one of the wordiest silent films I've ever seen, filled with pages of intertitles explicating the overly convoluted plot and providing Holmes' commentary of clues, deductions and schemes.
While Barrymore has the profile and the intent, intelligent focus we recognize, this is a Holmes mystery without the deerstalker cap, the Meerschaum pipe (Barrymore's Holmes prefers cigars) or the faithful Watson at his side. He does have his moments of deduction and a tendency to wear house robes at 221 Baker Street, where he lives alone (Watson is a married man by the time Holmes arrives in his Baker St. abode), but this an altogether more morally driven character, a white knight with a keen mind in place of a sword out to right wrongs rather than a restless genius who takes to solving mysteries as a challenge. It took Basil Rathbone to bring a Holmes reminiscent of the character of Arthur Conan Doyle's original stories to the screen 15 years later.
As his counterpart, Gustav von Seyffertitz's Moriarty is no social sophisticate. Like Barrymore, he cuts quite a distinctive profile, but with his straggling hair and eccentric dress he looks more like a brother to Barrymore's Mr. Hyde of 1920 and acts like a Dr. Mabuse or a Fantomas relocated to 1920s London, where he spins elaborate plots and relishes the shadow of terror he casts over the underworld. This Moriarty could have emigrated from a German Expressionist thriller and brought the shadows and secret liars and hidden passages along with him.
Sherlock Holmes
also marks the screen debuts of two major actors of the sound era: William Powell in a small role as Foreman Wells, Moriarty victim turned loyal Holmes agent, and Roland Young as Watson, friend to Holmes but never his assistant, sidekick or sounding board. This Holmes tends to work alone, helped by a network of agents and informants. This incarnation is as much inspired by the crime serials of the day as it is by Doyle's stories. While that may not satisfy fans of the canon, it does help the film move beyond the wordy explanations central to a Holmes story to a more visual, action-oriented kind of filmmaking more suited to the strengths of silent filmmaking. The result is an odd hybrid that, at its best, hints at the character of the stories while indulging in the wicked machinations of the pulp crime thrillers of the day. That's how the film is best appreciated, a kind of Holmes vs. Mabuse battle of wills and wiles.
The disc is mastered from a restored 35mm print from the George Eastman House Motion Picture Department (the restoration has a 2008 copyright) and looks quite good. There are a few rough patches of surface scuffs and the image jerking up and down in the gate, but for the most part it's relatively clean and vivid and stable (though at times the frameline itself rises or dips, one assumes the result of digitally stabilizing the image). There is, however, a noticeable degradation in image quality in the close-ups of letters and notes, which appear to be still frames from inferior source material.
The organ score composed and performed by Ben Model on a Miditzer Virtual Theatre Organ is perfectly acceptable but not particularly notable. No supplements beyond a handful of trailers for other Kino silent Blu-ray releases.
For more information about
Sherlock Holmes
, visit
Kino Lorber
. To order
Sherlock Holmes
, go to
TCM Shopping
.
by Sean Axmaker