DVDs from TCM Shop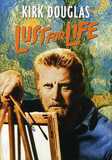 Lust for Life Passionate biography of... MORE&nbsp> $15.96 Regularly $19.98 Buy Now blu-ray
NOTES
Before the opening credits, a written foreword appears thanking more than twenty museums, galleries and collections, including The Trustees of the Tate Gallery, London, the Muse du Louvre, Paris and the Museum of Modern Art, New York City, for the permission to photograph the paintings of Vincent van Gogh. The list of art institutions ends with the statement: "Without their help and that of private collectors the world over, this motion picture about a great painter could not have been made." The closing credits include a written acknowledgment listing the help of over thirty additional art institutions. A July 1955 Los Angeles Times article also noted that the Soviet Union had agreed to allow the photographing of four van Gogh paintings from the Moscow Museum of Modern Art. Although the cast credits list the main character's surname as "Van Gogh," it is frequently listed as "van Gogh" in art and historical sources. Throughout the film, full-screen images of some of van Gogh's paintings are interspersed with the action or juxtaposed with similar, real-life scenery. Excerpts from van Gogh's letters are read throughout in voice-over by James Donald as "Theo van Gogh."
Van Gogh was born in Holland on March 30, 1853 and, as shown in the film, was supported throughout life, both emotionally and financially, by his devoted brother Theo. The artist wrote frequent letters to his brother describing his mental malaise and passion for painting. Considered among art historians to be one of the greatest Post-Impressionist painters, van Gogh was known for breaking from his impressionist training by using expressionist technique. Lust for Life deals with the period in van Gogh's life from 1878, when he began religious works in the Borinage after attempting careers in art dealing and teaching, to his death in 1890. As shown in the film, van Gogh began suffering from periods of mental depression while working in the Borinage. While the film faithfully portrays many moments in van Gogh's life, including his passion for painting, friendship with Gauguin and failed romances, it omits other key episodes, as does the Irving Stone novel, on which the film was based. For instance, the film does not cover a romance he undertook with a neighbor of his parents, Margot Begemann, whose subsequent attempt to poison herself devastated van Gogh. The picture also does not include references to several attempts van Gogh made on his own life while at the asylum in Saint-Rmy, during which he repeatedly attempted to poison himself by ingesting his paints. In addition, many biographers theorize that van Gogh's ultimate state of despair, during which he shot himself on July 27, 1890, was due to his feelings of guilt over Theo's failing health and finances.
In the mid-1940s, as noted in a December 4, 1955 New York Times article, Stone had written a screenplay version of his novel Lust for Life while working at Universal. By 1946, M-G-M purchased the novel's screen rights and, according to a October 13, 1946 New York Times news item, planned to star Spencer Tracy in the film. That contract included an agreement that, if the studio did not produce a film within ten years [1955], the rights would revert back to Stone. According to a December 4, 1947 letter written by Dalton Trumbo and reproduced in a collection of his letters, M-G-M had hired Trumbo to write the screenplay for Lust for Life. Due to M-G-M postponements, and possibly due to complications caused by Trumbo's being blacklisted, there is no evidence that any screenplay was submitted. For more information on the Blacklist, please consult the entries Crossfire and Tender Comrades (see AFI Catalog of Feature Films, 1941-50). An October 11, 1953 New York Times article reported that director Jean Renoir attempted to buy the rights from M-G-M in order to shoot a biography starring Van Heflin as van Gogh. A October 20, 1953 Daily Variety item added that Willis Goldbeck would begin producing the Renoir film in Europe the following week, but that picture was never made.
Although, according to a October 16, 1953, Daily Variety article, Stone had reacquired the radio and television rights to his book several years earlier, he now approached M-G-M to buy back the film rights as well. Stone wanted to make a feature version of Lust for Life in partnership with Jean Negulesco as director, Carlo Ponti and Dino De Laurentiis as producers and Yul Brynner as the star, however, M-G-M would not sell the rights.
In August 1954, Hollywood Reporter reported that Jack Palance was negotiating with M-G-M to buy the rights and produce an adaptation under his own independent company, with himself in the starring role, but the purchase never went through. In January 1955, according to a Hollywood Reporter news item, Kirk Douglas planned to star in an M-G-M version of Lust for Life, to be directed by Negulesco.
Hollywood Reporter's "Rambling Reporter" asserted in February 1955 that the studio had only ten months left to make the film before the rights reverted back to Stone, and so were rushing forward to place it into production by September 1, 1955. By March 17, 1955, as noted in Hollywood Reporter, a photographic unit had begun shooting backgrounds in Arles, France, in order to capture the almond trees in bloom. According to information in the Arthur Freed and M-G-M Collections at the USC Cinema-Television Library, director Vincente Minnelli had to leave the production of Kismet a few days early in order to begin work on Lust for Life, necessitating that Stanely Donen take over the helm of Kismet for a few days in July 1955. Principal shooting on Lust for Life began on August 1, 1955 and was not finished until December 1955, weeks before M-G-M's rights to Stone's book expired.
A April 19, 1955 "Rambling Reporter" item noted that M-G-M hoped to secure Jos Ferrer to play Toulouse-Lautrec in Lust for Life, the role for which he had won an Academy Award nomination in the 1953 John Huston production Moulin Rouge (see below). According to contemporary news items and reviews, Lust for Life was shot almost entirely on location, including in The Hague, other areas of Holland, the Borinage in Belgium, and Paris and Auvers, France. Although 1955 Hollywood Reporter news items add David Horne, Jimmie Dime and Louis Mercier to the cast, their appearance in the final film has not been confirmed.
Minnelli, a painter himself, prepared a complex production design for Lust for Life to mirror van Gogh's works, in which different periods of the painter's life were presented in different color schemes. The scenes in the mining town, for example, emphasize grays, while the Paris scenes have a red accent. Producer John Houseman stated in a December 1955 Los Angeles Times article that "what we hope to achieve is an integration of his life and work." Although the onscreen credits state that the film was shot in Metrocolor, a January 1956 Hollywood Reporter news item asserts that the film would use a new high-speed, fine-grain Ansco Color negative for the first time. Modern sources agree that a combination of CinemaScope and Ansco Color technology afforded a fidelity not attainable with conventional photographic methods. In addition, the directors of photography shot van Gogh's works using direct negative prints which, according to Houseman in the Los Angeles Times piece, "when backlighted, show up in truer, more luminous colors."
As noted in an August 1956 Variety article, M-G-M planned to release the film in six art house theaters as test engagements before setting a national release plan; however, the dates of those releases have not been determined. Lust for Life had its premiere in New York on September 21, 1955 at the Plaza Theatre as a benefit for the Metropolitan Museum of Art. Similar gala openings in other cities, including San Francisco and Los Angeles, benefited area museums and art programs. The August 1956 Variety article added that M-G-M produced a thirty-minute, 16mm, color short entitled van Gogh: Darkness into Light narrated by studio head Dore Schary detailing the film's production. Although the short was lost for many years, Los Angeles Herald Express reported in December 1984 that a copy had recently been discovered and was presented to Minnelli by Frank Yablans, then the vice-chairman of M-G-M.
Lust for Life received glowing reviews, in which many critics praised Douglas' performance and noted his close physical resemblance to van Gogh. Los Angeles Times called the picture "one of the most remarkable films ever put together" by Hollywood. Some critics, however, found the character of van Gogh difficult to understand or sympathize with completely; the Hollywood Reporter review referred to the character as "a boor and a bother." In his autobiography, Minnelli stated that the film represented his greatest achievement, and Douglas noted in his autobiography that van Gogh was his most difficult, and most rewarding, role.
Douglas won the Golden Globe and the New York Film Critics' Circle awards for Best Actor and was nominated for a Best Actor Academy Award for his role in Lust for Life. In addition, Anthony Quinn won the Academy Award for Best Actor in a Supporting Role, and the film earned nominations for Oscars in Art Direction/Set Decoration and Best Screenplay, Adapted.
Other filmed versions of van Gogh's life include the 1987 animation feature Vincent by director Paul Cox with John Hurt as the voice of van Gogh and Vincent and Theo, a 1990 film directed by Robert Altman and starring Tim Roth and Paul Rhys. In addition, van Gogh was the subject of Nicholas Wright's Broadway play Vincent in Brixton by which opened on 6 March 2003.