DVDs from TCM Shop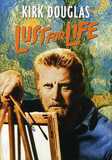 Lust for Life Passionate biography of... MORE&nbsp> $15.96 Regularly $19.98 Buy Now blu-ray
Home Video Reviews
Kirk Douglas gives an Oscar® nominated performance as tortured artist Vincent Van Gogh in
Lust for life
, a fictionalized account of the life of the painter, based on the novel by Irving Stone. The story opens far from the world of art. After taking courses from the Mesengers of the Faith Society (and doing very badly), Vincent is hoping for an appointment as preacher. The board tells him that he has failed and they will not send him out. But after the rest of the board has left the room, one lingering board member remains behind to talk to him. The board member is impressed by the level of passion Vincent has about apreading thegospel, and he decides to appoint him to preachin a remote Belgian coal mining town.
When he is giving his first sermon, Vincent notices one man who stays near the door throught the sermon, and finally leaves before the talk is over. Vincent later catches up with the man and demands to know what was wrong with it, what he said that was offensive. To his surprise, the man explains to Vincent that he doesn't know anything about the people to whom he's preaching; that they live underground in the mines and only come home to sleep. So Vincent accompanies the man down into the mine the next day so that he can get a first hand account of the deplorable conditions under which these men, women and children slave every day. Pretty soon he realizes that he real mission is not to preach to them, but to minister to them in the trenches, a mission he takes up valiantly: he uses his stipend from the society to rent a hovel in the poorest neighborhood. He gives up his bed to a sick woman because she need it more than he does, and sleeps on piles of straw, and is directly on hand when there is trouble at the mine.
After he has been established for some time, the board from the Messengers of the Faith Society arrive for inspection and are appalled to find what he's done. One of the board goes so far as to say that he is "sleeping on straw like an animal," and the stipend is meant to cover living in a place much more dignified. When Vincent explains that in order to reach these people he must become one of them, the board leaves in disgust. And the result is that Vincent and his stipend are cut off from the society.
Having had no correspondence from him for months, Vincent's brother Theo (James Donald) tracks him down and finds him still living in his hovel and weak from a long illness. Theo convinces him to come back to their family estate for time to recuperate. There he takes up drawing, which he'd been doing as a pastime, in earnest. Theo invites him to move in with him in Paris, which he believes will assuage both of their loneliness. Vincent arrives just in time for the impressionist exhibition which has created a very negative stir with the critics. Vincent attends, and is fascinated by the color and light with which the master painters are working, So his uncle, who owns an art gallery, arranges for him to meet the artists one by one, from Gauguin (Anthony Quinn, who won the Oscar® for Best Supporting Actor for his performance), to Georges Seurat, and a host of others, all of whom are more than willing to discuss their work.
After a few months together, friction starts to develop over Vincent's obsession for perfection and his rages over what he sees as his own inabilities. Among other things, he has grown tired of painting people and buildings, and wants to paint the bright colors that spring up naturally in nature. Theo decides to once again modestly support Vincent in sending him to Arles, where the vast countryside offers endless opportunities for painting nature in all its splendor. In Arles, staying in a cluttered house and going out every morning to paint, rather than becoming better, Vincent becomes even more obsessed with achieving perfection, capturing the bright oranges and yellows of the fields and their flowers.
The obsession grows until it reaches the point of madness, and the unbalanced painter takes a razor blade and slices off one of his ears. Theo is called down to Arles to help him, and Vincent informs him that he wants to commit himself to an asylum. Theo makes arrangement for Vincent to be accepted in a respectable establishment where the rest and discussion with psychiatrist really seem to pay off. When Vincent is released, he find that Theo has made arrangements for him to stay at the home of a doctor who is a family friend. But of course, once he starts painting again, the same demons rear their heads, and unable to face the emotional turmoil again, Vincent commits suicide.
Lust for Life
is a interesting fictionalization of the life a great painter (who, like so many, was not recognized while he was alive). Kirk Douglas gives a powerhouse performance as the tortured painter, playing the role with an amazing intensity that occasionally threatens to go over the top but never quite makes it. James Donald gives a beautifully understated performance as Theo, who goes on loving his brother no matter what, and Anthony Quinn brings his own intensity to the role of Gauguin. Director Vincente Minnelli and cinematographers Russell Harlan and Freddie Young, though, are the one who fill the screen with gorgeous landscapes and close-ups of Vincents most noted works. The photography is truly a feast for the eyes.
The transfer of the film for Warner Bros. new DVD does full justice to the beauty of the film's images. The colors are bright but still realistic, and the black level is solid, delivering excellent contrast and shadow detail. The extras include a feature-length commentary by film historian Dr. Drew Cooper, and the theatrical trailer.
For more information about
Lust for Life
, visit
Warner Video
. To order
Lust for Life
, go to
TCM Shopping
.
by Fred Hunter