DVDs from TCM Shop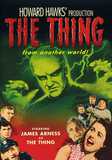 The Thing from Another World The crew of a remote Arctic... MORE&nbsp> $11.21 Regularly $14.98 Buy Now
USER REVIEWS
See Detailed Ratings
Acting of Lead Performers

Acting of Supporting Cast

Director

Music Score

Title Sequence

Screenplay

Cinematography

Historical Importance

Would You Recommend?

0 Member Ratings
Rate the acting of the Lead Performers

Rate the acting of the Supporting Cast

Rate the Director

Rating of the Music Score

Rating of the Title Sequence

Screenplay

Creatively uses the camera to tell the story

Importance in Cinema history

Would you recommend for fans of this genre
Submit Ratings
Cancel
Write a Review
Read Reviews
NO REVIEWS AVAILABLE
The title has not been reviewed. Be the first to write a review by clicking here to start.
Can't be equaled . . .

The best, the most suspenseful. Realistic patter, low-key reactions giving the audience confidence in face of menace in frozen north. This one stands up to watching over and over.

THE BEST

Middle America Calling

1/3/17

One of the ones I have to stop and watch when it's on.Set the standard for the genre.

Carrot Sticks!

It's the isolation, once Captain Hendry takes his good ship and crew to the outpost, which cements The Thing From Another World in my esteem. The bantering interplay while the action's ongoing is what makes the film speed to its now familiar conclusion. Seeing the lovely and tragic actress, Margaret Sheridan, radiate a sly, wry and poignantly particular brand of appeal gets to me every time; especially as she is glamorizing the simple act of smoking a cigarette. Seemingly every character has their own moment of glory in Hawk's epic. The characters and voices of Paul Frees and George Fenneman delightfully distract while not detracting as we know their unique voices later down-the-line. Best watched late at night or during one of winter's snow storms to enhance the suspense; and maybe with a cup of coffee like they're passing around for much of this great film. Hurrah that The Thing From Another World endures and that so many recall it fondly and anticipate its return to TCM. I keep it on the DVR to enjoy it for months and then record it again; repeating the cycle for so long as I'm around.

The Thing from Up North:

I can tell you that this version the original version of "The Thing' Is the best version . The worst remake was made by Kurt Russell in 1982 had really no effect on me at all watching itThe plot and the effects of that re made movie was so bad I fell asleep. Wasn't even moved by it.But the original movie was really scary to watch alone in the dark as I did. I have seen that movie from time to time when its on. I try to make a point in looking out for the movie when it comes on TV.I like the actors in it they work as a crew quite well. Dr, Stern is a mystery to me as he wants to learn from the creature without listening to the command of the capt.not to go near it.I would recommend another good Sci fi movie of the same nature the original "The Day The Earth Stood Still" 1951 another top notch horror classic . The remade was very bad i saw it.I would recommend watching the original The Thing. Try watching it alone with the lights are out. You will not move from your seat........

Groundbreaking direction

For many this movie is a classic. Myself included. But what really sets it apart, and not just from other monster movies but all movies, is the director's decision to have the actors consistently talk over each other and interrupt one another's sentences, even finishing thoughts began by other characters. This happens all the time in real life but it's seldom done in movies. This technique gave the entire movie a strong sense of reality that most movies of this genre lack. Adding to this was the fact that you hardly see "the Thing". He is constantly out of camera sight, always a threat. This creates a very tense atmosphere.That plus the beautiful black and white cinematogaphy and the wonderful music score makes this movie a delight! I've seen it a 100 times and will enjoy seeing it again soon. If you haven't seen it. Turn off the lights, turn off your phone, and enjoy!

It Stinks

I went to see this film when it was first released, as child I thought both Kenneth Tobey and Margaret Sheridan seemed so phony. The talking over one another was really annoying. I left the theater completely disappointed. I know that the director had a lot to do with this. Still, I cringe when I watch the leading lady and man speak in there scenes together.

Oustanding SciFi

An excellent movie...ENJOYED IT. I would recommend this movie.. very scary, and horrifying

Excellent film

outstanding scfi. excellent acting and directing especially the acting of Marilyn Monroe

Best science-ficttion movie ever made

The first launch of sci-fi movies in very early 50s; perfect, not a minute longer than it needs to be. Still scary, still convincing with actors in low-key roles making every event believable. No glamour or tricks in this one, but lots of suspense.

Brilliance

The music alone makes this one of the great syfi's of all time. And it doesn't even start until the movie is well on its way. Then there's the dialogue. Realistic, flowing, overlapping. It's not just a bunch of lines, it's actually people talking to one another. Then there are the characters. Every character in this film is portrayed by an actor with chops, each ideal for his or her part. Sure, sixty years later, a lot of it is naive. No computer animation (which is why, no doubt, staying exactly true to the original short story had to wait for decades). No skyscrapers getting blown to bits. No sweaty cleavage on the girl. (Well, maybe they missed that part). But the story just keeps coming at you. The first time I saw this, I was a kid staying up way past his bedtime watching TV. And this movie scared the Kool Aid out of me. I've watched it dozens of times since. Everyone should watch what Howard Hawks did here. Especially the people making crap like Prometheus.

The Thing

I think the best part of this movie is when they keep opening doors while looking for the Monster. When they open one of the doors he is standing right before them, and it scares me everytime. I remember reading that this was one of the Directors favorite themes. This is Sci Fi at its best!

yoiks.

Indelibly etched onto my childhood, this movie scared the living bejeesus out of me. The set up is fantastic, the music is some of the best ever done for the screen. But the really fun part is the overlapping dialogue that just makes it all feel so very reel. Yah, the effects are circa 1951, but so what? Hate to tell you how many times I've watched this. But I'd watch it again.

One of My Favorite SF Movies

Robert Hutchison

10/26/13

In 1950 when I was 6 years old, The Thing was one of the first movies I remember seeing. Actually I didn't see the whole movie because when The Thing started moving around I was too scared to watch it and so until near the end, I had my head in my mother's lap! I don't know how many movies I've seen in my lifetime but THE THING is the movie I've seen the most, especially since it came out on DVD. Kenneth Tobey has always been one of my favorite actors...

The Thing 1951 Sci Fi film as a serious treatment.

I got my first heebie jeebie scares from this film sometime in the mid 1950s.But it was only decades later that I came to appreciate how clever that script was by Charles Lederer, with a screenplay assist by Howard Hawks and Ben Hecht. For me it is reminiscent of 'His Girl Friday' (1940), 'also' directed by Howard Hawks with a Charles Lederer and Ben Hecht (with Charles MacArthur) screen play. The wise cracking and snappy overlapping dialog can be found in both films. The inclusion of the newsman character Scottie in 'The Thing', who is absent in the original story 'Who Goes There', is another connection to their earlier film collaboration about newsmen (and newswoman).While it does have have some fantastic elements, I see now how scientifically plausible and sound The Thing 1951 was. With such a high class pedigree behind this film, it helped elevate the previously modest Science Fiction film as a subject matter, into a new emerging Big Budget film genre.I can't wait for a long overdue BluRay treatment.

GONZO ACTION

ZEKE MOTOJOKOWSKI

5/18/13

I don't remember the first time I saw this great movie probably late 50's. My father let my brother and me stay up late while my mother was bowling. The old man carried a flame thrower during WW2 while serving in the Marines.He was amazed by the scene where they try to burn The Thing with kerosene.He thought it was extremely dangerous to have actors throwing buckets of kerosene on a flaming stunt man who was careening around the room. It was one of the only times he opened up to us about how dangerous it was to carry a flame thrower in combat. He told us not to get any ideas about trying to duplicated the stunt with our friends. I never miss this movie when it is on tv. The Thing, Invasion the Body Snatchers and Them are my favorite 50's movies

the thing from another world with james arness

not knowing at my young age when i saw this with my mom. i think i was 9 at the time tickets to our local theater were 1.00 thats a dollar, went on a school night. i think the scariest part was when they opened the lab door and the huskies were hanging there, where the monster had killed them. although he was a vegetarian. anyway after many years, you finally if you wateched gun smoke, it is james arness as the monster as he walks down the hallway with the electricity. and is boiled. that was a scene that was never repeated. many people dont remember james arness, he was well over 6ft,and i think that was his first film. i still watch and cover my eyes when the soldier his baby sitting the monster and turns on the electric blanket, accidentally and you see the shadow of the monster but never see the monster until several scenes late, and i am 70 yrs old scary movie but the best, better than the blob, which was not scary. except it was made in my home town in Pa.

The Thing from Another World (1951)

The Thing from Another World is a permanent sci-fi classic. And there's only one thing about this movie that few people know about. It influenced Halloween. John Carpenter was a huge fan of this film. It was obvious before he remade it. If you look at the TVs in the houses in Halloween, both this and Forbidden Planet are playnig on the TVs. He took the basic concept of people being stalked by a monster, but unlike most 50's sci-fi films, The Thing tries to create suspense to when the monster would strike next. There's really nothing bad about this film at all. It almost feels like a Universal horror movie from the 30's just from having a similar atmosphere, good acting and that this was an original idea at the time. The colorized version looks good most of the time but some scenes, like when the Thing goes on fire, it looks like someone took an orange marker and colored everything. I feel like these 50's sci-fi/horror movies are neglected and people have forgotten them completely. Even if one airs on TCM once in a while, it would be a lot better if at least once a year, for a month other than October, TCM would show b-movies from the 50's to the 80's at night with introductions by Robert Osborne.

Late Night Treasure

Under appreciated by color film, computer generated effects captives. Eerie musical score, black and white filming, fine acting, superior direction, claustrophobic settings all contribute to the suspense of this alien encounter. Humorous interaction as well as the overlapping dialogue adds to the realistic tone of the characters. The intrusive, malevolent alien can be seen as a subtle metaphor for the cold war tensions of the period. Ned Scott's closing warning "Watch the Skies" seals the threat. Great film. Certainly one of my favorites.

Wild Thang!

Along with "The Invasion of the Body Snatchers" (original version), the peaks of cinema sci-fi till the recent era. The moment of discovery on the ice is truly chilling, no pun intended. The various elements of the film previously commented on create credible premise and plot development, unlike some contemporary sci-fi. Must see, turn the lights out.

the narration of the film while it is playing.

The narration of the film while it is playing ruins the whole effect of the film.To do this on a classic film is wrong.It ruins the whlole film.This is a classic sci fi film and to do that to it is just WRONG.

The Thing (Original)

Get Movie, Great Cast, they were able to interreact with each other well. Jim Arness was great as the "Thing". Good suspense and the movie kept on going. No drag time throughout the entire movie. I watched it everytime it came on TV, I finally bought a copy so I could watch it anytime I wanted to. They don't make Classic's like this anymore, with the use of Black & White it even made it more suspenseful.

The Thing

Almost great. I can't believe no one proofs these movies. It would not cost a penny more to do it right. Aside from the saucer weighing 20,000 TONS and the block of ice being removed with hand tools its a wonderful movie.

The THING

I love these movies. They really don't make them like they use too. My parents where born in 1909 &06. Classic movies where just watched. Nothing out of the norm. This is GREAT acting. All the movies make you wonder what ever happened to movies that make you just feel good. THANK YOU TCM> You make me smile.

THE THING

A FILM THAT IS CONSIDERED A CLASSIC BY MANY...A FILM ENTERED IN THE LIBRARY OF CONGRESS...50TH AND 60TH ANNIVERSERIES HAVE PASSED AND NO SPECIAL DVD...FOR SHAME COPYRIGHT HOLDER!

One of the best

I saw this film at its original showing . It was ahead of its time in production.There isn't any down time and it still holds up extremely well.Recommended highly for any science fiction fan.

the thing

glenn cunningham

11/14/11

im 70 yrs old now,i still remember the night i seen this movie,i was 10,supposed to go whith two other friends to the show about 5 blocks away in chicago.it was a cold windy night,their was only 20 people in the show,got my pop corn,sat back and watched from the very beginning to the end i was into it, in the 50s their was much talk about flying sacuers and such anyway,when the show let out that 5 block walk seemed like 50 miles,i remember how happy i was to be home...............its still fun to watch

My Favorite Sci-Fi

The 87 minute version, the original version, is a classic....the interplay between the crew, the scientists and of course, Scotty, and the sexual tension between Margaret Sheridan and Ken Tobey, was ahead of it's time. Tame by today's gory and special effects laced garbage, this one stands at the top for any true movie buff.

The Thing (1951)

The genre of the classic sci-fi/horror flick is not one I usually watch because most of them seem to fall into the "B- movie" category (some of them even "C"), that is, cheapie thrills aimed mainly at adolescent movie-goers. But this was one I've always wanted to see and it certainly stands above the typical "popcorn spiller." If it had even one or two major performers, and had the script done more with the premise (and especially the characters), and had the alien design been more than a "Frankenstein's monster," this might have made it to an "A-movie" level. (Also, the spacey theremin sounds, so prevalent in 1950s cheapie sci-fi flicks, also work against it). As is, I'd say it's a "B movie." The best scene is where the scientists just sit around discussing the nature of the alien. Where the movie falls short is in the action and thrills department -- it has a weak climax and too often shies away from showing the actual things being discussed, which may be due to the movie's limited budget. It is unfortunate the sci-fi genre was deemed "for kids" and so given the short end of the stick, production-wise. I'm glad to have finally seen the original Thing, and its better than the remake (which had too much shock/gore emphasis), but overall its not memorable and has no "rewatchability factor" for me.

My Favorite Sci-Fi movie

I saw this one in the theater in the 50s and it was great. We rode our bikes almost a mile to the theater and, on the way home, Lance Armstrong could not have kept up with us. I love the way the actors talk over each other, it looks real, well acted and you don't see much of the monster until the end. Loved Kenneth Toby and Ann Sheridan in the lead roles. As I said in the title, this is my favorite sci-fi movie of all time and John Carpenter agrees. He has it playing on a tv in his movie Halloween.

A total classic of horror and suspense

If horror and suspense is your thing, this is one of the movies that should be on your list. Nyby may be on the list as Director. But one can see the Hawks feel all over it. This is a movie that will go well in any collection.

Ran in terror

I can remember some kids running out of the theatre in terror during this movie, it has aged well. Seems to me it was originally called just "The Thing".

The Thing

Do NOT miss the opening credits, and that wierd spooky music ( the piano scales)...best scene: they find the saucer buried in the ice, and the men spread out to form a circle, and 1 by 1, they each say, literally, one word about what they found. 2nd best scene: growing plants in the lab. Watch it in the dark, remember it was made in the 50s, so special effects are limited (that is, no rubber masks, dripping blood, etc.), and this is the beter version over John Carpenter's 80s remake.

classic scifi

One of the top early scifi movies & one of the best of all time. No artificial special effects are needed to enhance this movie.

Scared every kid in the 1950s

Every kid who saw this movie in the 1950s was scared to death the Thing was going to come out of their closet and attack them because of the justifiably famous scene where they opened the door and the Thing was on the other side - one of the greatest scares in movie history until Alan Arkin's leap across the screen in Wait Until Dark. A MUST SEE.

Mad I missed it

One of my all time favorite movies and I'm so mad that I missed it this morning. This is one of the SciFi movies that are as old as I am. I've been hounding AMC for over a year to show this film, but all they show is the remake.

A True Classic

I saw this movie when it first came out and ran home crying. The Thing crashed on earth on November 1st, my Mothers birthday and died on November 3rd, my birthday. I've watched this movie yearly every since the tape came out. Don't I every get tired of it, never, a great classic. "They don't make them like they did before."

Undeniable Classic

Along with Invasion of the Body Snatchers, War of the Worlds, The Day the Earth Stood Still, and others, The Thing is a classic in its genre. Like one reviewer, I too could watch this over and over. In The Thing the dialogue is witty, sharp, and cracking good. The actors, all capable and accomplished, deliver their lines and develop their characters with a pacing that makes the movie quite easy to watch. Each character is both essential to the script and easy to separate one from the other. There is no crowded feeling. Because of the strength of the ensemble, the plot, while inconceivable outside a Hollywood studio, actually works and flows logically and orderly.This genre can be guilty of hyperbole. The Thing mostly avoids that until the very end when it goes WAY over the top. But that's part of its charm too. While scary for younger children, adults will find this a fun movie to watch.

The Thing

I can watch the thing over and over, thats what makes a great movie.

The Thing (1951)

A great science fiction classic. A group of US scientists and military at the North Pole, discover a phenomenon that causes problems with their equipment. Good cast, excellent atmosphere, eerie setting. Genuinely frightening.

my favorite sci fi movie of all time!

what a movie experiance is suppose to be...thrilling escapism!!! very disapointed that the 50th annaversary dvd had no extras like the laser disc had!

Scared Me to Death

I was seven years old and went to see this movie at the Avenue D Theater in Brooklyn NY. I got so scared that I ran out of the movie and ran all the way home. For weeks afterwards I refused to go down in the basement of our home from fear of what might be lurking there. I have to admit, the modern remake of this film was pretty great too.

Great Movie!

This is a true 50's classic sci-fi movie. The overall feel and setting of the movie is great. The characters are always in control of the situation and not unrealistically overwhelmed by their plight. This is genuine silver-screen viewing at its best. I watch it over and over again. They truly don't make them like this anymore.

Addiction....

This has to be my favorite horror movie. The combination of suspense, tension, romance, and humor makes it almost perfect. It includes the fears of something we don't understand, or know, as well as the changes the world was experiencing on a smaller scale. It is personal and friendly, you can begin caring about the characters from the start. The inter-play of the conversations and the smooth writing hides some things at first, you have to watch it over again so you can catch so of the back-chat. The story this was based upon is closer to the re-make but it is still worth reading if you can find it. You might guess my title refers to my feelings for this movie. The holidays don't seem complete with-out the movies and specials. This one begins my holiday season. I adore it.

One of the Very Best of its Genre!

This was the first time I ever played hookie from school and went downtown to Manhattan to see the 'Thing' a day or two after it opened. It cost $.90 to get into the morning show and was worth every penny. The movie only received mixed reviews in New York but deserved better. I loved it then and have watched it a number of times since without seeing any reason to change my mind. Wonderful cast, great sets, superb direction and dialog that was fast, funny and sexy for the 1050s.

A genre-defining sci-fi classic BUT . . .

it's a crying shame that this particular print/transfer is so lousy.If this flick hasn't been remastered, it's long overdue . . . if it has, why isn't TCM showing it?

The best around...

This movie is definitely my favorite Sci Fi of all time. It scared me when I was young, it scares me still. Just the thought of the ramifications, should a scenario such as this unfold in real life, makes one shudder with apprehension. All other remakes are merely substandard imitations of a true classic. The only problem I have with this movie is that it is far too short in duration. I would have "loved" to have seen the "Director's cut". If I were a Hollywood Producer, I would remake this one. I would adhere to the original storyline though, with only a few modern-day twists. Great flick!

Love this movie!

A true classic, The Thing is what all movies should be. Fast paced,tense,spooky, and scary without being gory, giving you brief glimpses of the horror, and letting one use their imagination instead of being hit over the head. The acting is incredibly natural with overlapping dialogue and depicting true camaraderie among servicemen and women. All this adds up to the viewer easily believing the situation depicted. I'm not one to watch the same movie over and over, but whenever channel surfing, if it's on I'll watch. I love the soundtrack, it draws you in from the very start.

Alien Spook Fest

When I was a child my Dad said not to watch this movie because it was scarry to him.So naturally I watched it and was scared appropriately.You have to see this little movie set a standard for scifi and horror.They don't tell you directly but the Alien, amoung all the other things he is, is also a Vampire of sorts.Great movie for anyone, especially a teen birthday party.
*We protect your personal infortmation and will not provide it to anyone without your consent. For a complete explanation, please refer to TCM's Privacy Policy. By submitting your contribution, you agree to TCM's Terms of Use.