DVDs from TCM Shop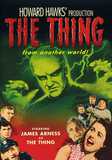 The Thing from Another World The crew of a remote Arctic... MORE&nbsp> $11.21 Regularly $14.98 Buy Now
Alternate Versions
Some editions include a scene between Captain Hendry and Nikki right before the Thing escapes. In the scene Hendry "allows" Nikki to tie his hands behind his back. When she tries to give him a drink he slips free grabs her and kisses her. The film then cuts to the Thing in the storage room.

There is a bootleg version of this film released by VidAmerica. It edits out parts where they find the Thing, parts of the Captain and Secretary's love affair, additional scenes with the reporters, scenes with the Thing and other scenes. It also edits out the classic soundtrack and kills-off characters not killed in the theatrical release.

A colorized version was released in color on VHS in 1989 by Turner Home Entertainment as an "RKO Color Classic".

The original 16mm U.S. television syndication prints were a slightly abridged 85 minute version. About 1980, when Turner acquired the RKO library, the syndication prints were replaced with the 79 minute re-release version. This shorter re-release version was also used for the initial video and laserdisc releases as well as the pay-tv and "colorized" versions.