DVDs from TCM Shop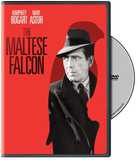 The Maltese Falcon Hard-boiled detective Sam... MORE&nbsp> $14.25 Regularly $19.98 Buy Now blu-ray
USER REVIEWS
See Detailed Ratings
Acting of Lead Performers

Acting of Supporting Cast

Director

Music Score

Title Sequence

Screenplay

Cinematography

Historical Importance

Would You Recommend?

0 Member Ratings
Rate the acting of the Lead Performers

Rate the acting of the Supporting Cast

Rate the Director

Rating of the Music Score

Rating of the Title Sequence

Screenplay

Creatively uses the camera to tell the story

Importance in Cinema history

Would you recommend for fans of this genre
Submit Ratings
Cancel
Write a Review
Read Reviews
NO REVIEWS AVAILABLE
The title has not been reviewed. Be the first to write a review by clicking here to start.
a fool and his movie.

I think of it as being one of the best movies of all time. more important to me ..I really like it. it made one man a star actor and another a star director.it help to create the genre of film noir. if you claim to be a film expert and say it is not a special movie.. you are a liar and a fool.

Spade Loves Astor

I was able to see this in the Theater and it was Oh, so clear. I'm talking about the "print" Great. What I saw this time was the love affair between the Spade Character and the Astor Character. I never really noticed that before. The only problem is that the love is hopeless. Totally and completely hopeless and Spade's good judgement is persuaded from his love to turn her over. Also, the bumbling characters throughout. I mean who would hire Elisha Cook Jr to be their bodyguard ?? ..............! All the actors are superb, not just good or wonderful they are exceptional. This is a truly a Great Movie, a tremendous movie. Absolutely a classic fiver stars and as good a film as can be imagined.

The Maltese Falcon

A classic detective film Humphrey Bogart as Sam Spade has to uncover who killed his partner among all kinds of suspects with Mary Astor as a client and later suspect and Peter Lorre and Sydney Greenstreet showing up in questionable ways. And then there's the bird from Malta that may be worth millions that Greenstreet wants which "is the stuff dreams are made of". This was John Huston's first film he directed which showed great ability at telling a complex story.

Mary Astor enticing

For folks fantasizing film stars, realize your desires by going to TCM's outstanding biography websites, e.g. for Mary Astor. http://www.tcm.com/tcmdb/person/6555%7C108371/Mary-Astor/ HIGHLY RECOMMENDED. You will also benefit from seeking / seeing several of Astor's best performances out of her 110 films. Especially enjoy seeing her sizzle in film 59. "Red Dust" (1932) with Clark Gable and Jean Harlow, plus a tart script, most highly rated by Leonard Maltin at four stars. See screwball comedy classic, "Midnight" (1939), written by Billy Wilder. In addition to Astor's Oscar-earning performance in "The Big Lie," she made 1941 her zenith year with "The Maltese Falcon." Astor entices Bogart, as deceitful, non-frigid Brigid O'Shaughnessy; also aptly as alias, "Miss Wonderly." Astor proves Biblically, she has "feet of clay" in film performances. For full disclosure you will see on TCM's biographical page for Mary Astor, that she was also sued by her parents. In addition to parenting, they groomed her for success, both as professional teachers (elocution, piano training, etc.), plus her father served as her business manager, etc. Mary Astor was sued by both of her parents for neglect, when her salary was $10,000 per month. In her 1959 autobiography, "My Story," she admitted alcohol abuse, affairs, infidelities while married, attempted suicide, failed marriages, etc. Hence her "feet of clay;" In pottery making they call it "slip." Experiences enhance acting. "Red Dust" is Astor's best, understated elegance, enticing.

Humphrey Bogart and The Maltese Falcon

The Maltese Falcon is a film with great writing, direction, and acting.But what really sets it apart for me is the last scene between Bogart's Sam Spade and Mary Astor's Brigid O'Shaughnessy. Bogart is nothing short of brilliant in that last confrontation. Throughoutthe movie he is snarky, cynical, and just a little corrupt. But as he confrontsBrigid, we see Bogart in a subtle yet powerful way display angst, anger,and heartbreak. But he never compromises the character of Sam Spade.He only makes the character more rich and more complex. Bogart could do so much with just a look or just a breath. He took what could have been just another tough private detective and gave him depth.

One of the Champs

Good double feature with Casablanca, displaying the mysterious allure and skill of Humphrey Bogart. Almost entirely set-bound, the plot line compels attention, despite some glitches that demand multiple viewings. Who the hell is Thursby? Does Sam have an intimate moment with Ms. Wonderlay? We'll never know for sure.

GREAT MO VIE!

This version of "The Maltese Falcon" was a great movie, and without doubt, the better version of the movie than the two previous versions, with excellent acting by the entire cast, but I still love the 1931 version!

Classic!

I never cared for Mary Astor's acting, with the exception of her performance in "Dodsworth," but she excels in this film. You want to strangle her and that can only mean she is very good in the role! This is an essential classic film and a Bogart triumph. It is film noir at its apex and there are so many villains that you wonder if Spade is part of the mix too. You don't even find out about the black bird until mid-film and that makes the intrigue all the more palpable. Bogart was made for this film but the supporting cast in Peter Lorre and the great Sydney Greenstreet just add to the exceptional acting here. Watch the beginning of the film when Spade's partner is gunned down and the widow (and Bogart's paramour) visits Spade. It's only been hours after the murder and she is already in "widow's weeds." I often wonder just how many women actually kept that sort of getup in their wardrobe back in the day! Only in the movies!

Love, Love, Love

A true classic film noir, with something for everyone. It's not a man or woman's picture. History buffs will love the reference to the Knights Templar. Romance fans will adore Sam Spade, casting aside his partner's wife, with whom he had been having an affair, after his partner is killed, as well as Sam's relationship with the conniving Bridget O'Shaughnessey, whom he eventually "sends over" even though he loves her, because it's the right thing to do. Those who are into nostalgia will like the sets, cars, costumes and dialogue. The story is suspenseful. Sydney Greenstreet was nominated for an Oscar. Don't miss this one.

The Maltese Falcon

One of the best! The actors and their characters are without equal. Never, and I mean never a dull moment. A treasure for sure.

The Maltese Falcon

I am watching this movie again tonite for about the 20th time and I now know why...the screenplay is a triumph and the repartee between the actors is incomparable. This has to rank as the greatest film noire detective movie of all time. The classic lines and great characters and the belly laugh of Sydney Greenstreet, make this more than a classic. "$5000.00 is a lot of money".

The Maltese Falcon soars

The 1941 film version of Dashiell Hammett's novel has dynamic dialogue, perfect pacing, and awesome acting. I watched it for the 5th time this afternoon, with each viewing about 4 years apart - like the Olympics. However, unlike the Olympics, Huston's version of "The Maltese Falcon" demands your attention, and is thoroughly satisfying from beginning to end. Like "the black bird" was for the film's connivers, this movie is "the stuff dreams are made of" for film connoisseurs.

The Maltese Falcon

Humphrey Bogart gives a life-changing performance as the famous private eye in this film. Lorre & Greenstreet give the best supporting performances of the early 40's as two of the antagonist's. Huston's adaptation & debut direction are suberb in creating a compelling crime story. An essential & influential film noir more gripping with every decade. I give it a 4/5.

cool

Bogart is so cool in this film.

The Maltese Falcon (1941)

Humphrey Bogart and John Huston's path to Hollywood immortality started with a black bird, this title's namesake. This film is about detective Sam Spade (Bogart) and how he must uncover the other detective's murderer, which is linked to the Maltese Falcon, a black bird. George Raft was once considered for the part of Spade. Come to think of it, no one would have done better than Bogart in this role, as in many of his roles. A year later than this, Bogart shot to superstardom when he did a bit of an altered Sam Spade in Casablanca (1942) with Rick Blaine. He at least deserved an Oscar nomination in this, which was wrongfully not granted to him. The supporting actors, Mary Astor, Sydney Greenstreet, Peter Lorre, and Ward Bond, do well however it is Greenstreet and Lorre who excel in this film. Huston, in his 1st directorial effort does such a phenomenal job. The music is also 1st rate as is the cinematography. This is the stuff that dreams are made of.

The Maltese Falcon

One of my favorite movies--early film noir. It has so much to offer, it's hard to know where to start. The cast is outstanding--Bogart, Mary Astor. Peter Lorre, Sydney Greenstreet. Ward Bond and, in a cameo appearance, Walter Huston, John Huston's father, as Jacoby, a ship's captain, who delivers the falcon to detective Sam Spade, mumbles something, then drops dead right in his office. There is the historical interest provided by the story line about the Knights Templar and their tribute to the King of Spain of a golden falcon encrusted with priceless jewels that gets waylaid in a ship wreck--the object around which the plot unfolds,. There is the love interest of Mary Astor's ruthless character whom Spade hands over to the police because she is reponsible for causing his partner's death, even though he didn't like his partner and was having an affair with his wife. Astor shines in her portrayal of the cynical, deceitful Bridget who uses her beauty to manipulate men. You don't know until the very end whether she really loved Sam or whether he really loved her. Sydney Greenstreet and Peter Lorre are outstanding as well in their roles as conniving, greedy men who have traveled the world in their quest to own the golden bird. Bogart does a fine job of portraying the complex Sam Spade, who has an affair with his partner's wife, then dumps her when Archer, his partner, gets killed. He enjoys bullying poor Wilmer, Greenstreet's side-kick who's trying to be a bad-ass, but not succeeding, but has a soft spot for Bridget, even though he knows she's no good. Ward Bond sets up the memorable line from the film--he picks up the heavy statuette and asks Sam what it is, and Sam replies: "That's the stuff that dreams are made of." Very much worth seeing.

Top Pre-War Film Noir

Many of the great Film Noirs were made after WW2, from the mid 1940's to the late 1950's. But there were a few of them made just before and during WW2, and "The Maltese Falcon" to me is by far the best. Humphrey Bogart gives one of his all-time great performances as hard-boiled San Francisco private eye Sam Spade, on the trail of maybe the most recognizable "McGuffin" in film history, the Maltese Falcon, and at the same time dealing with lethal femme fatales and an assortment of seedy characters who are also looking for the bird. It also has a brief appearance by Walter Huston, the director's father, as the dying ship captain who stumbles into Spade's office with the Falcon, which of course later turns out to be bogus. Excellent all around; four stars!!!

Early film noir

The Maltese Falcon is clearly one of the best movies of any era and,in my opinion,an early example of film noir.Sam Spade is not all good.He obviously conducts some of his life in the 'grey' area.And the evil,cuttthroat woman is nicely played by Mary Astor.The two things I love most about this movie are: 1) The marvelous performances by the superb Peter Lorre,and Sydney Greenstreet.2)I have read Hammett's short story a few times and director John Huston's screenplay adheres to the book almost verbatim ! Thats VERY rare in Hollywood. And last but not least,Bogart gives us a fine characterization of Spade. This film is a wonderful bit of cinema. Truly,they don't make films of this quality anymore.

The finest detective story ever made

This version of The Maltese Falcon is the best. Humphrey Bogart is so perfect for Sam Spade. If anyone else had been Sam Spade the movie would not have been the same. There were two previous versions of this movie one was The Maltese Falcon 1931 with Ricardo Cortez and Bebe Daniels, then it was remade asSatan Met a Lady, but neither measure up to this one.There is always something new and fresh to find with each viewing.

The Maltese Falcon (1941)

Certainly one of the greatest films of all time, an ingenious mystery, incredible screenplay and the direction is outstanding. Never a dull moment. A brilliant masterpiece.

Quintessential film noir

I think I've seen this movie 50 times and it's taken me that long figure out the whole story. I'm still not clear on why, exactly Brigit O'Shaunessy killed Miles Archer, and how we got from her first trip to Sam Spade's office to the whole sordid and intriguing story of the Maltese Falcon. Nonetheless, I love to watch this movie over and over, because it has a great story and fine acting. Every scene is so well played and when you watch any one, you feel as if you aren't watching actors, but glimpsing a piece of real life.

Humphrey Bogart's Greatest Role

Bogart did not receive an Oscar for Sam Spade but this film is to great for the oscar. See it. You'll either Love it or you'll really love it.

The stuff that dreams are made of.

As good,if not better,than the book: and Hammett is the best.

Classic Film Noir

This is one of my favorite movies. Sam Spade as played by the great Humphrey Bogart is a complex character.A hero and an anti-hero at the same time.The screenplay is excellent. Who doesn't love the scene when Spade unarms Wilmer Cook? The cast is excellent. Special kudos must go to Sydney Greenstreet.
*We protect your personal infortmation and will not provide it to anyone without your consent. For a complete explanation, please refer to TCM's Privacy Policy. By submitting your contribution, you agree to TCM's Terms of Use.