DVDs from TCM Shop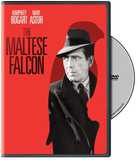 The Maltese Falcon Hard-boiled detective Sam... MORE&nbsp> $14.25 Regularly $19.98 Buy Now blu-ray
NOTES
The film opens with the following written statement: "In 1539, the Knights Templar of Malta, paid tribute to Charles V of Spain by sending him a golden Falcon encrusted from beak to claw with rarest jewels-but pirates seized the galley carrying this priceless token and the fate of the Maltese Falcon remains a mystery to this day-"
The film's working titles were The Gent from Frisco and The Knight of Malta. According to information in the Warner Bros. Collection at the USC Cinema-Television Library, the studio wanted to cast George Raft as "Sam Spade," but in a letter to Jack Warner, Raft stated that he considered the film not to be important and reminded Warner that he had promised Raft that he would not have "to perform in anything but important pictures." Modern sources state that Raft turned down the role on the advice of his agent and that his contract specified that he was to do no remakes. (Warner Bros. had made two earlier films based on the Dashiell Hammett story.) According to John Huston's autobiography, Raft was reputedly nervous about working with a first-time director. Warner Bros. files add the following additional information: Geraldine Fitzgerald was offered the part of "Brigid" and when she declined, it went to Mary Astor. Eve Arden was considered for the part of "Effie," and Lee Patrick, who played "Effie" in the film, was originally considered for the role of "Iva." Ben Welden was considered for "Miles Archer," Frankie Darro for "Wilmer," and Alan Hale and Charles Wilson were both mentioned as possibilities for the role of "Polhaus." Huston cast his father, Walter, in the uncredited role of "Capt. Jacoby."
Modern sources add the following information: Olivia de Havilland, Loretta Young, Rita Hayworth, Paulette Goddard, Brenda Marshall, Janet Gaynor, Joan Bennett, Betty Field and Ingrid Bergman were considered for the role of "Brigid." On Jack Warner's orders, cinematographer Ernest Haller shot some retakes which included a simplified opening scene. Warner felt the new beginning was necessary because the audience at the September 5, 1941 preview found the original opening confusing. According to studio records reprinted in a modern source, the film's total cost was $381,000.
Prior to making his film debut in The Maltese Falcon, Sydney Greenstreet had been a member of the Lunt-Fontaine theatrical troupe. The film earned Academy Award nominations for Sydney Greenstreet (Supporting Actor) and John Huston (Screenplay). It was also nominated as Best Picture. The film's popularity led the studio to consider a sequel, and Jack Warner approached Hammett to write it, but when Hammett demanded a $5,000 guarantee, the plan was dropped.
Huston's first directorial effort was so successful, both financially and critically, that Warner Bros. quickly assigned him to another film, In This Our Life, which was based on a Pulitizer Prize-winning novel, and which featured a cast of well-known stars including Bette Davis, Olivia de Havilland and George Brent. The Maltese Falcon, which modern critics have called an early film noir, has continued to be popular.
Dashiell Hammett's novel had been filmed twice before by Warner Bros: in 1931 Roy Del Ruth directed The Maltese Falcon starring Bebe Daniels and Ricardo Cortez. The 1936 adaptation entitled Satan Met a Lady was directed by William Dieterle and starred Bette Davis and Warren William (see AFI Catalog of Feature Films, 1931-40; F3.2671 and F3.3904). The 1931 film retained a scene from Hammett's novel in which "Sam" forces "Ruth" (i.e., "Brigid") to strip so that he can search her for a missing $1,000 bill. That scene was not used in the 1941 version because of more stringent censorship regulations. In 1975, Columbia released a parody of the tale, The Black Bird, starring George Segal as "Sam Spade, Jr." under the direction of David Giler. Lee Patrick and Elisha Cook, Jr. revived their original roles for that film. Neil Simon's 1978 movie The Cheap Detective drew on The Maltese Falcon as well as two other Bogart classics from the 1940s, Casablanca and The Big Sleep. The Adventures of Sam Spade, a radio series based on the Hammett novel, ran from September 29, 1946 until 1951. In the beginning, the program starred Howard Duff as "Spade" and Lurene Tuttle as "Effie." In 1949, the series moved from CBS to NBC and Steve Dunne took over the lead role. Edward G. Robinson and Gail Patrick starred in a February 8, 1943 Lux Radio Theatre broadcast of The Maltese Falcon.