DVDs from TCM Shop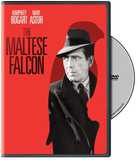 The Maltese Falcon Hard-boiled detective Sam... MORE&nbsp> $14.25 Regularly $19.98 Buy Now blu-ray
Home Video Reviews
It's been regarded as the definitive American detective movie, the harbinger of the film noir movement, and the most significant Hollywood directing debut short of
Citizen Kane
. Writer/director John Huston's screen adaptation of Dashiell Hammett's
The Maltese Falcon
(1941) has held endless fascination for generations of movie fans, and has cried out for a worthy treatment for home viewing since the birth of the DVD market. Warner Home Video finally rose to the occasion with their recent release of
The Maltese Falcon: Special Edition
, a three-disc set that even the most demanding fan will find, once unwrapped, to deliver the goods.
The scenario's familiar ground to even the most casual of cinema buffs, so we'll keep the recap brief. San Francisco private detective Sam Spade (Humphrey Bogart) receives what appears to be a routine job of providing bodyguard services to an attractive brunette (Mary Astor) answering to "Miss Wonderley." She's ostensibly come to the Bay Area to free her sister from the influence of a disreputable type named Floyd Thursby. Spade's partner Miles Archer (Jerome Cowan) happily takes charge of the elegant new client; he isn't on the job long before he's gunned down by an unseen assailant.
The local cops find Thursby dead soon afterward; Spade's situation is made even that much more tenuous by the fact that he had been carrying on a clandestine affair with Miles' pathetically clinging wife Iva (Gladys George). "Miss Wonderley" resurfaces, revealing her real name as Brigid O'Shaughnessey and begging for Spade's continued protection. Remaining in her orbit, while trying to find those responsible for the Archer and Thursby murders, brings Spade into contact with a most colorful cabal of criminals. In encountering the obese, overweening smuggling impresario Kasper Gutman (Sydney Greenstreet; the perfumed and peculiar Dr. Joel Cairo (Peter Lorre); and Gutman's questionable hired muscle, a short-fused punk named Wilmer Cook (Elisha Cook, Jr.), Spade uncovers their common goal. All have been embroiled in a global hunt to recover a legendary, centuries-old falcon statuette, enameled to conceal the solid gold and inlaid jewels beneath.
These proceedings were brilliantly laid out by Huston, whose screenplay was faithful to both letter and spirit of Hammett's text, and who immediately showed an assured hand and striking visual sense behind the camera, masterfully utilizing lighting and cameras angles to create Spade's foreboding world. For Bogart, this was the role that ensured he was through playing second gunsel to Cagney or Robinson. Hardly innocent, not always admirable, but hewing to his own moral code in an immoral world, Sam Spade represents the crystallization of the Bogey screen persona, and
The Maltese Falcon
the crucible of his legend. The supporting performances were equally remarkable. Astor had never been better, creating a vulnerable posture that masked depths of duplicity. The 61-year-old Greenstreet made an indelible impression in his screen debut, and Lorre, whose biggest success with American audiences to this point came in Fox's Mr. Moto Bs, carved his niche as well. Mention has to be given to Lee Patrick as the eternally patient secretary Effie, and Ward Bond and Barton MacLane as the local plainclothesmen Spade's trying to keep at a distance.
For this latest DVD incarnation, Warner Home Video made a new digital transfer, and the product is visually crisp and unblemished. Eric Lax, co-author of the biography
Bogart
, offers thoughtful and detailed insights in his feature-length commentary, showing an encyclopedic handle on more than just the central figure of the production. The Greenstreet-centered original theatrical trailer is also offered. In rounding out the extras on the set's first disc, WHV has presented them in their "Night at the Movies" format, giving the viewe the option of playing the content in an uninterrupted stream to replicate an evening in the theater circa 1941. This array includes the trailer for
Sergeant York
; a minute-and-a-half of newsreel footage documenting an FDR/Churchill rendezvous; Jean Negulesco's Oscar-nominated color short
The Gay Parisian
; and two WB animated offerings,
Hiawatha's Rabbit Hunt
and
Meet John Doughboy
.
The third time, they say, is the charm, and the iconic status enjoyed by Huston's creation tends to obscure the fact that it was actually Warner Brothers' third attempt over a ten-year span to bring Hammett's story to film. It's those first two shots that fill the second disc of the set. The 1931 version of
The Maltese Falcon
, which for obvious reasons has often appeared under the alternate title of
Dangerous Female
, offers a fairly straightforward take on Hammett's prose, and actually displays a fair amount of pre-Production Code frankness in depicting Spade's bedhopping. As to Spade himself: Back in the '20s, Valentino's meteoric vogue made Hollywood so desperate for Latin leading men that they had to invent them, which is how an Austrian Jew named Jacob Krantz became Ricardo Cortez. (His kid brother Stanislaus followed suit, going on to a distinguished career as the cinematographer Stanley Cortez.) Here, the actor vested Hammett's detective with the same sort of smarmy self-satisfaction that marked the roues to which he had been commonly typed. Bebe Daniels, best known for
42nd Street
and her string as Harold Lloyd's leading lady, makes a servicably conniving Brigid, and veteran character player Dudley Digges had one of his best screen moments as a wholly credible Gutman. The supporting cast is dotted with familiar faces, from the beautiful, doomed comedienne Thelma Todd as Iva Archer, to Dietrich catfight partner Una Merkel as Effie, to horror-flick icon Dwight Frye as Wilmer.
Perhaps mindful of the success MGM found with its charming take on Hammett's
The Thin Man
(1934), Warner opted to play the
Falcon
plot for laughs with its 1935 remake
Satan Met a Lady
. Little remained of the story beyond the basic framework; Warren William inhabited the role of shiftless private eye "Ted Shayne," and the top-billed Bette Davis was his dangerous new client. The missing object of desire became a jewel-filled horn that once belonged to the Gallic hero Roland, the Cairo part went to Arthur Treacher, ever-gentlemanly while performing vandalism, and the gender-switched Gutman role was assigned to all-purpose screen dowager Alison Skipworth.
Satan Met a Lady
has had something of a reputation as a train wreck, and not undeservedly. The narrative's attempts at fostering a giddy, lighthearted air consistently fall flat. The script was precisely the type of assignment that Davis was famous for chafing at during her tenure at Warner, and it reflects in her mailed-in effort. While the jacket copy promises the theatrical trailers for both proto-
Falcons
, only the
Satan
preview appears.
The third disc in the package contains the balance of the supplemental materials, and it's a rich selection for devotees of the film, Bogart, and Warner's output of the era. Leading off is the new documentary
The Maltese Falcon: One Magnificent Bird
, an effective half-hour presentation laden with background materials and observations from afficionados of the film ranging from Peter Bogdanovich to Henry Rollins to Frank Miller. If there's any quibble to be had with it, it seems that Huston, out of all the principals, got something of short shrift in terms of analyzing his contribution to the effort. Next included is a 1997 entry from TCM's
Becoming Attractions
series. In this 45-minute program, host Robert Osborne utilizes a baker's dozen of trailers spanning
The Petrified Forest
(1936) to
The Treasure of the Sierra Madre
(1948) to examine how the Warner publicity machine's handling of Bogart evolved.
Next is Warner's 13-minute house blooper reel from its 1940 output,
Breakdowns of 1941
. It offers a fun mix of Bogart, Davis, Cagney, Robinson, Stewart, Cooper, Garfield, O'Brien and many other stars and familiar character players caught blowing their lines, trashing props, and verbally expressing their frustrations in ways that wouldn't have gotten past the Hays Office. There's a little over a minute of silent makeup test footage with Astor, interesting as an archival tidbit and in watching her break character. Completing the disc are three full radio broadcast adaptations of the tale. One entry from 1946 reunited Bogart, Astor and Greenstreet; one from the fall of '43 added Lorre to that prior mix; and a 1942 presentation featured Eddie G. as Spade, Gail Patrick as Miss O'Shaughnessey and Laird Cregar as the Fat Man.
For more information about the 3-disc edition of
The Maltese Falcon
, visit
Warner Video
. To order
The Maltese Falcon
, go to
TCM Shopping
.
by Jay S. Steinberg