DVDs from TCM Shop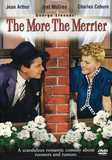 The More the Merrier The World War II housing... MORE&nbsp> $9.75 Regularly $14.99 Buy Now
USER REVIEWS
See Detailed Ratings
Acting of Lead Performers

Acting of Supporting Cast

Director

Music Score

Title Sequence

Screenplay

Cinematography

Historical Importance

Would You Recommend?

0 Member Ratings
Rate the acting of the Lead Performers

Rate the acting of the Supporting Cast

Rate the Director

Rating of the Music Score

Rating of the Title Sequence

Screenplay

Creatively uses the camera to tell the story

Importance in Cinema history

Would you recommend for fans of this genre
Submit Ratings
Cancel
Write a Review
Read Reviews
NO REVIEWS AVAILABLE
The title has not been reviewed. Be the first to write a review by clicking here to start.
Jean Arthur Is Simply Superb

I started watching by accident and kept watching until the end. I am very late coming aboard the Jean Arthur, but she is simply superb here. Her comedic timing. Her voice with just the right emphasis at the right time. Her eyes glancing to and fro. Her expressions of hopelessness and hopefulness. And super chemistry with Joel McCrea. A four star performance in a four star film. Watch it!

A great movie

This is a 5 Star movie! I watch it whenever it is scheduled. It mixes wit with slapstick, Jean Arthur is both prim and sexy, Joel McCrea is the perfect leading man, and Charles Coburn carries the comedy brillliantly. Wonderful casting with a great script, and directed by George Stevens before he entered the Army. Thoroughly enjoyable.

Jean Arthur at One of Her Best

What a hilariously, funny movie from start to finish! I love this movie. I just love Jean Arthur. She's one of the best, if not the best, comediennes to ever come out of Hollywood. She's also very beautiful. And her expressions are just too much to endure. :-D Watch this one the next time it's showing on TCM.

MY Favorite Film

The best. Acting talent, story and dialog are the best ever. Fast paced and challenging. Watch it many times.

Four Stars

I'm surprised this film is given only 3 stars. It is witty, charming and features Jean Arthur at her peak. Charles Coburn and Joel McCrea are excellent too.

Believe me...

That scene where Joel McRae and Jean Arthur are sitting on the steps and he kisses her neck --oh my gosh, so sexy! And they were fully clothed. Modern movies should take a hint.

The More the Merrier

I try and watch this movie whenever it is on TCM however this month it is not on demand. Why is that?? This is one of the best funniest movies ever. I sure would love to see it again and again

great view

Amazing movie, Jean Arthur... stunning, Mr. Coburn pretty good too, McCrae doing what he does, I now must see all jean arthur movies...........

Decades' Best Comic Trio

"The More the Merrier," nominated for 6 Oscars, amazingly this is Jean Arthur's only Oscar nomination. Also amazingly Charles Coburn, who did not start acting until he was 60, won his only Oscar for his merry matchmaking. When Joel McCrea joins the already dynamic duo, making it a triumphant trio of Oscar-worthy stars, viewers are right to anticipate that this romantic comedy about roomers and rumors in wartime Washington DC is going to be fun. It points potentially, presciently, proving precedent setting for scandal city. Tip of the hat also to 9 years of 97% laudatory, insightful and accurate users' reviews here, celebrating "The More the Merrier." Many thanks TCM for broadcasting this delightful charmer.

First Time Viewer--Excellent!

They most certainly don't make 'em like this anymore. Arthur, McCrae, and Coburn are fabulous. (One understands how Arthur--so sexy and funny here--was deservedly so acclaimed.)

Looks So Good

Jean Arthur sun bathing on the roof shows off one heck of a nice figure, her legs are especially great.

the more the merrier

I'm afraid I have to file a minority report on this one. I found the verbal humor increasingly tiresome and the physical humor merely ok. And the the front porch scene between Arthur and McCrae may have been torrid back in the Hayes Office days of 1943, but seems pretty damn tepid today. Give it a C plus. P.S. I wonder why George Stevens stopped making comedies after this movie? Did he lose his sense of humor? It happens to self important people in their middle years. Or was it a calculated move? Maybe the guy wanted desperately to be taken seriously(i.e. win an Oscar) as a director and figured comedy and prestige don't mix. Not that I miss the comedies all that much. Except for "Alice Adams" and "Woman Of The Year" they were all fairly standard. And there's no denying the greatness of "Giant" and "Place In The Sun."

Love this movie

I have loved this movie since the 1st time I saw it. The actors are perfect. Watch it, enjoy it and watch it again.

One of the best of the best.

The More the Merrier is my favorite comedy of all time. It may be, even, my favorite film. The interplay between Arthur and Colburn is brilliant. Perfectly cast, the scenes between Arthur and Colburn are comedy perfection and the scenes between Arthur and McCrea are frankly erotic. The explanation and implementation of Arthur's schedule, and the stoop scene between McCrea and Arthur are classic.The chemistry is pitch perfect between Arthur, McCrea and Colburn and is priceless. Jean Arthur, always brilliant, gives her most well thought out performance. Her timing and her delivery are impeccable and the way she uses her voice in the final scenes is both unforgettable and sexual. As TCM says, Jean Arthur is one of the best of the best.The More the a Merrier is the perfect comedy, still beloved 71 years after its inception. It is Steven's most brilliant film and both Arthur's and Colburn's most endearing performances!

Overrated?

While the stars deserve praise, Jean Arthur particularly, I don't think this movie measures up to all the hype. Delightfully done silliness in the first half, but then some tedious goings on in the second half. I found myself just wishing the movie would end -- not a good thing. Especially interesting to me was the scene where Arthur and McCrae were both in bed and conversing between the walls -- a good scene that evoked my memory of a similar, but even better scene in Come Live With Me -- James Steward and Hedy Lamarr (1941). Now that movie I love -- a lesser-known romantic comedy, but a real gem.

Perfection

This movie is an exceptional reflection of interpersonal relationships. Sweet and genuine, the stars add a unique quirkiness that reminds us how endearing life can be. Ok.... I LOVE this movie. Some may dismiss it as too superficial, but I would argue that being able to remain cordial during difficult times is one of the best things about being human. This movie seems way more real to me than the portrayals of heart wrenching angst made during the 60s. No matter how many times I watch this I never fail to laugh so loud! Thank you TCM for sharing this treasure.

The More the Merrier

An entertaining romantic-comedy from director Stevens. Arthur earned her sole Oscar nomination as a working woman who sublets her apartment to Coburn, in his Oscar-winning performance, who himself sublets his half to McCrea. Very funny, but the plot gets stale and is predictable. A good, enjoyable comedy. I give it a 3.5/5.

Great Film

themorethemarryem

8/25/13

Always thrilled when this gem shown on TCM.Great comedy,and fun for all!

The More the Merrier

Love this movie! Jean Arthur is wonderful!

The More The Merrier

The Most Entertaining Movie ever!! I will watch Jean Arthur, Charles Coburn and Joel McCrae in ANY movie and LOVE it.. Three of my absolute favorites. It's hard for me to believe this movie is not 5 stars. One of my favorite Movies of all times..

I Laughed Out Loud!

This movie is a hoot!! I laughed out loud in so many places I lost count! What got me were the instances where someone would slip on water and fall flat on their kiester! Loved the cast...especially Jean Arthur and Charles Coburn! I will not be deleting this one off my DVR, to be sure!

Back when actors could really act!

One of Jean Arthur's best films. Joel McRea is also great, and Charles Coburn was superb playing cupid for the couple. The scene where Joel sits on the front steps with Jean is sexier and steamier than anything Hollywood can produce today! Damn the torpedoes and full steam ahead!

Sexy Jean!

This is about the only Jean Arthur film I have seen that gives the viewer a very good look at her sexy, little bod, Her attire during much of the movie shows off her shape to good advantage but her body really impresses during the scene where she is sunbathing on the rooftop. Her top is form-fitting (nice breasts, narrow waist, flat tummy) and her shorts do a nice job displaying her very shapely legs. yummeee

Luv this movie!

I watch it everytime it's on! It's so funny! I luv it! : )

Simply My Favorite

This movie has become my favorite - truly, my #1! And, I admit to watching it 6 times in this last year - whenever it is on! The acting is superb - I love them all individually, but, together they are like a well oiled machine. Jean Arthur is One Of A Kind in that role and cute as a button! (and my favorite actress of that era), Joel McCrea - soooo handsome - is the ONLY actor that could have played so beautifully opposite her - they were tremendous together. AND, CHARLES COBURN.....oh, boy, I'll watch anything with him in it - and wasn't he at his Coburn best in this. How I wish they had made The More The Merrier 2, 3, 4,

The best Romantic Comedy ever!

All of the reviewers say it better than me (except for the one person who didn't like the movie), but I have seen this movie about 10 times and each time I love it more. Joel McCrea is a doll, Jean Arthur is so beautiful and Charles Coburn just steals the show. The best scene in the movie: those absent-minded comments Jean makes while Joel is caressing her arms and shoulders, ever so gently, until she just gives in to his charms. So romantic it makes me cry! I love this movie!

Excelente

Este filme excelente. Divertido e incrvel. Eu adoro a Jean Arthur e esta comdia fenomenal. Um filme que eu daria se pudesse 10 estrelas.

Great Chemistry

The Chemistry on the front door steps was incredible. You can actually see their attraction come alive on screen. This is a fun loving movie with a great story line. It's a great reminder of what love should be like. They couldn't help but fall in love. I would recommend this movie to all.

Too bad Stevens gave up...

...comedy after WWII. As a director, George Stevens had his own unique, comedic timing. His patient set-up, the punch line, and reaction shot consistently deliver the laugh he worked painstakingly to achieve. Stevens gentle touch always makes the audience laugh at the characters and at themselves. Here he is ably assisted by Charles Coburn's dry delivery, Jean Arthur's gravelly hysteria, and the eight roving arms of Joel McCrea, expert in the art of "copping the feel." Totally charming, funny and humane, this is a great classic war comedy.

The More the Merrier

I love the moment in the film when Jean Arthur and Joel McCrea first see each other in the apartment and we get reactions from all three characters. The scene on the front steps was sexy and romantic. I wish Joel McCrea had continued in these types of roles instead of making all of those westerns!

Capra Is Right!

In the biography of George Stevents that TCM showed, Frank Capra said he loved the scene in this film with Joel McCrea and Jean Arthur walking down the street. I think he said in essence that it was the funniest thing he'd ever seen. Of course, Capra knows comedy--not only is this scene funny, it's sexy, too, in a way most of today's filmmakers have yet been able to accomplish.

The More the Merrier

Funny, clean, romantic and actually had a story too, surprise that you don't always get these days in movies. A movie enjoyable to watch (which is what TV is for-entertainment). I thought all of the main actors did a great job, as did the supporting actors.

The More the Merrier

Subtlety, a quality that should return in films, is all present in this wonderful film. Anyone who appreciates the quiet insinuations meant for the viewer alone to enjoy will love this. The actors are superb, the ambience suggestive and the romantic interludes entrancing. To say nothing about the humor ever present. Wonderful movie.

Could have been better

I wanted to like this movie, but unfortunately it did not live up to the funny opening sequence. It could have been much better, had it decided to be an all-out comedy instead of comedy-drama. Charles Coburn was good, but seemed a pale imitation of W.C. Fields in a couple of shticks. The "Mr. Pendergast" character wore such a bad toupee that I wonder if it was an intentional sight gag. Very distracting. In all, there were too many things that went flat.

The More the Merrier (1943)

A thoroughly enjoyable romantic comedy. Jean Arthur is at her near best, Charles Coburn is excellent in his Oscar winning role, he is a delight. A wonderful classic. Viewers need to be aware there was a huge housing shortage in Washington D.C. in 1943.

love, love, love it.

This really takes me out of myself, and makes me laugh hours,no day and months after each time i see it. The first time i tunned it in it was because a jean A fan, Charles c stole my heart, and pissed me off at the same time. Then with joel Mc care and concern for Ms. Milligan gives me hope that generations will see what it means to love and care about a woman. MY favorite comedy.The score stays in my head and heart for days. It's good medicine.

Funny and Sexy

Very funny situation piece, with great dialogue. It offers one of the sexiest scenes ever, fully clothed on a stoop, but electric with desire. Everyone does a great job.

Cannot get enough of this movie!

I became a fan of Jean Arthur from her performances in Mr. Smith Goes to Washington and Mr. Deeds Goes to Town, so I gave this movie a shot. Sure glad I did! The dialogue is great, Charles Coburn is fantastic, and the chemistry between Arthur and Joel McCrea can't be beat. How else could the "love" scene in front of the apartment work with anyone else? Please air more of their movies!

Great classic movie

Donald Encarnacion

3/8/09

I'm not one to be really into classic's but the storyline and acting of this movie and Jean Arthurs' stunning good looks made this an interesting and great movie. Highly recommended.

Charles Coburn: A National Treasure

I'm yet to see a motion picture with Charles Coburn that I didn't love. His role in this film deserved to win the Academy Award. The sequence of events in that small apartment reminded me in a lot of ways of Hitchcock's great movie "Rear Window". From the morning schedule to Mr Coburn's "Damn the torpedos, full speed ahead; it was a hilarious romp. And to have one of my two favorite male actors of all time Joel McCrea (Gary Cooper being the other) and my all time favorite actress Jean Arthur was absolutely wonderful. The screenplay should have won an Academy Award for it's amazing story line which balanced dramatic and comedic effect as well as any movie I have ever seen. Modern day movie makers could learn a lot from watching this movie. They would find that it is not necessary to put in all the sexual innuendo and bad language in order to sell the public on a good movie. It was a sad day when Ms Arthur retired and Joel McCrea stopped making anything but westerns. If you think about it, who do we have today who can match this trio of great stars . . . NO ONE!!!!

Charles Coburn at his best!

This movie is great fun! I enjoyed seeing Charles Coburn get to play an impish fellow for once. Highly recommended!

Adorable

Saw this for the 1st time the other night & it was even better than I had hoped. The whole thing is a pleasure and George Stevens did a great job with this one, and McCrea and Arthur are perfect for each other!

Great Fun with Joel, Jean & Charles

Lots of fun. The banter when Coburn & McCrea first get together (along with the following confusion) is so funny. Joel is always one of my favorites. They are all in top form.Bob

Wonderful!

This is one of the sweetest, sexiest, cutest movies I've ever seen! I love it.

Best Kissing Scene!

I loved this movie, especially the kissing scene on the front steps of the apartment between Joel McCrae and Jean Arthur. This is about the sexiest kissing scene I think I have ever seen in a movie. Joel McCrae was very sexy and handsome.

Steamy!

I just watched this movie for the first time. It was amazingly romantic and very sexy for having been made in '43. Probably climbed into my top 10 list!
*We protect your personal infortmation and will not provide it to anyone without your consent. For a complete explanation, please refer to TCM's Privacy Policy. By submitting your contribution, you agree to TCM's Terms of Use.