DVDs from TCM Shop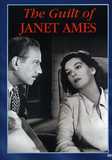 The Guilt of Janet Ames A hard-drinking reporter tries... MORE&nbsp> $18.95 Regularly $20.95 Buy Now
NOTES
DVDs from TCM Shop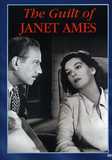 The Guilt of Janet Ames A hard-drinking reporter tries... MORE&nbsp> $18.95
Regularly $20.95 buy now
The working title for this film was My Empty Heart. The picture was actor Melvyn Douglas' first film following three years in the Army, and marked the feature film debut of actors Harry Von Zell and Betsy Blair. A May 1946 Hollywood Reporter news item noted that producer Virginia Van Upp's husband, Ralph Nelson, also a producer, was set to work on the film, but his contribution to the released film has not been confirmed. Various news items in Hollywood Reporter indicate that production on the film was interrupted many times throughout the summer and fall of 1946, and that Van Upp and Charles Vidor, the film's original director, were embroiled in a bitter dispute about the script. [In April 1946, Vidor, while working on the film Gilda, sued Columbia for termination of his contract. The suit was part of a long-standing dispute with studio executives and personnel that spanned many years.] Production on the film was suspended for approximately two weeks in mid-August 1946, after, according to a Hollywood Reporter news item, Van Upp collapsed on the set. Van Upp was removed from the picture, and a Hollywood Reporter news item suggested that her troubles stemmed from player commitments that forced her to begin filming the picture before the script was completed. Helen Deutsch took over Van Upp's production chores and, during the two-week production shutdown, supervised a series of script revisions and additions.
An September 18, 1946 Hollywood Reporter news item, noted that Vidor then became involved in a major dispute with Deutsch, whose supervision he was reportedly refusing. On September 24, 1946, Hollywood Reporter printed a statement issued by Columbia production chief Harry Cohn, in which Cohn stated "emphatically and clearly that Miss Helen Deutsch is the producer of the picture and that Mr. Charles Vidor is not." The statement also reveals that Deutsch had asked to be relieved of her duties, and that Cohn insisted that she remain on the film. Vidor's suit against Columbia went to trial in December 1946, at which time, according to Hollywood Reporter, Vidor testified that Cohn made derogatory remarks to him and vilified his wife, Doris Warner. According to a September 1947 Hollywood Reporter news item, Vidor lost his suit against Columbia, and Columbia then sued Vidor. For more information on Vidor's troubles with Columbia, see Gilda (above) and The Man from Colorado (below).
In Peter Ibbetson, the 1891 George Du Maurier novel mentioned in the film, the hero communicates with his childhood sweetheart in a dream and changes his perspective on life as a result of the experience. For more information on the Du Maurier novel and its adaptation to film, see the entry for the 1935 Paramount picture Peter Ibbetson in the AFI Catalog of Feature Films, 1931-40; F3.3431. In the final dream sequence of The Guilt of Janet Ames, Sid Caeser performs a comedy sketch satirizing psychological screen drama. Some filming took place in the Mojave Desert, CA. This film marked the screen debut of actor Denver Pyle.