DVDs from TCM Shop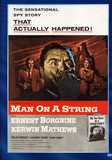 Man on a String The CIA turns a Russian spy... MORE&nbsp> $17.95 Regularly $20.95 Buy Now
NOTES
DVDs from TCM Shop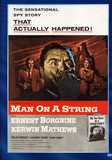 Man on a String The CIA turns a Russian spy... MORE&nbsp> $17.95
Regularly $20.95 buy now
The working titles of this film were Ten Years a Counterspy and Spy and Counterspy. The surnames of producers Louis de Rochemont and Louis de Rochement III are misspelled "Rochmont" in the onscreen credits. According to a December 1958 Hollywood Reporter news item, Cliff Robertson was originally cast as the FBI agent, a role played by Glenn Corbett in the film. Hollywood Reporter production charts and news items note that location shooting for the film was done in West Berlin. Although onscreen credits list Pierre Pioncarde as director of photography, Moscow, Russia, the extent of filming in Russia has not been determined. Throughout the film, the offscreen narration of well-known newsman Clete Roberts is heard discussing the responsibility of the CBI and how the agency operates. At the film's close the narrator explains that "the man upon whose experiences this story was largely based now lives quietly in New York."
According to a December 1958 Hollywood Reporter news item, Cliff Robertson was originally to co-star in the film with Ernest Borgnine. Although various 1958 Hollywood Reporter news items noted that Henry Denker and Allan Sloane were to work on the screenplay, the extent of their contribution to the final film has not been determined. An October 1958 Hollywood Reporter news item noted that Columbia, which had hoped to start production in August 1958, decided to shelve the picture until 1959.
The character "Boris Mitrov" was based on Boris Morros, who was identified by the U.S. government as a counterspy in 1957. Articles about Morros published in newspapers and magazines in 1957 and 1958 yield the following information about his life: Morros, a child prodigy musician in czarist Russia, came to the U.S. in 1922. In an autobiographical article, Morros stated that in 1933, while he was supervisor for the stage shows of the Paramount theaters in New York, a Russian trade official offered to help facilitate the sending of food packages to his parents in the Soviet Union, and to arrange for his father to visit, in return for an agreement that he not book Leon Trotsky for the shows. As Morros had no interest in booking Trotsky, he agreed.
In 1936, while Morros was general musical director of Paramount in Hollywood, a Russian official convinced him to sign an affidavit stating that the official was working as a talent scout for the studio so that he could work in Germany surreptitiously against the Nazis. Morros later became a producer for Paramount, and in 1938, resigned to form Boris Morros Productions. During World War II, he produced training films for the Army, and in 1945, organized an independent company with William LeBaron. Morros was the producer of the critically acclaimed Carnegie Hall, and also made Tales of Manhattan and The Flying Deuces (see AFI Catalog of Feature Films, 1941-50). In 1943, the FBI began surveillance of Morros, who had been meeting with West Coast Soviet consular officials and spy boss Vassily Zubilin. That year, Morros was able to get his father, the former conductor of the Imperial Symphony Orchestra, into the U.S. with the help of Soviet officials. Morros soon became part of a Soviet spy ring, but by 1947, he had become a counterspy for the FBI.
Morros' 1957 testimony as a witness at the House Committee on Un-American Activities (HUAC) was responsible for indictments against three groups of spies. In January 1957, Jack Soble, an appointee of former Soviet spy chief Lavrenty P. Beria, Soble's wife Myra, and Jacob Albam were arrested and later indicted and sentenced for 23 "overt acts" of espionage over a ten-year period, involving the passing of U.S. military and economic secrets to Soviet agents in New York, Paris, Vienna and Zurich. Morros, named as an "unknown individual" involved in fourteen of the acts, was identified publicly at that time after the Sobles' lawyer demanded that his name be revealed. The story of his career as a spy and counterspy was first made public on February 25, 1957. Later in 1957, a thirty-eight-count indictment was issued against George Zlatovski, a Russian-born engineer and former U.S. Army intelligence officer, and his wife Jane Foster Zlatovski, a former O.S.S. employee. The couple, who worked under Soble, were charged with having conspired since December 1940 with Soviet agents in New York, Washington, Paris, Austria and Switzerland to obtain and transmit defense and intelligence information to Russia, along with compromising information on the sexual and drinking habits of Americans assigned to Austria.
By the time of the indictment, the Zlatovskis had been given political asylum in Paris. In August 1957, Morros testified before HUAC that Martha Dodd Stern, daughter of distinguished historian and former ambassador to Germany William E. Dodd, and her husband, Alfred K. Stern, a former New York investment banker and Illinois housing commissioner, were also involved in the ring. The Sterns became the models for the fictional couple the "Bensons" of the film.
Before their indictment, the Sterns had gone to Mexico, and later surfaced in Moscow. Morros related that once, while he was meeting with Beria in Moscow, word arrived from Mrs. Stern that he was a counterspy, but he was able to convince the Soviets that her charge was based solely on jealousy. Morros also testified that Zubilin once drove him to the Sterns' exclusive Ridgefield, Connecticut home, where Stern agreed to provide $130,000 to set up a movie company as a cover for espionage activities. Both of these incidents are dramatized in the film.
Morros had been shunned by the film industry during the early 1950s when he paid $60,000 in cash to the Soviet Union for the rights to the Russian musical Marika, despite the official U.S. policy of discouraging trade with Russia involving dollars. He died in 1963 at age 73 of cancer and was called a "patriot" in his obituaries.