DVDs from TCM Shop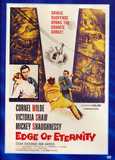 Edge of Eternity A modern-day western follows a... MORE&nbsp> $17.95 Regularly $20.95 Buy Now
NOTES
DVDs from TCM Shop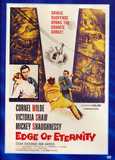 Edge of Eternity A modern-day western follows a... MORE&nbsp> $17.95
Regularly $20.95 buy now
The working titles of this film were Rim of the Canyon, Dancing Bucket, Deadly Is the Canyon and Satan's Bucket. The opening credits feature the following written acknowledgment: "Filmed at one of the Wonders of the World The Grand Canyon." As the film opens, a man wearing a checkered shirt tries to push Whittemore over the rim of the canyon. In the ensuing struggle, Whittemore sends the man plunging to his death. The film closes with the following written statement: "We wish to thank the United States Guano Corporation, a subsidiary of New Pacific Coal & Oil, Ltd., for their cooperation."
As noted by the Variety review, Knut Swenson is a pseudonym for Marion Hargrove. Although a January 1959 Hollywood Reporter news item notes that producer Kendrick Sweet was to write the original story with Knut Swenson, Sweet's contribution to the final screenplay has not been confirmed. Felicia Farr was initially to play the female lead, but dropped out of the film after her exclusive contract with Columbia was canceled, according to an April 1959 Hollywood Reporter news item.
An article written by Sweet in American Cinematographer yields the following information about the production: the actors who doubled for the star in the tram fight scene were professional aerialists. The ghost town featured in the picture was Oatman, AZ and the other town was Kingman, AZ. Sweet stated that he developed the idea for the film after taking several flying trips above Kingman. An April 1959 Hollywood Reporter news item adds that the troupe of eighty cast and crew working on the film had to be flown in daily from the Kingman airport to the rim of the canyon.