DVDs from TCM Shop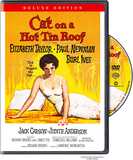 Cat on a Hot Tin Roof A dying plantation owner tries... MORE&nbsp> $15.79 Regularly $19.98 Buy Now blu-ray
NOTES
Cat on a Hot Tin Roof, the Pulitzer Prize-winning play by Tennessee Williams, was directed by Elia Kazan on Broadway, and starred Barbara Bel Geddes as "Maggie" and Ben Gazarra as "Brick." According to information in the file on the film in the MPAA/PCA Collection at the AMPAS Library, independent producer Hal Wallis inquired about the film rights to the play in early June 1955 and was advised by PCA chief Geoffrey Shurlock that "it would be necessary to remove every inference or implication of sex perversion." Wallis dropped plans to purchase the play. Another memo in the PCA File indicates that M-G-M production head Dore Schary and associate Robert Vogel met with Shurlock later that same month. Schary suggested that the story be modified to focus on the father-son relationship as well as changing Brick's implied homosexual feelings for his best friend "Skipper" to hero worship. Shurlock approved and recommended that the "emphasis of (Maggie's) sexual frustration...be dropped."
July 1955 news items noted that M-G-M purchased the film rights as a vehicle for Grace Kelly. Another Hollywood Reporter news item stated that Montgomery Clift was under consideration for the role of Brick. Correspondence in the PCA file indicates that in January 1957, producer Samuel Goldwyn was being considered by M-G-M to produce Cat on a Hot Tin Roof. A November 1957 Hollywood Reporter news item disclosed that in addition to the casting of Elizabeth Taylor as Maggie, George Cukor was set to direct and Lawrence Weingarten to produce from a screenplay by James Poe. By December 1957 Cukor had withdrawn from the film and Richard Brooks was assigned to direct and re-work the screenplay. Modern sources indicate Cukor's reason for declining to direct the film was due to his feeling that the screenplay presented an unrealistic treatment of the homosexual theme.
In a January 1958 New York Times article, Brooks discussed adapting the play, stressing that the homosexual element had been over-emphasized. Brooks went on to state that the hero worship theme and Brick's refusal to grow up were already part of the play, but admitted that the third act would be largely rewritten. Brooks noted his preference to make the film in black and white and his hopes that Gazarra and Mildred Dunnock, who played "Big Mama" on stage, might be signed for the film. Burl Ives and Madeleine Sherwood were the only actors from the original Broadway production to re-create their roles in the film. A March 5, 1958 Hollywood Reporter news item adds George Davis to the cast; however, his appearance in the final film has not been confirmed.
On March 22, 1958, three weeks into principal photography, Elizabeth Taylor's husband, producer Michael Todd, was killed in an airplane crash. Taylor, who had taken the day off for medical reasons, did not return to production until mid-April 1958, but filming continued. Production was halted one day late in April due to Taylor's exhaustion, but the film was completed without further incident in mid-May. Taylor received an Academy Award nomination for Best Actress for her role as Maggie, and Newman received his first Academy nomination as Best Actor. The film was also nominated for Best Picture, Best Director, Best Adapted Screenplay and Best Cinematography.
In 1976 NBC-Television broadcast a British production of Cat on a Hot Tin Roof starring Laurence Olivier as Big Daddy, Natalie Wood as Maggie and Robert Wagner as Brick, directed by Robert Moore. In 1985 American Playhouse broadcast a filmed version of the successful stage revival of Cat on a Hot Tin Roof starring Jessica Lange as Maggie, Tommy Lee Jones as Brick and Rip Torn as Big Daddy, directed by Jack Hofsiss.