DVDs from TCM Shop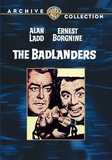 The Badlanders Western outlaws join forces... MORE&nbsp> $15.96 Regularly $19.99 Buy Now
NOTES
According to information in the MPAA/PCA collection at the AMPAS Library, in November 1957, the PCA rejected the first draft of this film because it portrayed criminals in a sympathetic manner. In February 1958, a revised script was deemed acceptable, on condition that certain changes were made, including the elimination of any suggestion of prostitution. Despite these conditions, the finished film, which included identifiable prostitutes, received a PCA certificate. (The Variety reviewer commented that "Katy Jurado and Claire Kelly...are ladies who are plainly of easy and saleable virtue, and there is none of the usual subterfuge about dance hall girls.")
Although Fred Gerstle is credited in the role of the "hotel clerk" in the studio cast list, the CBCS list, which is dated eight months later than the studio's, credits James McCallion in the part. Gerstle was not in the released film. The studio cast list also indicates that Barbara Baxley and Zina Provendie were cut from the final film. The Badlanders marked Alan Ladd's only appearance in an M-G-M film. According to contemporary information in the file on the film at the AMPAS Library, exteriors were filmed on location at the Tennessee Mine in Kingman, AZ, the Elk Hart and Schulhill Mines near Kingman, the Yuma Prison, and a Mexican settlement in Tucson.
W. R. Burnett's novel was first adapted in 1950 as The Asphalt Jungle. John Huston directed Sterling Hayden and Louis Calhern in the M-G-M production. In 1963, Wolf Rilla directed George Sanders in another M-G-M version, titled Cairo (see AFI Catalog of Feature Films, 1961-70). In 1972, Barry Pollack directed a fourth version, M-G-M's Cool Breeze, starring Thalmus Rasulala and Judy Pace. A television series inspired by the book was broadcast on the ABC network during the 1961 season. Jack Warden and Arch Johnson starred in series, also titled The Asphalt Jungle. The Badlanders was the only adaptation of the novel that had a Western setting. Ernest Borgnine and Katy Jurado were married from 1959 to 1964.