DVDs from TCM Shop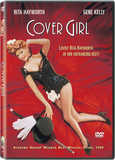 Cover Girl A nightclub dancer makes it... MORE&nbsp> $9.65 Regularly $14.99 Buy Now
NOTES
This picture marked Gene Kelly's first significant venture into film choreography. Although Val Rasset and Seymour Felix are credited with staging the film's dance numbers, Kelly actually devised the routines performed by his character "Danny" according to the Variety review, and was assisted by Stanley Donen, who had previously worked with Kelly on Broadway. The Variety review hailed Kelly's synchronized dance with his inner conscience (often called the "Alter Ego" number in modern sources) as "one of the top performances of this type ever to be screened." According to a February 1, 1943 Hollywood Reporter news item, Columbia originally wanted to borrow Dennis Morgan from Warner Bros. to play "Danny." According to July 1943 Hollywood Reporter news items, Kelly was to return to M-G-M by mid-September 1943 to begin shooting Dragon Seed. After that film was temporarily canceled, M-G-M extended Kelly's loan to Columbia. The picture marked the producing debut of former composer and screenwriter Arthur Schwartz. It was also Columbia's first Technicolor musical.
A February 1944 Hollywood Reporter news item noted that Virginia Van Upp's screenplay won her a promotion to associate producer. The film also featured the first screen collaboration of composers Jerome Kern and Ira Gershwin.
Hollywood Reporter news items yield the following information about the production: From April to May 1942, Garrett Fort and Virginia Kellogg were hired to write the film's screenplay, but by September 1942 Harry Segall was slated to write it. The extent of all three writers' contribution to the released film has not been determined, however. According to a July 1942 news item, Janet Blair was to star with Rita Hayworth and Jinx Falkenburg. May 1943 news items announced that Irving Cummings was replacing William A. Seiter as director. According to a August 4, 1943 news item, John Halliday was originally slated for the role of "John Coudair." Although various news items, publicity items and production charts add Marjorie Jackson, Betty Brody, Johnny Mitchell (as Douglass Drake) and Robert Stanford to the cast, their appearance in the released film has not been confirmed. Other Hollywood Reporter news items noted that the cover girls featured in the film were the actual models who appeared in the magazines. The dance numbers were filmed simultaneously by three cameras, one set up for close-ups, one for long shots and one for medium shots. This method was employed to cut down the number of takes needed for the dance sequences, according to Hollywood Reporter.
Modern sources add the following information: Martha Mears dubbed the singing voice of Rita Hayworth; Robert Coburn, who shot some of the magazine covers, was the head of the Columbia stills department. In his autobiography, songwriter Saul Chaplin states that he worked as assistant musical director on the picture and that Alex Romero assisted Kelly and Stanley Donen. Chapin also asserted that Kelly directed, as well as staged, the "alter ego" number. Modern sources also add Shelley Winters and Virginia Wilson to the cast. The film was nominated for Academy Awards for Best Color Cinematography and Best Color Art Direction, and the song "Long Ago and Far Away" was nominated for Best Song. The picture won the Academy Award for Best Score.