DVDs from TCM Shop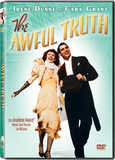 The Awful Truth A divorced couple keeps... MORE&nbsp> $9.65 Regularly $14.99 Buy Now
USER REVIEWS
See Detailed Ratings
Acting of Lead Performers

Acting of Supporting Cast

Director

Music Score

Title Sequence

Screenplay

Cinematography

Historical Importance

Would You Recommend?

0 Member Ratings
Rate the acting of the Lead Performers

Rate the acting of the Supporting Cast

Rate the Director

Rating of the Music Score

Rating of the Title Sequence

Screenplay

Creatively uses the camera to tell the story

Importance in Cinema history

Would you recommend for fans of this genre
Submit Ratings
Cancel
Write a Review
Read Reviews
NO REVIEWS AVAILABLE
The title has not been reviewed. Be the first to write a review by clicking here to start.
The Awful Truth

Wounded Warrior 73

5/17/16

If you like a movie that's constant action with thousands of bad guys falling over dead every mile of a chase scene or one that is full of toilet flushing fun with an obscene word in every sentence or that likes the character development of Arnold in Conan the Barbarian, then this movie is not for you. On the other hand you enjoy clever, humorous lines delivered with artful understatement and skillful asides spoken between two people who love each other but seem, for the sake of their pride, unwilling to admit it, then this is a great movie. This is a movie that requires the viewer to pay attention and listen. If you wait to watch and listen until the world is being blown apart by lizard-like aliens from the planet "Zenon X-21," then you will miss the film's worth altogether. The smart-witted conversation, nuanced clichs and the dynamics between Grant and Dunne are the pearls in this movie. If you don't really watch and listen I doubt you'll find many pearls. But if you do you find enough pearls to create an entire necklace. No one throws a pie, no one gets locked in a restroom of the opposite sex and no one latches a hook around the axle of a police car. This sort of visual comedy can be a lot of fun. But it takes a writer, director and two lead actors who understand people to create humor the way we see it in "The Awful Truth." I'm sorry for those who do not understand or who do not have the patience to understand it. It's a great movie!

Top-notch screwball: 4.5/5

(spoiler-free zone)If you love Grant, Dunne, and witty, fast-paced, screwball patter, you'll adore this gem. Some folks don't. I do. This film even does all the little things to exquisite perfection. For instance, notice Irene Dunne's subtle mannerisms while she's speaking, and while she's not.

I think it's refreshing ...

... to see real critiques of classic movies in these comments sections for a change. 99.9% of the time all you get is "Oh, this is my favorite movie! It's perfect!" Personally, I like a balanced selection. (Not that it's balanced, really, as it's still 90% favorable). I have no "predisposition" to not liking this film. I also think of myself as an old-fashioned person, so I'm certainly not swayed by "modern times." That said, I'm casting my vote in the minority: The Awful Truth isn't that good or that funny. I find the humor forced and the delivery of the actors to be grating (particularly Ms. Dunne). Comedy-Romances are my favorite genre of classic films (modern ones are horrible), and I have literally hundreds of favorites that make me laugh each time. I too heard this one was the best, many times. Guess what? It isn't. Not by a long shot. I can't figure out why its reputation precedes it, I just can't. I guess most people just don't pick up on all the annoying things that are present in the film. Some of us do, though. That's just the way it is. Doesn't mean we're wrong.

It's Just a Movie

I'm frankly surprised that the reactions to this funny movie are so diverse and even polarized. Maybe it's a reflection of our times?If you cannot laugh out loud at this wonderful, witty and charming movie, then what can be said?It's not a perfect movie but so very few are.I think that there are a lot of biases expressed in the comments section by those who were predisposed to not like The Awful Truth.I suggest an open mind instead.

It's Nuanced Folks

I have to jump in here and defend this film. I know 90 percent of you love it but the last three are casting "aspersions" on it and I feel compelled to have my say. I will be brief. If you are looking for Screwball this it is -- but it's at times subtle and nuanced -- a hand gesture, an aside, a "throwaway" line. "More nutmeg?", "But when will you know?" and about everything Aunt Patsy says when she opens the door. It's a treat so please listen to the majority who love this film.

To Each, His Own...

I don't wish to cast any aspersions upon those who don't consider "The Awful Truth", to be that funny. However, I do take exception to comments from "Arthur D" regarding "The Beatles", and "Gone With The Wind".Let's me be perfectly clear:"The Beatles" were a PERFECT group!!!"Gone With The Wind" was a PERFECT movie!!!To argue otherwise, is simply ridiculous.Oh, I almost forgot to comment about "The Awful Truth"?It was "AWFUL" (Arthur D was correct)

not so much

I'm agreeing with Mr. Blandings on so many reviews, I may as well just cut paste his! Here's another one. I don't think this movie is all that funny. In fact, it doesn't make me laugh at all, not once. It's not the era nor the actors.I just don't find it very funny. 2 wee stars. The end.

An overrated film

I have to agree with reviewers Twysf and Mr.Blandings below. I watched the awful truth the other day and found it smirk-worthy at BEST. Certainly not hilarious like people say about it. And it doesn't matter what era you lived in to appreciate it because there are dozens of other class comedies that I think are briliantly hilarous..... this just ain't one of them. The trouble is most critics, film books etc revere this movie to the point of automatically proclaiming it the "best screwball comedy ever." Hardly, but like most incredibly popular and overrated things the legend is far louder than the reality. I don't think Gone with the Wind or the Beatles are the bee's knees either but just try pointing out their flaws to the masses of avid fans and you get kneejerk replies like the one by denscul. Believe me.... I wanted, EXPECTED to like the Awful Truth BECAUSE of all the rave reviews I'd read but tthe real awful truth is that it didnt live up to the propaganda. Its all personal taste, people. and as the saying goes, there's no arguing about that.

Lousy reasoning

Denscul (dense skull?) wrote: "If Irene Dunn's spoof at the stodgy family meeting doesn't make you laugh,you probably never laugh unless someone is being killed by a chainsaw." I really hate this kind of ignorant remark. The people who review classic films here at TCM are typically fans of classic movies and have watched thousands of them. They also usually dislike modern films because they are so violent. Personally, I don't watch movies today for just that reason. I also agree that this film is massively overrated and not at all funny compared to the many far more brilliant and hilarious films of the '30s and '40s. Some of us just don't happen to think the Awful Truth isn't funny. We don't think violence is funny, either. So get over yourself and stop defending the films you like by making ridiculous assumptions; you only look like an idiot doing so.

The idle rich

Can not help but comment on the critic that this film is not a good comedy, and the critic described the characters as Republicans. To paraphrase Shakespeare, "do not Republicans bleed". Yes, there were many people like the characters played by Grant, but NYC had its share of people who did not care then or now about the middle classes. And they are not all Republicans. The critic misses the fact that most art is supported by the wealthy, before government got into the patron of the arts business. Unfortunately, it has become political.Does it really matter what class the main characters belong? If one looks at drama in all its forms, the upper classes, the military generals rather than the privates and the barons of industry are more often the subject than the poor. Most of the poor do not, if they can afford dramatic entertainment, do not want to be told how poor and miserable they are, by people who never were poor and miserable. Sure, when this film was made, it was in the heart of the worst depression our nation has lived. But the box offices were filled with pennies because this film was a great screw ball comedy. And as several critics mentioned, it was humor without foul language, explicit sex, or any attempt to preach. Despite the above, I saw a subtle critic of the idle rich, especially in the scene where Irene Dunne plays the floosy before the family. This was a comedic coment on the up tight and hypocritical class that McCarey as Director drew out of Dunne in this scene. This film is not dated, its just in 35mm Black and White.

Your age determines the overall rating.

This flic is obviously dated. But so is Shaespeare. Not that this is anywhere near, but with out a gratuitous sex scene, foul languge and award winning special affects, it still entertains under the genre of "screwball comedy". If Irene Dunn's spoof at the stodgy family meeting doesn't make you laugh,you probably never laugh unless someone is being killed by a chainsaw.This film was made before most of were born. Its a different age, so many things that are acceptable today were not then. There are no black people, women did not have careers, but for spending their spouses earnings, which usually made as a stock broker, lawyer, doctor, ect. They lived on Park Ave. N. Y. which doesn't allow the middle class unless they are doormen. Look at the film, which has great acting and directing as a History lesson about how the rich lived in the 1930's, when most of the rest of the country was trying to live in the Depression. Guess what, they spent their pennies going to films like this, probably to dream about living like the idle rich.

One of the best stories/movie ever.

Perfect cast, script, direction, production.Thank you forever Ms DUNNE and Mr GRANT.

Still not impressed

Watched it again--this time without any of the hype echoing in my ears--and I found the film to be just as unfunny, annoying, and overrated as the first time I saw it. Screwball comedy? I didn't laugh once throughout. And the only time I even half-smiled was when Mr. Smith, the terrier, was being adorable (and, yes, Skippy also played Asta in the Thin Man movies). Grant was okay, but he's never funny when he tries too hard to be such, and Dunne ... well, she was about as charming and likeable as a rabid piranha. Actually, I wish Asta could have fetched William Powell, 'cause here's a real mystery for him--how can a humorless comedy be so well-regarded? * (for Skippy)

"You're out of your continental mind!"

Great line by the character Armand Duvalle, as was his "Does he carry a gun?" The awful truth is this screwball comedy by Republicans McCarey, Grant, and Dunne seems a little stale for so many filmmakers have flauntingly filched from it the last 75 years. I still own Maltin's 1999 Movie Guide. With all due respect, he was out of his continental mind by not including McCarey in the Director Index. Two Director Oscars, and at the helm of (in order of release) Duck Soup, Make Way for Tomorrow, Love Affair, Going My Way (Best Picture), The Bells of St. Mary's, My Son John (Best Writing), and An Affair to Remember - all classics. McCarey, the omitted master.

The Awful Truth

Director McCarey won the Academy Award for directing this delightful screwball comedy. Bellamy & Dunne were nominated for their funny performances, but Grant deserved a nomination for his equally expert comedic timing. Subtle delivery & using games and dances to determine a character's allegiances makes this an original classic. Overall, this film should be seen for the charm & lovability of it's stars, each giving splendid work. I give it a 4.5/5.

Is "Smitty" Asta?

Good comedy too!

Simply a Great Movie

I've fallin in love with Ms. Dunne!!! I saw the Joy Of Living last night. and now I know that she was a great talent

Wonderful

This movie is often over-looked... You need to watch it yourself and decide, but I consider this a classic.. Not only is it very funny and is one of the most perfect screwball comedies, I just cannot watch it without laughing, especially the prat-falls of Cary Grant... I believe it is up there with "Bringing up Baby"

Disappointed

After hearing that this was the "funniest movie ever" and the "best screwball comedy of all time" I, naturally, had high hopes. But I honestly just didn't find it very funny. Also, Irene Dunne's acting style doesn't work for me at all. I could name dozens and dozens of classic comedies that are truly hilarious, and more than a few Cary Grant films that are very funny, but this film doesn't even come close. I just don't get it. Maybe I'll have to watch it again in a few years, forget the hype, and see if it comes across as any better. Again, disappointing. But I liked the dog, though!

One of the Funniest Movies Ever Made

First rate sophisticated comedy. Bright breezy fun from start to finish - no lulls. One of the cleverest movies Hollywood ever made. Don't miss it! - - - Spirit Rhythms

The Awful Truth

****

The Awful Truth

This movie is laughable and lovable. To see Cary Grant and Irene Dunne together would make anyone think they were made for each other. Their talent is by far the best ever. This is a movie one will never tire of watching. I for one can't seem to get enough of it. You actually become addicted to it as well as other movies they made together. There are no movies of this calibre that exist today nor actors of this quality.

A True Classic

If anyone doubts that old movies are the best movies, this will cure those doubts fast. The cast is marvelous right down to the dog, Mr. Smith. The writing is unparallelled, as is the direction (though I doubt much was needed beyond blocking). Irene Dunne is absolutely great (in the fullest sense of the term -- not in today's overuse thereof). What a talent! To go from this to "I Remember Mama" without missing an acting beat shows what a truly gifted actress she was. Today we get Mo'Nique and Hillary Swank. Look at this movie and realize what we're missing today.

The Awful Truth (1937)

This gem ranks among the best of the screwball comedies from the 1930's and early 1940's. The cast is perfect, Cary Grant, Irene Dunne and Ralph Ballamy all give outstanding performances, especially Dunne. There are several laugh out loud scenes (the police scene and the scene where Dunne acts like a floosie are hysterically funny). Good costume design and art direction, but the screenplay and excellent Leo McCarey direction make this one a real classic winner.

Brilliant & Affectionate

I'd never seen The Awful truth until a few years ago, like most anyone else I've seen it quite a few times since! Leo McCarey's direction is fantastic, somewhat in the vein of Frank Capra's optimism & creativity. Irene Dunne shone as brightly as ever in a comedic role here, & Cary Grant was sparking on all cylinders & was becoming a household name at the time. Many of the movies of the 30's had a bit of escapism to spread cheer during difficult times, as Robert Osbourne has pointed out. There have been great movies since the early 1900's & there always will be more up the road. All those wonderful movies in the heydays of the Marx Brothers & everyone else from the 30's have an enduring charm about them, you just don't see many projects anymore that are as humanly touching--or downright hilarious! "The Awful Truth" fits perfectly with both!

THE BEST

This movie is funny, start to finish. I have seen it numerous times, and I LOL at EVERY scene. Dunne and Grant are priceless, witty, funny, and fun to watch. I NEVER tire of seening this movie. Do Not Miss it if you have a chance to see it. It will not disappoint!

The Awful Best

This is the very best screwball comedy of them all. Hilarious from start to finish. Two of my favorite scenes: Cary Grant at the piano accompanied by "Mr. Smith," and, much later, Irene Dunne performing(badly)an already terrible nightclub song for the family of Grant's fiancee. Dunne and Grant are unbeatable together and it's obvious why they were reunited in 1940 for the similar "My Favorite Wife." As many others have commented here, it's hard to believe that neither Irene Dunne nor Cary Grant ever won a competitive Oscar...they were both brilliant and made so many excellent films both apart and together.

The Awful Truth, Fun Movie

I started watching this wise cracking, laugh oriented movie and could not stop! I love Cary Grant and Irene Dunne together and this one was even more hilarious than "My Favorite Wife"! In this one they are already married and divorcing after bored Cary spends the week away from home on his "vacation in Florida"! The gig is up when Irene spots that the oranges are stamped California! (Hah!) Lots of Laughs!

Irene Dunne beautiful and funny!

The Awful Truth was one of Irene Dunne's five academy award nominations and she never won! What an Awful Shame! She was a great actress, comedienne and person and so was Grant who was equally over looked by the academy. Yet, Dunne and Grant will forever be "the best" to their legions of fans and thats "the awful truth"!

Cary Grant/Irene Dunn: Great Team

Yes, I think all I need to know is Cary Grant or Irene Dunn is in a movie and I find it to be good! This duo made a great on screen couple and this one in particular is so funny.Grant deserved an award for his many roles and this one is one of them!

Hilarious movie!

I love this movie! I've watched it three times in the last couple of months. The scene where Dixie is doing her "Gone With the Wind" number is so great. Ralph Bellamy's face as he watches her is so spot-on for his character. He is really good in this.

Funniest Marital Mixup

I first saw 'The Awful Truth' about 10 years ago,and thought it was a very funny sophisticated comedy about a couple who get divorced because of a lack of trust. Irene Dunne and Cary Grant have terrific chemistry,wonderful repartee'and timing. Also funny are Ralph Bellamy and Alex D'Arcy. Irene Dunne deserved her AA nomination and Cary Grant should have been nominated also. This movie never gets stale. Set aside the time for this true marital comedy classic.

I love it.

This is a fun movie & I always look forward to seeing it .

Everyone must see

I sorta fell on this movie by accident, and loved it. One of the funnest old movies I have watched in a while. No matter you age, you must see this movie. It is very enjoyable to watch.

The Dunne-Grant team

It's no wonder they made 3 movies together! Their timing is fantastic! And you can't even tell that some of this movie is shot without much of a script, with a great deal of it being "ad-libbed"...because of the highly talented cast and director! They definately don't make them like they used to. And let's not forget the contribution of Mr Smith, AKA Asta!

classic comedy!!

Leo McCarey won the Academy Award for best director for The Awful Truth--no wonder--the spontaneous, humorous performances he got out of Irene Dunne, Cary Grant and Ralph Bellamy--he so deserved it !! Irene and Cary are definetly at their best!!! This film is hilarious and holds up wonderfully even in 2007. Kudos to all involved!!!

Best Comedy Of That Era

This was a great timeless comedy. I enjoy it more each time I watch it. It is no wonder that this film is studied even today because of it's quality.Irene Dunne certainly does contribute to the quality, she is terrific in everything she did. Dunne and Grant what a combination. I wish they would have made 100 movies together but we must be content with the three greet ones we have. THE AWFUL TRUTH - MY FAVORITE WIFE - and PENNY SERENADE.
*We protect your personal infortmation and will not provide it to anyone without your consent. For a complete explanation, please refer to TCM's Privacy Policy. By submitting your contribution, you agree to TCM's Terms of Use.