DVDs from TCM Shop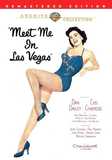 Meet Me in Las Vegas A ballerina becomes a... MORE&nbsp> $16.95 Regularly $19.99 Buy Now
NOTES
The working titles for the film were Weekend at Las Vegas and Viva Las Vegas. Preceeding the opening credits, members of the musical group "The Four Aces" appear onscreen, with each framed by a playing card, singing the title song. The opening onscreen cast credits differ in order from the closing credits. A written prologue following the opening credits reads: "In the early days of our country's history, the West was a place from which men took vast quantities of gold. Now-at least-they're bringing it all back." Although onscreen credit is given to Eastman Color, August and September 1955 Hollywood Reporter production charts list Ansco Color.
Throughout Meet Me in Las Vegas, lead actress Cyd Charisse performs a variety of dancing styles including ballet, modern, country western, can-can and jazz. According to a September 1, 1955 Hollywood Reporter news item, conductor and pianist Pete Rugolo, who is credited in the onscreen as "Conductor," performed with his 20-piece orchestra in all floor show and dance numbers seen in the film. Sammy Davis, Jr., who sang the lyrics for the "Frankie and Johnny" number, was heard but not seen onscreen. Several guest stars who had brief appearances in the film as audience members for the casino shows or casual casino patrons, but were not credited onscreen, included: Pier Angeli, Vic Damone, Debbie Reynolds, Frank Sinatra, Elaine Stewart, Dewey Martin, Jeff Richards and Tony Martin, who is married to Cyd Charisse. Actress Henny Backus, who played "bossy wife," was the wife of Jim Backus, who played "Tom Culdane."
Although a October 3, 1955 Hollywood Reporter news item adds Marlene Dietrich and Jimmy Durante to the cast, they did not appear in the released film. A October 6, 1955 Hollywood Reporter news item adds the following dancers to the cast: Herman Boden, Buddy Bryan, Gene Dailey, Ward Ellis, Dick Humphreys, Maurice Kelly, Clark Lee, Roy Palmer, Frank Radcliffe, Frank Reynolds, Jerry Rush and Buddy Spencer, but the appearance of these dancers and actors in the released film has not been confirmed. Other 1955 Hollywood Reporter news items add Gay Gallagher, Charles Campbell and Ken McClure to the cast. Modern sources adds Steve Forrest to the cast but he was not discernable in the viewed print. Modern sources also add Robert Fuller as a dancer and Jerry Velasco, as the piano player accompanying Lena Horne. Portions of the film were shot on location at the Sands Hotel in Las Vegas, NV.
Meet Me in Las Vegas received an Academy Award nomination for Best Scoring of a Musical Picture, but lost to The King and I. AA February 16, 1956 Hollywood Reporter news item reported that on the eve of the film's world premiere in Las Vegas, The Milton Berle Show was to broadcast an hour-long television tribute to Pasternak and the film.