DVDs from TCM Shop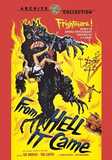 From Hell It Came After he's framed for... MORE&nbsp> $15.96 Regularly $19.99 Buy Now blu-ray
NOTES
From Hell It Came has the following written foreword: "In Haiti, a corpse walks, as a Zombi! In primitive India, the dead return as animals! On certain Pacific atolls, a warrior treacherously murdered, May turn into a tree! Or so it is said by the Shamans. Our story occurs on a savage island where a prince is killed unjustly. The victim is buried upright in a hollow tree trunk. The legends says that 'the tree walked to avenge its wrongs!'"
Copyright registration materials add director Dan Milner to the "Story" credits, but the extent of his contribution to the completed screenplay has not been determined. Suzanne Ridgway, who plays "Kory," is listed as "Suzan Ridgway" in the ending cast list. Hollywood Reporter news items and production charts add Jerado De Cordovier, Kaz Oran, Neil Fletcher, Joey Ray and Ewing Mitchell to the cast, but their appearance in the completed film has not been confirmed.
Although her onscreen credit reads "introducing" actress Linda Watkins (1908-1976), as noted in the Variety review, Watkins was "a vet thesp of both stage and screen; she just hasn't been in pix for some years." Watkins appeared in a number of films in the early 1930s, ending with the 1934 release Playthings of Desire (see AFI Catalog of Feature Films, 1931-40). Subsequent to her role in From Hell It Came, the actress made several more films, and appeared in numerous television programs.