DVDs from TCM Shop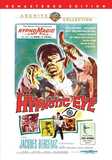 The Hypnotic Eye A city is stricken by a wave... MORE&nbsp> $14.95 Regularly $17.99 Buy Now
NOTES
DVDs from TCM Shop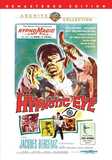 The Hypnotic Eye A city is stricken by a wave... MORE&nbsp> $14.95
Regularly $17.99 buy now
According to a September 1959 Hollywood Reporter news item, The Hypnotic Eye would be released with a process known as "Hypnovision," similar to "Hypno-Vista," which was used for American International's Horror of the Black Museum. Hypnovision was described by the news item as a "recognized phenomena of applied psychology supplemented by music written under the direction of a psychologist," which depended "for its full effects on the consent and cooperation of an audience to relax into a receptive state to accept the power of suggestion."
The Filmfacts review listed the process as "HypnoMagic" and indicated that during the portion of the film in which "The Great Desmond" works with the audience within the story, theater owners were encouraged to turn up the house lights and invite the audience to take part in the "experiment." Filmfacts described "HypnoMagic" as "a short audience-participation sequence."
At the conclusion of the film, "Dr. Philip Hecht," portrayed by Guy Prescott, addresses both the stage and film audience with the following caution: "Ladies and gentlemen, a word of warning. Hypnosis, although an important and valuable medical tool, can be extremely dangerous when practiced by untrained or unscrupulous practitioners. Therefore, never allow yourself to be hypnotized by anyone who is not a medical doctor or has not been recommended to you by your doctor. Not even in a motion picture theater. Thank you."
Many reviews commented on the appearance in the film of Ferdinand "Fred" Demara (1921-1982), who was credited and known as "The Great Imposter" due to his masquerading as various people from a physician to a prison warden. The Hypnotic Eye marked Demara's only feature film appearance. In 1961, Universal-International released a film entitled The Great Imposter about Demara's experiences, which starred Tony Curtis and was directed by Richard Mulligan (see AFI Catalog of Feature Films, 1961-70).