DVDs from TCM Shop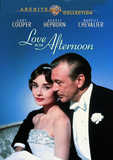 Love in the Afternoon An aging American tycoon... MORE&nbsp> $14.36 Regularly $17.99 Buy Now blu-ray
USER REVIEWS
See Detailed Ratings
Acting of Lead Performers

Acting of Supporting Cast

Director

Music Score

Title Sequence

Screenplay

Cinematography

Historical Importance

Would You Recommend?

0 Member Ratings
Rate the acting of the Lead Performers

Rate the acting of the Supporting Cast

Rate the Director

Rating of the Music Score

Rating of the Title Sequence

Screenplay

Creatively uses the camera to tell the story

Importance in Cinema history

Would you recommend for fans of this genre
Submit Ratings
Cancel
Write a Review
Read Reviews
NO REVIEWS AVAILABLE
The title has not been reviewed. Be the first to write a review by clicking here to start.
Love the Premise

Well, Chevalier and Hepburn are perfect together as father and daughter; and although I love Gary Cooper, I didn't believe it for a minute that he was the right choice for the part. Perhaps William Holden or William Powell might have worked better. I keep seeing Cooper as a cowboy and he's woefully miscast.

A few problems

It's a cute movie but I am always uncomfortable with Gary Cooper being WAY too old to play this part. I know it's supposed to be a May-September sort of thing but this guy has way too many Mays. He was 60 when this was done and the kind of stamina that life would require is just unbelievable. Sorry. They even had to shoot him in soft light.

Trip in the PM

This movie celebrates an old man's fantasy that A.H. & B.W. & G.C. fully exploited! Such a romance is real when it is not celebrated by celebrities-past or present- who fuel male vanity with pointless imagery that also diminishes (subconsciously) any value older women may posses!

Often overlooked Audrey Hepburn's gem

Special thanks to Linda West's perfect review in 2006: "Wonderful, overlooked Audrey Hepburn movie: This delightful movie of a clever ingnue falling for a seasoned playboy, turning the tables on him seldom plays on TV, as opposed to "Sabrina" and other popular Audrey Hepburn movies, but it is my favorite, and has always been highly ranked by critics. It is one of her best performances. Forget that Gary Cooper is too old for the part William Holden may have been perfect. Just enjoy. Another great Billy Wilder film with sparkling dialogue." Thanks also to I. A. L "Izzy" Diamond's wit for multiplying Billy Wilder's brilliance. Plus, anyone who enjoys the Marx Brothers' films and smiles at Groucho's oversized, charcoaled moustache, will probably gain benefit from seeing the variety of "extra-large" eyebrows arching over Audrey Hepburn's charming face. Gary Cooper and Maurice Chevalier complete the trinity in this trifecta of scintillating stars. Finally, many thanks to TCM for having the guts to discount picayune critics, to re-broadcast this classic. Please also do "My Fair Lady," Audrey's most charming. See and enjoy. Encore!

A Very Charming Fast Moving Romantic Comedy!

This movie is very whimsical, zany, and funny. It moves right along very spritely. All of the actors are very good and convincing. Maurice Chevalier is wonderful and very charming. Gary Cooper is very good in a low keyed way and looks perfectly fine as the older man. The screenwriting is very clever and humorous throughout. I was giggling all the way through this movie until the end where I was deeply touched and a little bitty tear fell from one of my eyes. I love movies that have a happy ending, and this one does. Some of the women that reviewed this movie said that Gary Cooper looked unattractive and way too old, but if it was a story about a younger man and an older woman, they wouldn't be so bothered by the looks of the older woman and say that it was such an unlikely situation. I really enjoyed this movie and the gypsy musicians who follow Gary Cooper (the millionaire) around wherever he goes.

Filming Cooper in the Shadows

I'll watch any movie with Audrey Hepburn, and most with Gary Cooper, but this pairing of two lovers that looked like grandfather and granddaughter was just too much. Wilder filming Cooper in shadows didn't help much. The man who was so gorgeous in the late 30's and early 40's had aged horribly and looks about 70, while Audrey looks 18. Maurice Chevalier looks better than Cooper. I felt the same way about High Noon when Cooper is paired with Grace Kelly. Hollywood seems to have had this perverted bent of casting much older men with young women back in the 50's. It gave me the creeps when he kisses Audrey. In the real world young women only "fall in love" with much older men for their money (think Anna Nicole Smith). A better ending would have been for Audrey to come to her senses and bid him goodbye and best wishes with her meeting a younger man and he finding a granny to marry.

Only Watchable Because of Audrey

I only watched this movie because of Audrey Hepburn. I'll watch anything with her in it. Also, I have always enjoyed Gary Cooper in most of his movies, but this so-called romance is just a bit creepy. A girl who looks barely 18 falling in love with a man who looks easily to be her grandfather. In real life young women only marry much older men for money, and if they say it is love, they have hypnotized themselves for the sake of the money. So, this story is not very believable and only watchable because of Audrey.

Liked the movie

Enjoyed it. Men and women really haven't changed much. I'm 71 looking for one just like her!

She Loves and He Loves?

A very strange combination - a magical romantic comedy that is also completely unpersuasive. .

Cringeworthy

Judt watched Love in the afternoon, and it made me cringe. Cooper looked an was an old letch in the movie. Such a miscast for him.Whover had played the part I would have disliked the movie, such an unwholesome theme.Arich old guy buying hiscwomens favors.Couldnt see Hepburn s character even marrying such a pervert let alone staying married to him.I guess tastes have changed.

once and for all...

Nobody's quibbling about the actual age difference between Cooper and Hepburn. It's all about how they look... it's a visual medium! Hepburn looks 10 years younger and Cooper looks 10 years older... That is it!

Bad Casting of Gary Cooper

I just saw this movie again yesterday and I am convinced that Gary Cooper was too old for this part. He looks more like a grandfather. Someone posted that Audrey Hepburn was 30 when she did this movie however she looks between 17yr -19yr. All I can say is Awful, Awful, Awful casting of Gary Copper in this role. It ruin a very delightful movie for me.

I'll settle it

He was too old.

Wonderful movie!

Just watched Love in the Afternoon again, & it was just as great as the first time I saw it! Audrey Hepburn was enchanting & Gary Cooper wonderful. I don't understand people saying he was too old, that was the main part of the story! He was still hot! Maurice Chevalier was perfect for the father. The end of the movie, when Audrey is running beside the train, & Gary Cooper sweeps her up onto the train with him, then the gypsies playing, on my, delightful! They don't make romances like that anymore!

Perception is everything!

I love the storyline in this film; however, the fact that Gary Cooper, particularly in some scenes lighted improperly where he looks 76, puts me off! He simply didn't age as well as many other actors, e.g. Cary Grant who was gorgeous to the day he died at age 82! And that is the problem I have with this film. I can't accept this aged Cooper in this role opposite the ageless Audrey Hepburn who always seemed to look 18. The storyline in this film is seamless and goes from zany to crazy to moving. Maurice Chevalier, as Hepburn's private detective father, is as engaging as ever. The music is also quite lovely. I believe this could have been a great film had Billy Wilder not been so taken with Cooper the man he liked so much as a friend rather than Cooper the actor who was past his prime.

Love in the Afternoon

Director/ Co-writer Wilder pays homage to Ernst Lubitsch with this film. Cooper and Hepburn have so-great chemistry that viewers forget the age difference, Chevalier is solid. First collaboration between Wilder and co-writer I.A.L. Diamond; funny, romantic, but can drag for a while. A good romantic-comedy from Wilder. I give it a 4/5.

Our w orld is different?

Many reviews say more about reviewers' than the movie's time and place. This film's time (1957) and place (around Paris via Studios de Boulogne-Billancourt/SFP) differ by half a century and half a planet from such reviews. Two aspects emerge. First, prevailing American 21st century attitudes towards dogs, pets, and animals differ from those in the mid-20th century, contexts framing their treatment as well as several reviews. Second, the credibility--or even plausibility--of a then 56-year-old actor playing opposite a then 28-year-old actress in roles intending precisely this pairing exceeds some reviewers' boundaries. They may neither be French nor Parisian nor may never have been to either, nor have had the good fortune to be a 56-year-old man loved by a 28-year-old woman in Paris or anywhere else and, therefore, cannot imagine how such a beginning can constitute a happy ending. The prospective novice viewer of Love In The Afternoon might keep both aspects in mind.

Lovein the Afternoon.

I loved the movie "Love in the Afternoon." One of my favorite romantic stories.

Love in the Afternoon

I just saw this movie on TCM for the first time. It was awsome!!!! They don't make good movies like this anymore. It was so good, I am going to buy myself a copy of it . It has to be very very good for me to watch a movie over again. Arlene

Cooper was awful

I just saw this old movie for the first time and wasn't impressed. Granted Ms. Hepburn is beautiful but it doesn't make the Cooper role better it makes it sadder. Old men chasing younger women is a yawn. Who would want such a dog for a husband? I like the father/daughter connection and Ms. Hepburn's acting was pretty good but Gary Cooper was not a playboy type. He is Sargent York not a man who has gypsy's playing for him in a sauna. Watch it once then see Sargent York or High Noon.

There was no "horrible abuse"!

Don't know what the fuss is about! There was no "horrible abuse" of a little dog!The silly lady just patted the dog on its behind and move it head towards the water in the carpet!She said she would sent the dog to an 'analyst'! Not an obedience school!

MAY TO DECEMBER WORKS SOME TIMES, SOMETIMES NOT

Gary Cooper should have taken a cue from Carey Grant, who quit romantic leads before some of the public noticed. No matter how great an actor is, or the make up, time eventually catches up.

Really Cute and Sweet but Cooper is so ooooold

This film would really work if the playboy had been some actor who didn't look as old as Gary Cooper was here.. A couple commenters pointed out that Hepburn and Grant made a good combination in Charade with the same age difference. True. But hepburn and Cooper don't work very well. The difference is Grant looked and acted very vibrant in Charade, and the character Hepburn played was a mature and sophisticated lady, albeit young. It's not the age difference of the actors but the apparent age difference of the characters - too much difference in "Love in The Afternoon". Cooper looked and acted his age in this. Ariane is only 19, and she's fauning over a man who looks and moves like a tired man pushing 60. The difference is too much for the story.The fact that it's still pretty enjoyable movie says a lot about the rest of the ensemble and the script.If only they had gotten an actor who was 40 or at least looked and moved like 40. The age difference would have been very plausible then.

Love at High Noon

With two exceptions, this film could have been regarded as one of the best fifties romantic comedies. The exceptions here are large. One...the dog cruelty...'nuff said about that. The other is the insane miscasting of Gary Cooper as a wealthy, debonaire man-of-the-world. In the scene where he first meets Audrey's father, the dialog went something like this: Well Mr .Cha-vasseeee, I come to see your daughter...I was waiting for him to ask where he could leave his horse. Anyone schooled in French (101) would know how to pronounce a French name...Sha vahs. He was playing a wealthy, schooled man.In scene after scene he does his best to remind the autience he's Gary Cooper...cowboy, stumblebum, lousy actor.Imagine if you will, Cary Grant in the role. I've read that he was offered the role, but he had a filming conflict. Why in the name of all that's holy didn't they shelve the script until Grant was available?As it is, the film is uneven, oddly unappealing and evidence that even Audrey needed a little help from a proper leading man.

Almost Perfect May-December Romance Set in Paris

A frothy and fun romantic comedy set in - where else - Paris, as light and airy as a glass of fine champagne (unfortunately soured by one disturbing scene, discussed here and in other user reviews). Romantic sparks fly as Audrey Hepburn plays to perfection a heartbreakingly innocent young woman trying to convey the high glamour and sophistication typically exuded by the willing"victims" of a globe-trotting playboy, elegantly portrayed by Gary Cooper. He has seduction down to a science - or art, of a paint-by-numbers variety. His formula for success relies heavily on a band of faihful musicians he affectionately calls "The Gypsies," who serve up a rather syrupy medley of romantic tunes, but always end their part in the proceedings at just the right moment with a soulful rendition of "Fascination." One caveat - and the reason I've taken away one whole star from my rating - is the inclusion of a disturbing vignette many (including me) find painful to watch, showing the rough and repeated smacking of a small dog by a bullying owner. A glaring black eye that threatens early in the film to permanently derail the otherwise light and airy ambience.

Criticisms re: age difference

Uh, just thought I'd mention to all the people making a fuss over the age difference between Audrey Hepburn and Gary Cooper in this film: Audrey Hepburn was 28 years old when she made this and not the teenaged ingenue she is portraying. Another testament to her wonderful acting. I think the three leads are wonderful actors who are great in this film, as is. As well, to the people complaining about how.the dog is treated - I agree it's unpleasant to see.but, to dislike the whole movie and more than that, the whole station showing this 50 year old film is a bit over the top, perhaps.

Thank you

I have never watched this movie because the idea of Audrey Hepburn and Gary Cooper, at this point in their lives and ages, together in a romantic movie just seemed so ludicrous that I didn't think I'd enjoy it. But seeing that TCM was showing it today on my day off, I thought I would give it try. Like another reviewer, I am so glad I read the user reviews before turning on the TV. To see an animal abused as described by other reviewers is utterly despicable and would have been unbearable for me. I strongly urge TCM to eliminate this movie from its inventory or at a minimum, to stop showing it. How Lenoard Maltin and other professional critics could overlook this abomination in giving this movie such high ratings is beyond me.

a little awkward

I just couldn't overlook the "too obvious" age difference between Gary Cooper & Audrey Hepburn.. He looks old enough to be her "grandfather" not just father.. The romance is great, the location is just perfect, but the characters "age difference" just puts me in the mind of a "dirty ole man" I'm sure someone thought "child molester..." Gregory Peck, William Holden or even Dean Martin would've even been more believable.. His character just looks too old, "wrong & awkward..."

Romantic love affair

Gotta love Cooper and A. Hepburn!The difference in age is forgotten as these two legends present a fascinating tale of love and heartache, concluding in "Happily Ever After".Thank you for showing this classic!

Thank you fellow reviewers

I had just begun watching "Love in the Afternoon" and began reading the reviews on my lap top. What a shock when I read about the horrible abuse of the small dog. I instantly turned the TV off and began giving thanks for finding out about this deplorable part of what some people call "entertainment". Not me! I spent several years rescuing chihuahuas and other small animals from human abuse. Please, TCM, I spend a lot of time praising you for the mostly outstanding classic films you present. Generally speaking, I can avoid films that are objectionable to me by reading your descriptions or TCM articles In this case, I would have been unknowingly subjected to watching something that I am passionately against, abuse of helpless animals by bullying humans. I humbly ask you, TCM, PLEASE, do not show films which include abuse of animals. Thank you.

ABUSE IN THE AFTERNOON

I'm surprised there are only 2 other ratings regarding the detestable,wicked beatings the tiny dog in this movie had to endure, probably many times during filming. The first was bad enough-I was startled! The second was even rougher-I was crying out,"Don't hit um!" It gets worse! The third time was so hard I lept out of my chair, loudly saying "DON'T HURT UM"!!! The fourth time was unbearable-the doggie cried out in pain as the wicked acting actress, having no thought for the precious little dog, wacked it on the right rear hip & leg! The doggie cried out winceing in pain! Dog's,especially small dogs, can be injured or crippeled when hit strongly in this area of their tiny little bones and fleash! They then have to limp with one back leg contracted up, or worse yet become completely crippled! So this kind of abuse cannot & should not be inflicted upon these little gifts from heaven! To continue: During the 4th abusive round-the angry acting actress was filmed acting as if she thought all the water, which came from an over flowing bathtub, pooled around her door was the tiny dog's urine-rediculous! So she snatched the tiny dog up & wacked it again!!! As if that wasn't enough she puts the tiny dog's nose down to the water pushing it's sweet little nose and head & neck ( going stiff from fear) until it's back feet lifted off the floor! Then, speaking gruffly, SMACKS THAT LITTLE DOG HARD,HARD ENOUGH TO MAKE IT CRY OUT FROM.THE PAIN!!!!!

Poor little dog

I wish TCM wouldn't run movies that show animal cruelty. The scenes with that poor little dog being hit, having it's nose rubbed in the carpet was just too much for me. It RUINED the movie.

Love in the Afternoon

This, by far, is the most beautiful movie I have ever seen. The movie is so meaningful with the flower scenes, so romantic, with the picnic scene, so charming, with Gary Cooper, and so moving and heart-felt with Audrey and Gary at the train station. I can never get tired of watching this movie.I keep searching to find if I can find another movie similar to this one but haven't found one yet.

Love in the Afternoon

What is so funny about hitting the tiny dog. By the second scene with this dog,she is clearly afraid. She cries out. The Actress is really hitting her and the animalis frightened. There was no humor in the scenes. The dog had the appropriate responseif it was real life. A real owner would have never hit her. It was terrible to watch.This was not acting. The little dog was a victim of stupidity, insensitivity, and bad taste.

Amazing

This movie is one of the best classic movies I've seen yet...The romance, the innocence of it all...Just lovely..I was teary eyed at the end..

Filme inteligente

Este filme mostra dilogos inteligentes e um elenco afinado com uma Audrey fascinante e uma direo experiente de Billy Wilder. Fantstico.

An Original May-December Romance.

Frank Harris Horn

9/13/10

Oscar-winning director, Billy Wilder goes on location in Paris, Val-de-Marne and Haute-de-Seine, France with Oscar winners, Gary Cooper, Audrey Hepburn and Maurice Chevalier to make this souffle-light romantic comedy based on Claude Anet's novel, "Ariane, Jeune Fille Russe". Hepburn is a beautiful French music student, who crosses paths with an aging American millionaire playboy (Cooper), and a May-December romance begins to blossom between them. This was Wilder's first writing collaboration with I.A.L. Diamond, and he dedicated it as a tribute to his idol, Ernst Lubitsch. Ah, L'Amour. C'est Magnifique. Vive Wilder! Vive Cooper! Vive Mademoiselle Audrey! Vive Chevalier! With John McGiver, Van Doude, Lise Bourdin, Olga Valery, Guy Delorme & the Gypsies.

Sheer, Flowing Magic

Why had I not heard of this Audrey Hepburn film before? It is a classic, right along with Roman Holiday and Sabrina. What most struck me about this film was the seamless, flowing structure of it all, right up to the very end--especially the importance which the theme of music played, as well as the importance of one's name and therefore, knowledge of that person as a soul. It is a fresh, unique story line, and blissfully humorous-- a true comedy. Yet the romance is a delight and gains depth as the film goes on. Gary Cooper is irresistable, frightfully charming, and Audrey steals one's heart. Maurice Chevalier (oh, true elegance) only adds to the film's class, if that is possible. Cooper's age only adds to the realism of the film. A best kept secret--but one that you ought to share with your good friends.

GREAT MOVIE

I Think this is one of the best movies ever! I don't see how you can disagree

Coop too old?

I don't get why everyone complains about Cooper's age in this film. They accept Hepburn with Cary Grant in Charade and he was older at the time that movie was made. They all line up for Sabrina, where she is paired with Bogart who is even older than Gary Cooper. The classic screen star with starlett of the day was just part of the landscape of the late 50s early 60s. Grace kelly is another actress who was often paired with much older men (Cooper in High Noon, Grant in To Catch a Thief, Jimmy Stewart in Rear Window, Clark Gable in Mogambo, etc. etc.) Many of these movies are highly regarded as classics and no one gripes about the age difference. Personally I think Cooper is sexy at any age.

Wonderful, overlooked Audrey Hepburn movie

This delightful movie of a clever ingenue falling for a seasoned playboy - and turning the tables on him, seldom plays on TV as opposed to Sabrina and other popular Audrey Hepburn movies, but it is my favorite and has always been highly ranked by critics. I think it is one of her best performances. Forget that Gary Cooper is too old for the part- William Holden would have been pefect - and just enjoy. Another great Billy Wilder film with sparkling dialogue.
*We protect your personal infortmation and will not provide it to anyone without your consent. For a complete explanation, please refer to TCM's Privacy Policy. By submitting your contribution, you agree to TCM's Terms of Use.