DVDs from TCM Shop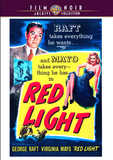 Red Light An embezzler's revenge on... MORE&nbsp> $17.56 Regularly $21.99 Buy Now
Home Video Reviews
"Don't give me all that malarkey about 'do unto others as you would have them do unto you.' Sure, Jess went for that stuff and what did it get him? A bunch of lilies and six silver handles!"
-- George Raft, in
Red Light
Red Light
(1949) is a rather obscure film noir from United Artists, newly released on DVD by Warner Archive in a nice-looking transfer. Fans of film noir and George Raft will enjoy it.
Raft, playing a trucking company owner named Johnny Torno, spends the movie trying to track down a bible that was taken from the hotel room where his brother Jess (Arthur Franz), a former army chaplain, was murdered. Before dying, Jess was able to tell Johnny that he'd written something in that bible, presumably the name of the killer.
Raft becomes a vengeful man on a mission, unwilling to share any information with the police as he seeks out the various people who registered for the hotel room in the time since his brother's death. One of them, Carla (Virginia Mayo), eventually helps him in his quest.
Meanwhile, the audience is aware from the get-go that a former inmate named Rocky (Henry Morgan) is the killer, and that he was hired by Nick Cherney (Raymond Burr), who's in prison for embezzling funds from Torno when he worked at Torno's company.
The plotting is simple enough, but for some reason it is at times rather muddled as told on screen. (Examples: Raft looks through a bible right away after the murder, but it is not, as we assume, the hotel room bible. It's also strange that so many people could have used the hotel room by the time he figures out which bible he needs to read.) Additionally, the picture develops a religious message, especially toward the end, which does not really feel of a piece with the film as a whole. Perhaps Raft's wooden acting has something to do with this -- he's not very adept at expressing deeply felt inner change -- but mostly it just isn't nearly as interesting as the grim, violent parts of the film.
Red Light
contains some brutal scenes of violence, including a tour de force suspense sequence in a freight yard at night, in which a character is stalked and killed in a most memorable way.
There's also the great "noir" pleasure of images like Raft at his desk one night, cigarette in hand, semi-automatic and bottle of bourbon on the desk, as he slowly leafs through a bible. Or the fantastically entertaining image of Raymond Burr and Henry Morgan plotting nefariously in a prison's movie projection booth. Or, for that matter, of Raymond Burr bowling before getting roughed up in the men's room. Producer-director Roy Del Ruth's fine comedy background permeates a few funny sequences here, like the one in which Raft barges into a couple's hotel room demanding to see their bible -- never mind that the couple was in bed!
Del Ruth had directed Raft before in the Fox film
It Had to Happen
(1936). (Raft also had uncredited bits in two earlier Del Ruth pictures at Warner Brothers:
Gold Diggers of Broadway
[1929] and
Taxi!
[1932].) And Del Ruth had just directed Mayo in
Always Leave Them Laughing
(1949), and would work with her twice again. The beautiful and feisty Mayo, unfortunately, is wasted in
Red Light
, although she is convincing in the few scenes that she has.
Incidentally, the title has nothing to do with the movie, which is actually based on a short story entitled
This Guy Gideon
. Del Ruth snapped up the rights to another story,
Red Light
, simply because he liked the title better.
Red Light
is beautifully shot and scored by Bert Glennon and Dmitri Tiomkin respectively. It maintains a dark, gloomy atmosphere throughout, mixing gritty location shooting and high-contrast interiors for a satisfying "noir" look and feel. It's hardly among the best noirs, but is certainly worthwhile. Warner Archive's DVD looks and sounds fine, and contains no frills.
By Jeremy Arnold