DVDs from TCM Shop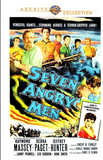 Seven Angry Men A fanatical abolitionist leads... MORE&nbsp> $18.95 Regularly $21.99 Buy Now
NOTES
DVDs from TCM Shop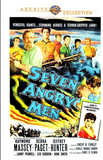 Seven Angry Men A fanatical abolitionist leads... MORE&nbsp> $18.95
Regularly $21.99 buy now
The film's working titles were John Brown's Raiders, God's Angry Men and God's Angry Man. According to an unidentified February 1953 news item, Arthur Orloff was originally hired to write the film's story, but his contribution to the final film has not been determined. John Brown (1800-1859), a Mayflower descendent, was violently opposed to slavery. During the 1820s and 1830s, his home was a station on the Underground Railroad, which helped runaway slaves. In 1851, Brown organized an armed band of black soldiers to aid runaway slaves. When Kansas was opened for settlement in 1854, Brown and five of his sons moved to the new territory to fight for a free Kansas. He organized a guerrilla band, whose most notorious act was the Osawatomie massacre on May 24, 1856, when five pro-slavery men were killed.
On October 16, 1859, Brown led a group of twenty-one men, including five blacks and his sons Oliver and Watson, in an attack on the federal arsenal at Harpers Ferry, which was then a part of Virginia. With the arms, he planned to equip slaves whom he believed would join him eagerly. Local slaves did not join the revolt, and after two days, during which his two sons were killed, and he was wounded, Brown surrendered to Col. Robert E. Lee. Contrary to Brown's hopes, the raid aided Southern extremists in their fight for secession from the United States. Immediately after he was hanged on December 2, 1859, Brown became a folk hero. The folk song "John Brown's Body," which used the same melody as "The Battle Hymn of the Republic," became one of the Civil War's marching songs, and Stephen Vincent Benet wrote an epic poem of the same name in 1929. Some scholars have speculated that Brown was insane, but this has not been proven.
Debra Paget and Jeffrey Hunter were borrowed from Twentieth Century-Fox for the production, and Larry Pennell was borrowed from Paramount. A September 17, 1954 Hollywood Reporter news item includes Patrick Waltz in the cast, but his appearance in the completed picture has not been confirmed. Modern sources include Hank Mann in the cast. Raymond Massey also played John Brown in the 1941 Warner Bros. picture Santa Fe Trail (see AFI Catalog of Feature Films, 1941-50). In 1954, Massey, Anne Baxter and Tyrone Power toured with a stage show depicting the incident at Harpers Ferry.